New Lifesize conferencing systems bring 4K video to huddle rooms
Lifesize's latest Icon video conferencing systems are designed to meet the challenges presented by smaller, ad hoc meeting spaces, like the huddle room.
ORLANDO, Fla. -- Cloud-based video conferencing provider Lifesize announced its Icon 300 and Icon 500 meeting room systems, which bring 4K video collaboration to huddle rooms and midsize meeting spaces.
While cameras and meeting room systems in larger meeting rooms have become the standard for video collaboration, smaller meeting spaces often present unique challenges for video.
Most organizations don't make huddle rooms and ad hoc meeting rooms bookable like more traditional meeting spaces, which can result in smaller groups taking over large meeting rooms because they need rooms with video capabilities, according to John Yarbrough, director of communications at Lifesize, based in Austin, Texas.
According to Frost & Sullivan, more than 32 million huddle rooms exist across organizations worldwide, but less than 2% are video-enabled. Most video conferencing offerings are developed for traditional meeting rooms, making it difficult to shop for audio and video equipment for smaller, ad hoc spaces.
"For many of us, the real work gets done in the huddle room spaces; it's where most of the collaboration is taking place," Yarbrough said. "They've kind of been the last mile of the video-connected workplace."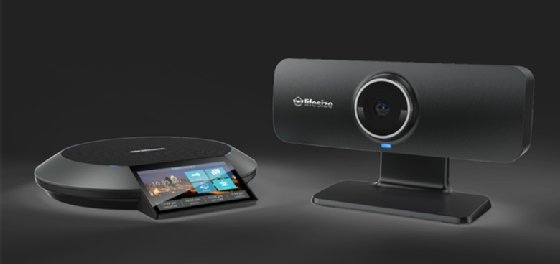 The Icon 300 is a dedicated system that targets huddle rooms and can accommodate up to four people in its field of view. It supports calling through video services, such as Zoom and Webex, and supports directory-based calling, according to Michael Helmbrecht, COO at Lifesize.
The Icon 300 system is capable of sending and receiving 4K video, but the camera built into the system is not 4K-capable due to quality issues with current 4K camera offerings for small meeting rooms, Helmbrecht said. Touch-based dialing is available through a customizable control surface or a smartphone. The system's PC receives automatic updates to eliminate in-house management of the system. The Icon 300 is available now and retails for $2,999.
The Icon 500 targets midsize rooms with around 10 to 12 participants, and it also supports sending and receiving 4K video. The meeting room system also includes a 4K-capable camera, Helmbrecht said. The Icon 500 will be available in the summer of 2019 and includes features such as dual display support and advanced zoom capabilities.
For companies looking for lower-cost, flexible video collaboration, Lifesize also offers Dash, a software-based room kit. Lifesize provides the software for the tablet-based room controller and uses a partner program to certify USB devices, such as cameras and speakerphones. The cost of Dash ranges from $1,000 to $1,500, according to Helmbrecht.
Dig Deeper on Video conferencing and visual collaboration