FotolEdhar - Fotolia
Poly targets huddle rooms with Trio 8300
Poly has designed the Trio 8300 for huddle rooms that fit no more than five people. The vendor released a video system targeted at the same market earlier this year.
Poly unveiled a smaller, cheaper version of its Trio conference room phone designed for small meeting spaces, or huddle rooms. The vendor also released a new wireless phone and said it would let businesses rent its headsets in lieu of buying them.
The Trio 8300 is the third phone in the current Poly Trio series, behind the 8500 for medium-sized conference rooms and the 8800 for large conference rooms. The new device is for rooms that fit between two and five people.
The Trio 8300 comes with most of the same features as the two more expensive models -- including Bluetooth connectivity, noise-blocking technology and compatibility with video conferencing software -- but its microphones have a shorter range.
The main difference is price. The Trio 8300 has a suggested retail price of $649, compared with $1,099 for the 8500 and $1,599 for the 8800, according to the website of IP Phone Warehouse, a reseller of Poly devices.
"By emulating the user experience of predecessors, yet at a competitive price, the Trio 8300 could deliver significant value for money to businesses," said Alaa Saayed, an analyst at Frost & Sullivan.
The Trio devices work with the software of a wide range of unified communications (UC) vendors, including Avaya, Cisco, Microsoft (Skype for Business), RingCentral, Vonage, 8x8, Zoom and BlueJeans.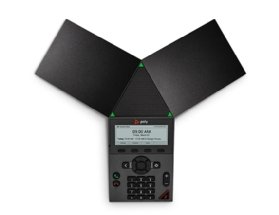 Poly -- the company formed through the merger of Plantronics and Polycom -- released a USB video system for huddle rooms earlier this year, called the Polycom Studio. The vendor's huddle room portfolio also includes the RealPresence Group 310, which comes with a video codec.
Spending on video conferencing technology for huddle rooms is expected to reach $1.5 billion within five years, representing an average annual growth rate of 29.2% between 2018 and 2023, according to Frost & Sullivan.
Poly releases wireless IP phone
Poly also released the VVX D230, a wireless phone targeted at small businesses and retailers. The device plugs a gap in the vendor's lineup of phones and should help it compete against Yealink and Grandstream Networks, which make similar devices.
The VVX D230 has a range of 165 feet indoors and its battery lasts eight hours. The phone also comes with features Poly said it usually makes available only in desk phones, such as speakerphone, caller ID, conferencing, transfer controls and intercom capabilities.
The phone uses Digital Enhanced Cordless Telecommunications (DECT), a wireless technology similar to Bluetooth but with greater range. Shipments of DECT phones were projected to increase at an average annual rate of 4.8% between 2018 and 2025, according to Frost & Sullivan.
"It was a missing piece of the puzzle that they had to offer as part of their overall endpoints portfolio," Saayed said.
Poly expands rental program
Meanwhile, Poly added headsets to its device as a service (DaaS) offering in North America, a financing plan that lets businesses pay rent devices on a month-to-month basis without large upfront costs.
Device subscription plans have grown in popularity over the past few years, coinciding with the rise of cloud software, which is sold through a similar pricing model.
Poly's DaaS offering already included its desk and conference room phones.
"In the case of pro headsets, the DaaS model might certainly alleviate high upfront costs in a full-blown UC rollout, allowing customers to cancel and return devices at any time," Saayed said.