Getty Images/iStockphoto
Cisco unveils Webex AI tools for hybrid work, contact center
The vendor's new Webex AI offerings include Real-Time Media Models to track users' voices and movements and Webex AI Assistant tools for making, altering and suggesting messages.
Cisco on Wednesday unveiled new Webex AI tools for hybrid workers and contact center agents.
The multinational software vendor added Real-Time Media Models (RMMs) to track users' speech and body gestures on video calls to add more context to meeting scripts and recordings as well as perform tasks while the user is away from the meeting.
Cisco also unveiled new Webex AI Assistant tools to change the tone of a message in Webex Messaging and Slido, suggest responses to customers' messages on digital channels for contact center agents, and summarize meetings with content organized into chapters and highlights.
These new capabilities are included at no extra cost to paying Webex Suite and Webex Contact Center customers. However, there will be a cap on the usage of the features, and users who exceed that limit will need to pay more, according to Cisco.
The capabilities will be released at various times between the end of this year and the start of 2024, according to Cisco.
Tracking human voices and movements
Developing better sound and visual features for videocalls is one of Cisco's strengths, according to Futurum Group analyst Craig Durr.
"They actually have a rich history of using AI in machine learning and off-line training of audio and video features," Durr said.
Cisco in March unveiled its RoomOS-supported Cinematic Meetings feature, which uses facial recognition to monitor users' voices and physical movements to provide the best camera angles during video calls. Similarly, Cisco's new RMMs, which are part of the Webex Suite, can recognize human gestures and voices and use these cues to improve video and audio quality in Webex.
RMMs also incorporate this visual and vocal recognition to create meeting summaries with better context. The RMMs are an important development for Cisco's Webex generative AI strategy because they let Webex add this data into its generative AI workflows.
For example, RMMs can provide data about when a participant leaves a meeting or gives a thumbs up, which adds context that can be added into the script. These details are then searchable by Cisco's generative AI tools.
"I am keeping an eye on their Real-Time Media Models, which should help bring some audio and video data into a contextual format that aligns with generative AI," Durr said.
With RMMs, Cisco aims to give participants meeting summaries that are more tailored. For example, if one user leaves the screen for a period, the RMMs can identify when that user left and serve the user real-time meeting notes for when the user returns.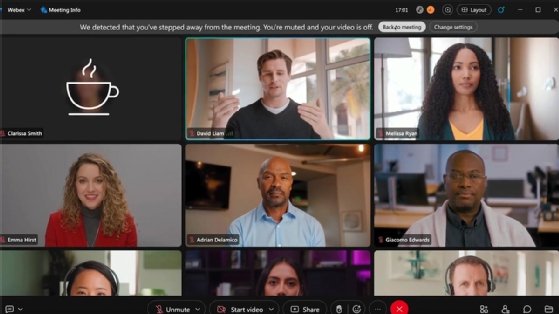 Contact Center AI is not unique
Meanwhile, Cisco's new capability for Webex AI Assistant in Webex Contact Center, which gives contact center agents suggested replies to customer queries using context history, is nothing new these days, according to analyst Keith Kirkpatrick, a Futurum Group analyst. Many contact center as a service (CCaaS) vendors are incorporating AI into their offerings, he said.
Competitor Talkdesk last week released its Data Augmentation tool for cloud-based contact centers to train AI data quickly and improve their AI models for better output.
Another competitor, Zendesk, earlier this month launched AI-supported chatbots to instantly respond to contact center customers' questions.
At this point, AI-backed tools for the contact center are becoming expected, and vendors should change tactics to attract new customers, Kirkpatrick said.
"It's interesting that everybody continues to lead with features," he said.
Instead, the decision to buy will depend more on how well the software cooperates with customers' currents systems, Kirkpatrick said. "If I'm a CCaaS vendor, how flexible am I to incorporate other applications? Because nobody just does the whole rip and replace throughout their whole tech stack."
Understanding different dialects
I am keeping an eye on their Real-Time Media Models, which should help bring some audio and video data into a contextual format that aligns with generative AI.

Craig DurrAnalyst, Futurum Group
CCaaS vendors should also focus more on preventing bias and increasing language dialect awareness within their AI models, Kirkpatrick said.
For example, many contact center managers use AI data to score agents based on how they interact with people. However, people from different parts of the country might use different vernacular to interact with customers.
In this case, the AI model may misinterpret an agent's language as impolite or unprofessional simply because it hasn't learned about their way of speaking.
"That's a real problem. And I think that's what organizations really need to pay attention to. How are these models actually trained? It can affect people's jobs and livelihoods," Kirkpatrick said.
Mary Reines is a news writer covering customer experience and unified communications for TechTarget Editorial. Before TechTarget, Reines was arts editor at the Marblehead Reporter.
Dig Deeper on Customer service and contact center