Getty Images/iStockphoto
Zendesk offers more AI tech with AI for Voice, AI bots
The customer experience vendor released intelligent bots to quickly answer customers' questions and unveiled a tool to summarize transcripts of customer calls with agents.
Zendesk is expanding its generative AI offerings for the contact center.
The customer experience vendor on Wednesday released generative AI-supported bots to automatically answer customers' questions.
Zendesk also unveiled AI for Voice to create summaries of call transcripts between customers and contact center agents. Such transcripts help organizations determine the strengths and weaknesses of customers' interactions with agents.
AI for Voice will be available before next year, and both AI for Voice and generative AI-supported bots will be available to members of Zendesk's early access program, according to the vendor.
Zendesk declined to provide pricing information.
Slower to market with AI offerings
Compared with other CX vendors with generative AI tools, Zendesk has been relatively slow to release AI offerings, said Forrester analyst Kate Leggett.
They're definitely not first to market. But what they do have is a heritage.

Kate LeggettAnalyst, Forrester
Some competitors offering a bigger array of generative AI tools for CX are HubSpot, with HubSpot AI, and Salesforce, with Einstein GPT.
"They're definitely not first to market," Leggett said of Zendesk, a long-established player in the CX market. "But what they do have is a heritage."
A wealth of customer data
Zendesk's strength lies in its vast vaults of customer experience data, which it has been using to tune its AI for specific industry verticals, according to Leggett.
Zendesk's main focus is perfecting its AI's intent detection, which is the ability to determine what customers want based on the words they are using relative to different industries, according to Leggett.
"In every industry, there's different lexicons," she said.
For example, take the word return. If a retail customer requests a shipping label to return an item, that's quite different from an airline customer asking for a return flight, Leggett said.
Zendesk's intent detection has been integral to its benchmarking tool, which shows companies how their customer service experience compares to others in their industries, according to Leggett.
Exacting on the nuance of intent detection is the thrust of what Zendesk aims to accomplish with its own AI and generative AI tools, according to Zendesk head of AI Cristina Fonseca.
"By understanding what the customer wants, that's the starting point to understand what can be automated," Fonseca said.
It's also important to quickly discern which request responses require human intervention, she added.
"We should be very careful about what we automate versus what we still escalate to an agent, and when that's the case, we should do it as soon as possible not to damage the customer experience," Fonseca said.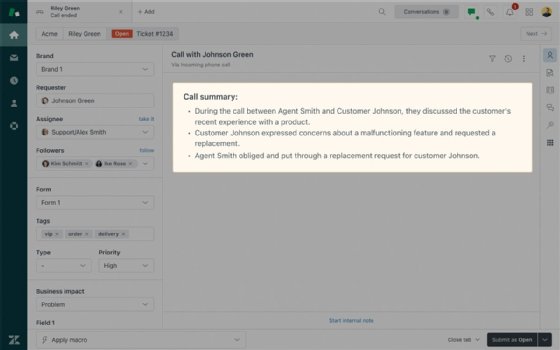 Investing in AI
While Zendesk's generative AI offerings come relatively belatedly, its investments in generative AI can be traced to its partnership with OpenAI, unveiled in April.
Zendesk also in 2021 acquired Cleverly, a service automation startup, and hired Cleverly's co-founder, Fonseca, to be its head of AI. Previously, Fonseca also co-founded cloud contact center platform vendor Talkdesk.
"Everything that Zendesk has done has been to deliver great customer experiences," Leggett said. "This is a continuation of their AI journey, and that's really important to note."
Mary Reines is a news writer covering customer experience and unified communications for TechTarget Editorial. Before TechTarget, Reines was arts editor at the Marblehead Reporter.
Dig Deeper on Customer service and contact center