Getty Images/iStockphoto
Zendesk out with generative AI-supported tools for better CX
In partnership with ChatGPT creator OpenAI, the customer service vendor introduces smart CX tools such as sentiment analysis for faster workflows and bots for contextual replies.
Zendesk on Wednesday released new generative AI-supported tools to speed up customer service tasks.
The AI tool suite Zendesk AI was unveiled at Relate, the customer service and CX vendor's user conference in San Francisco.
Zendesk AI is an integral part of Zendesk and provides functions across the Zendesk Suite. The new advanced AI add-on is available for the Suite Professional plan starting at $99 per agent per month.
The vendor's introduction of the new capabilities comes after Zendesk's partnership with OpenAI, creator of the popular generative AI chatbot ChatGPT, in April.
The generative AI tools are available now in an early access program for customers.
This was an important and timely move for Zendesk to stay competitive.

Dan NewmanChief analyst, Futurum Research
"This was an important and timely move for Zendesk to stay competitive," said Dan Newman, chief analyst at Futurum Research.
Other major vendors with CX platforms have also come out with similar generative AI assistants. Cloud contact center vendor ASAPP on Tuesday introduced AutoAssist to scan conversations in real time and offer suggestions to agents.
Last week, Salesforce introduced Einstein GPT for Service Cloud and Sales Cloud. In March, Microsoft unveiled Dynamics 365 Copilot for Sales and Viva Sales.
Zendesk AI's capabilities include pre-trained messaging bots with contextual responses, AI-supported insights for customer issues, and sentiment analysis to buoy intelligent workflows and manage customer requests. The tools are designed to boost productivity for customer service agents, according to Cristina Fonseca, head of AI at Zendesk.
A quick overview
One new Zendesk AI tool instantly summarizes an entire conversation for a customer service worker newly assigned to a ticket. This function aims to shorten the time needed to understand a customer's concern and begin problem-solving more quickly.
Another new tool called Expand generates a short response or some bullet points to help an agent craft a message.
Yet another tool, Tone Tuning, enables the agent to tweak the language of the customer reply to match a brand's aesthetic, according to Fonseca.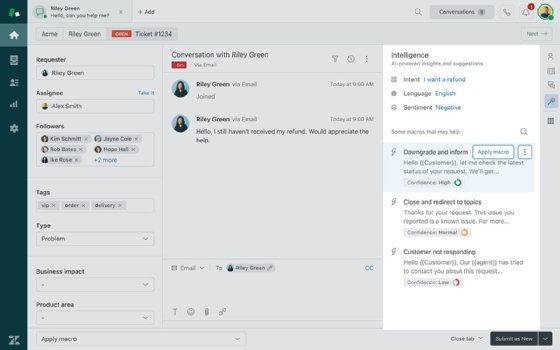 Designed to serve right away
Zendesk's new offerings aim to help customer service agents save time by giving them tools that are already trained to understand customer intent and can start working immediately.
"Having the expectation that our customers are going to spend time and effort training their AI models has not been working very well," Fonseca said.
As generative AI-backed capabilities become more prominent in the CX sector, some may question whether human agents will still even be necessary.
Rather, enterprises should focus on identifying automation-capable tasks versus human-necessary tasks, Fonseca said.
"In an era where people believe agents are going to disappear, which is not true, we should be very careful about what we automate versus what we still escalate [to a human]," Fonseca said.
Zendesk's intelligent triage feature, which relies on intent and language detection to make intelligent workflows, enables agents to see which operations should be automated and which should be escalated using accurate sentiment and intent identification.
"For Zendesk, the secret sauce is in its rich customer data set that it can use to enable more timely, accurate and in-depth CX experiences for customers," Newman said.
Mary Reines is a news writer covering customer experience and unified communications for TechTarget Editorial. Before TechTarget, Reines was arts editor at the Marblehead Reporter.