Getty Images/iStockphoto
Microsoft's new Dynamics 365 Copilot uses generative AI
Copilot accelerates routine tasks for marketing and sales teams like creating email responses and collecting customer insight data, intensifying the AI race in CRM software.
Microsoft on Monday unveiled Dynamics 365 Copilot, aimed at helping enterprise CRM and CX software users save time on routine tasks with new AI-backed tools.
The Copilot tools are housed in Dynamics 365 portals for sales, customer service, customer insights, marketing and Business Central.
Microsoft's continued partnership with large language model ChatGPT maker OpenAI, including a $10 billion investment in January, has yielded a stream of generative AI-supported tools for the tech giant. Microsoft also owns GitHub, which co-developed the original Copilot -- an AI-powered code-writing platform -- with OpenAI.
Jumping first into the fast-moving race among tech giants in generative AI systems that harness LLMs to interact in real time with human users, Microsoft last month unveiled AI-supported updates to its Bing search engine, which propels its Edge browser. Last week Microsoft also added AI-updated tools to Microsoft Teams, its workplace collaboration suite.
"Microsoft clearly has an early edge in their Dynamics 365 portfolio because they run on Azure and Azure runs one of the most advanced foundational models in OpenAI ChatGPT," said Gartner analyst Jason Wong.
Making way for AI
Other CRM vendors also are racing to incorporate generative AI technology into their products. CRM vendor Pegasystems last week previewed new generative AI-backed language prompting tools in Pega Infinity.
CRM giant Salesforce has hinted at infusing new GPT capabilities into its Einstein AI platform, likely to be unveiled later this week during its TrailblazerDX developer conference, Wong said.
"There might be a glut of 'me too' announcements now on GPT and generative AI, and people might get tired of those," said Predrag Jakovljevic, an analyst at Technology Evaluation Centers.
Nonetheless, the new Copilot capabilities seem useful, he said.
"Wherever it is augmenting the human's work and sparing them from mundane and repetitive tasks, it is hard to debate their use," Jakovljevic said.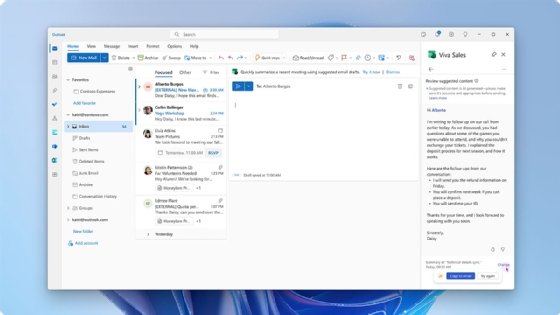 Shorter path to targeting customers
Microsoft shared a long list of AI-powered Copilot capabilities and applications. These include crafting customer email responses for users and summarizing Microsoft Teams meetings in Outlook, all available in Dynamics 365 Sales and Viva Sales.
In Dynamics 365 Customer Insights, Copilot's natural language capabilities help marketers prompt insights from their customer data platform and learn about new customer groups to target within a select profile, according to the vendor.
Microsoft clearly has an early edge in their Dynamics 365 portfolio because they run on Azure and Azure runs one of the most advanced foundational models in OpenAI ChatGPT.

Jason WongAnalyst, Gartner
In Dynamics 365 Customer Service, Copilot can also compose answers to customers' questions. Generative AI-based support from Azure OpenAI and Bing can help customer service personnel design virtual agents within minutes, Microsoft said. These virtual agents, which include conversation boosters in Microsoft's chatbot-creating Power Virtual Agents, can answer questions drawing content from company websites and internal databases chosen by the user, according to the vendor.
Copilot tools in Dynamics 365 Business Central can also help users quickly create product listings, with descriptors such as size, color and material, for online retailers to post and modify, with factors such as length, tone, voice and format, according to the vendor. These product details can be published to Shopify with a few clicks.
"I expect this will drive a rapid onslaught of AI-driven feature releases across the enterprise applications and CX space. And as time goes on, this tool will continue to get better through reinforcement learning," said Daniel Newman, an analyst at Futurum Research, of the new Copilot features.
If it proves as useful as Github Copilot, Microsoft Copilot has a lot to offer, Wong said.
"Github Copilot has been very successful. And if Copilot for Dynamics can provide the same value in terms of generating useful content and advice, then it would be a tremendous boon for customers," Wong said.
Mary Reines joined TechTarget Editorial in October 2022 as a news writer covering networking. Prior to TechTarget, Reines worked for five years as arts editor at the Marblehead Reporter, her hometown newspaper. She received her bachelor's in journalism from the University of Massachusetts Amherst, where she served as an assistant news editor for the student newspaper, The Daily Collegian.