Copilot generative AI comes to Dynamics 365 Field Service
Aimed at improving frontline worker performance, Copilot GenAI capabilities will be integrated into Microsoft Dynamics 365 Field Service, providing access to critical job data.
Microsoft is integrating Copilot generative AI capabilities into Microsoft Dynamics 365 Field Service and other Dynamics 365 applications.
The Copilot capabilities, unveiled at the vendor's annual Ignite conference this week, are intended to provide field service professionals and frontline workers with quicker access to information they need to perform their work or complete job orders, according to the company.
Frontline workers can struggle to find the information they need to perform their day-to-day jobs, according to Microsoft, listing it as a top five disruptive issue in its most recent Work Trend Index annual report.
Copilot functionality in D365 Field Service will be available as a public preview in December, with general availability to come later. Frontline workers such as operators or service technicians can ask questions in plain English via the Copilot interface in Teams and then receive information back from the D365 Field Service application, such as job status updates, parts information and job instructions.
Microsoft also unveiled Copilot in Microsoft Dynamics 365 Guides this week, which brings mixed reality and generative AI to manufacturing operations. Field service technicians and operators can query Copilot Guides in plain English, and the AI will surface relevant information based on a curated set of documentation, according to the company.
The information is aimed at helping technicians with tasks such as troubleshooting and can provide step-by-step instructions to complete work. Guides is also integrated with HoloLens 2 mixed reality, which provides holographic overlays to guide how tasks should be completed.
Copilot in Dynamics 365 Guides is currently in private preview on HoloLens 2.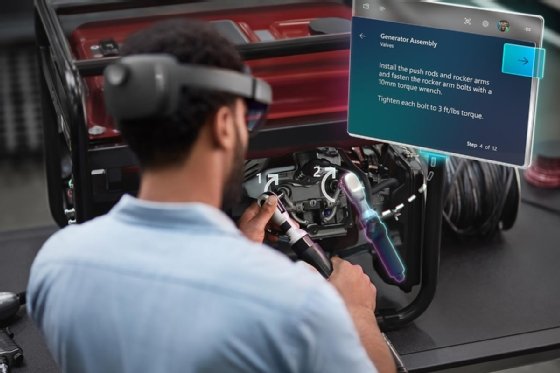 Generative AI in field service makes sense
Generative AI makes sense as a field service capability, said Aly Pinder, research vice president at IDC, because it's an area that has struggled with trends such as a retiring workforce and the increasing use of third-party contractors for service work.
"Generative AI tools like Copilot can help that expertise evolve quickly, despite lack of tenure or time spent with an organization or on machine," Pinder said. "This is an opportunity that could be a differentiator for the market."
For example, field service management has suffered from a lack of skilled technicians, and companies have had to rely on contractors and gig workers, he said. Having an on-demand set of intelligence that technicians can generate via AI when they are working on equipment that they have not seen before can be valuable to enterprises.
In the frontline at the field technician level, you need to have knowledge at [your] fingertips, on demand and personalized for the asset you're fixing or for who you are and your skill base.

Aly Pinder Research vice president, IDC
"In the frontline at the field technician level, you need to have knowledge at [your] fingertips on demand and personalized for the asset you're fixing or for who you are and your skill base," Pinder said.
Microsoft's challenge with the addition of Copilot into D365 Field Service will be making it stand out in a field where a number of vendors are introducing generative AI capabilities for specific service applications, he said. However, Microsoft has an advantage because of the application suite that it already supports and the integrated nature of the D365 platform.
"Microsoft should be able to position these capabilities in a broader lens by solving user challenges across the data flow of the organization, as opposed to just solving an individual use case," Pinder said.
The Copilot capabilities should make the Field Service functionality more attractive for D365 customers because it will be embedded, he said.
"It will only accelerate adoption if it's embedded and a user who's already a customer just sees it fit into their already installed use case within their Microsoft environment," Pinder said.
The Copilot generative AI capabilities in D365 Field Service doesn't look all that different from what other vendors are now including, said Predrag Jakovljevic, an analyst at Technology Evaluation Centers. For example, Salesforce is adding generative AI assistants into all of its applications.
However, field service management presents a good generative AI use case, as do applications like sales and customer support, he said.
"Generative AI is especially useful for field technicians to produce the reports when the work is done or before going to work, when you can query the [large language models] via natural language prompts to give you the customer history or that device's repair history," Jakovljevic said. "In sales, it is about generating introductory emails, meeting notes or checking the prospect's past interactions, and so on."
In field service, generative AI can also help create documentation for future repairs, he added.
Most enterprise applications that have field service functionality such as D365 and those from IFS and Salesforce are now including generative AI, but Jakovljevic agreed that Microsoft could have an advantage because of its technology ubiquity.
"However, they will all reach parity soon if not already," he said.
Jim O'Donnell is a TechTarget senior news writer who covers ERP and other enterprise applications for TechTarget Editorial.