Getty Images
Planning provides map for Dynamics 365 ERP journey
Midmarket beverage-maker Talking Rain used a carefully planned process to select and implement Microsoft Dynamics 365 ERP as the system that fits its future needs.
ERP implementation projects can be daunting, but beverage-maker Talking Rain found that preparation is essential to ease the cost and complexity of both the ERP selection process and the implementation.
Talking Rain, a 35-year-old company based in Preston, Wash., chose Microsoft Dynamics 365 cloud ERP to replace a disparate set of enterprise applications and provide a system that is expected to meet the company's future business needs for analytics and AI-based processes.
The midmarket producer of flavored sparkling waters and other beverage products distributed primarily in North America had cobbled together an ERP system based on a core of Microsoft Dynamics 365 Business Central, formerly Microsoft Navision, which ran on a private IaaS on Microsoft Azure. But this system was not adequate for the company's growth and ambitions, according to Dave Horner, vice president of technology at Talking Rain.
The Business Central system was heavily customized, which made it difficult to implement new capabilities provided by the vendor, Horner said. It was augmented with third-party applications such as Anaplan for advanced demand planning and trade promotion management capabilities. The company wanted to move to a true public cloud ERP system.
"We had Business Central, but it was just a system of record. Most of the work got done outside of the system," he said. "[The company] decided a couple years ago to start exploring a new ERP because they recognized that from a technology perspective, they needed to have a different outlook."
Few Talking Rain employees had experience with an ERP implementation, so Horner was brought into the company to oversee the project. As a veteran of several ERP projects at other companies, Horner recognized that the project had to be more than just a technology program and would need to be a complete business transformation.
Planning is paramount for ERP selection
Careful and thorough planning would have to be a critical pillar of both the ERP selection process and implementation from the start, Horner said. The selection process began in September 2022 and was completed in April 2023.
Before the selection process began, Horner and his team mapped Talking Rain's existing processes and consolidated them into BusinessOptix, a business process mining and mapping tool.
"We used this to recognize where the inhibitors and opportunities were in the business processes, before we even started to consider who would be the candidates for a new ERP," Horner said. This approach allowed the ERP selection team to avoid creating a standardized request for proposal for the prospective ERP vendors, but furnished them with a map of the company's technology landscape and helped surface business problems that needed to be addressed.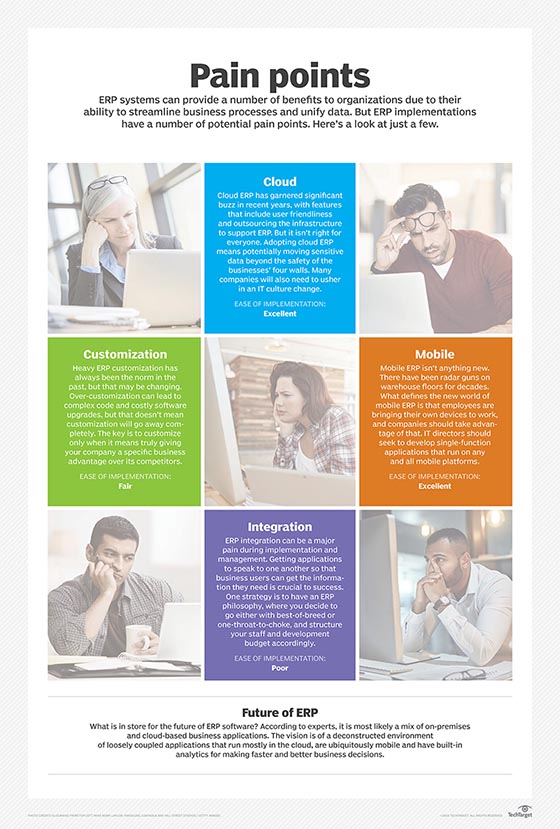 Talking Rain was subsequently able to base the ERP selection process on the vendor that could best solve its specific problems rather than on the number of features they offer, he said. The team also decided to include a systems implementation partner with the vendor during the selection process, going against the convention of choosing a vendor, then finding an SI.
"Things have changed a lot with cloud technologies, and the value you get from the system and the implementation partner is growing," Horner said. "Going with that problem-solution approach made the vendors have to engage their solution delivery people rather than sending in pre-sales and it being a marketing activity to sell a product."
Dynamics 365 ERP fits the bill
Pairing the right SI with the most appropriate ERP system was important to make up for the lack of ERP implementation experience at Talking Rain.
"We wanted to be as transparent as possible with those solution providers as to what they were walking into," Horner said.
Final candidates included Microsoft Dynamics 365 Finance and Operations with Infosys as the SI versus Oracle Cloud Fusion with Deloitte as the SI, with Dynamics 365 ERP taking the nod.
Although Talking Rain had a Business Central system, Dynamics 365 Finance and Operations was selected for its platform characteristics, not Microsoft incumbency, Horner explained. Both Oracle Cloud Fusion and Microsoft Dynamics 365 were capable of meeting Talking Rain's core requirements, but the D365 system was more aligned to the company's future goals.
"D365 has come a long way even in the last few years, and they've been successful in growing the capabilities within it and delivering on them," Horner said. "From a technical perspective, D365 is truly scalable and is a true cloud platform rather than one that's built on a cloud platform."
AI on the horizon
It was crucial for the ERP system to be able to handle Talking Rain's future requirements, primarily analytics, business intelligence and the emerging capabilities for AI, according to Horner.
[Microsoft's] investment into AI and their approach to it with Copilot takes away some of the angst that people may have when they think about AI.

Dave HornerVice president of technology, Talking Rain
Dynamics 365 will allow the company to keep data for analytics inside the platform without having to transfer data around systems and join it in a data warehouse, making BI more scalable and enabling near-real-time analytics, he said.
Horner expects that AI is going to be a technology that will soon become vital for businesses, including midmarket operations such as Talking Rain.
"[Microsoft's] investment into AI and their approach to it with Copilot takes away some of the angst that people may have when they think about AI," he said. "Microsoft is investing in the AI itself and into the connectivity between their core products."
Talking Rain will investigate best practices for AI use cases, but before that, questions about the business value and costs still need to be answered, Horner said. As with its ERP project, preparation will be key, and the company will need to get its data in order before using AI capabilities.
"We're building the foundations to enable it," he said. "We'll identify opportunities within the first release of D365 we'd try, such as accounts receivable in the finance area, where the opportunity is close and the use case is understood and the process right."
Talking Rain and its SI Infosys are not wasting time getting the D365 implementation project rolling. The project work began in June 2023, and the current projected go-live is set for summer 2024. However, Horner is aware that an implementation can go sideways, so the company is building in measures intended to keep things on track while staying focused on doing the project right.
"We could have done it quicker, but we've introduced some operational readiness testing to ensure that any given business function works, and not only from a user acceptance perspective," he said. "It's about doing it right. I've seen so many of these programs come up short at the end."
Jim O'Donnell is a senior news writer who covers ERP and other enterprise applications for TechTarget Editorial.