your123 - stock.adobe.com
Dynamics 365 ERP adds Copilot AI functionality
Microsoft introduced three new Copilot AI tools in Microsoft Dynamics 365 ERP for project management, finance and procurement that show better business use cases for generative AI.
Microsoft Dynamics 365 ERP is getting a measure of generative AI through new Copilot capabilities.
The new Copilot capabilities are to be included in Dynamics 365 Project Operations for project management, Dynamics 365 Finance for credit and payment management, and Dynamics 365 Supply Chain Management for procurement.
In March, Microsoft launched Copilot 365, which embeds AI into Office business suite applications, including Excel, Outlook, PowerPoint, Teams and Word.
The new features are currently in public preview and are expected to be included in the October update release of Dynamics 365, according to Microsoft.
The goal behind the addition of Copilot AI into Dynamics 365 ERP is to automate and add intelligence into manual processes, according to Georg Glantschnig, vice president of Dynamics 365 Finance and service-centric ERP at Microsoft.
"For example, in finance, there's still a lot of manual, tedious processes that can be automated," he said. "But more important, Copilot AI enables humans to make better and faster decisions."
Making project plans quicker
Dynamics 365 Project Operations, for example, enables project managers to improve the process of creating project plans, Glantschnig said. This is traditionally a time-consuming and manual process, but Copilot can help a project manager quickly build a plan using a template based on previous projects. It can also recommend resource assignments for the project.
Copilot also monitors the project for risks on a continuous basis and can suggest mitigation plans if a project has problems.
Project managers can also use Copilot to write periodic summary or status reports, a process that can take hours to do manually, Glantschnig said. However, project managers will be able to proof reports and make adjustments if needed.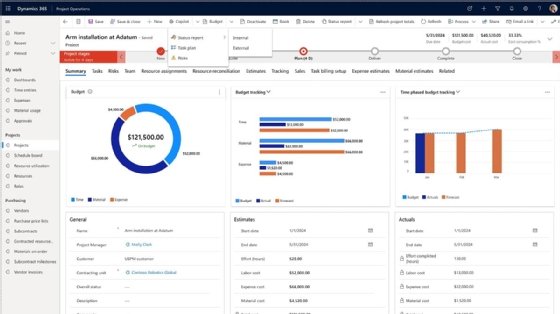 The capabilities of Copilot in Dynamics 365 Finance provide collection agents with quick access to credit and payment history that allows them to prioritize accounts and personalize customer communication, he said.
"This can make it easier to keep a good relationship with customers and then hopefully get payments on time so that cash flow is guaranteed," Glantschnig said.
For Dynamics 365 Supply Chain Management, customers can make better procurement decisions by using Copilot to respond to and adjust purchase orders and better assess the effects and risks of sourcing. Data management and security are vital to customers accepting AI for ERP functionality, he explained.
Copilot 365 is an enterprise-version AI built on OpenAI that uses a large language model trained on Azure infrastructure. It follows Microsoft data security and policies for where the data resides in different countries. Copilot 365 also limits the context of user interaction to the business application.
Generating better business use cases for AI
Using Copilot 365 AI capabilities for ERP processes puts Microsoft at the forefront of changing the conversation around business use cases for generative AI, said Kevin Permenter, a research director at IDC.
What's surprising is that amongst many of the other ERPs, Microsoft is one of the first to market with a coherent strategy that speaks to generative AI business use cases.

Kevin PermenterResearch director, IDC
For example, companies have long struggled to deal with the enormous amount of work that goes into managing accounts payable and other financial functions, such as supplier communications, change notices or collections.
"What's surprising is that amongst many of the other ERPs, Microsoft is one of the first to market with a coherent strategy that speaks to generative AI business use cases," Permenter said. "Creating reports inside an operations team, summarizing large amounts of data and then communicating on the collections invoicing side are at the forefront of the AI conversation, and Copilot 365 puts Microsoft ahead of many of their competitors."
This should help Dynamics 365 compete better against cloud ERP systems such as Oracle NetSuite or Acumatica that also target midmarket enterprises, he said, but it might not move the needle against more robust ERP systems such as SAP S/4HANA or Oracle Fusion Cloud.
"Is Copilot 365 enough to compensate for the depth of functionality you get with the bigger software packages in capabilities for supply chain, operations and finance?" Permenter said. "Maybe not, but it's definitely a step in the right direction."
The Copilot strategy is impressive and touches almost every facet of CRM, ERP and supply chain management in Dynamics 365, according to Predrag Jakovljevic, principal industry analyst at Technology Evaluation Centers.
"Microsoft seems to be ahead of the others because OpenAI has been using Azure for their R&D," he said.
Jakovljevic agrees that the Copilot 365 project management and finance functionalities are good business use cases that put Dynamics 365 ahead of competing ERP systems such as Oracle NetSuite and Acumatica -- at least for the time being.
"It's definitely better [than what the competitors have now], but over time they will all catch up," he said. "Microsoft is just ahead and more comprehensive now."
Jim O'Donnell is a senior news writer who covers ERP and other enterprise applications for TechTarget Editorial.