Getty Images/iStockphoto
NetSuite ERP aims to reconcile the books faster
The new NetSuite Account Reconciliation module provides intelligence and automation for NetSuite ERP customers, allowing improved account matching and shortening account closings.
Oracle NetSuite ERP is adding a module called NetSuite Account Reconciliation, intended to enable customers to simplify and automate the reconciliation of their accounts.
This can help them close the books faster and with more accurate data, according to Paul Farrell, vice president of product management at Oracle NetSuite.
NetSuite Account Reconciliation is built on Oracle Fusion Cloud Enterprise Performance Management (EPM), the enterprise development and integration platform, and joins NetSuite's other cloud ERP applications.
The NetSuite ERP suite of applications integrates and automates core business processes such as finance, sales, HR, warehouse management and supply chain. NetSuite ERP is aimed primarily at medium-sized enterprises and competes with ERP offerings from Acumatica, Epicor, IFS, Infor and Unit4.
The suite is available to run on Oracle Cloud Infrastructure and can run on other cloud infrastructures via integration tools and connectors.
NetSuite Account Reconciliation automates and adds intelligence to reconciliations for processes including accounts payable, accounts receivable, bank and credit card transactions, prepaid accounts, accruals and fixed assets accounts, and intercompany transactions, according to Oracle NetSuite.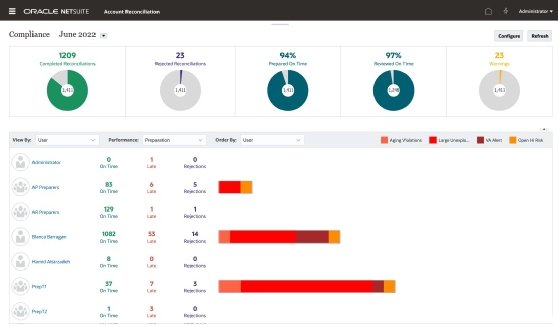 Most NetSuite ERP customers today have complex reconciliation processes, regardless of the enterprise size, Farrell said. They have done reconciliations with existing NetSuite financial functions, spreadsheets or other third-party applications, but NetSuite Account Reconciliation provides a centralized process that integrates with other NetSuite modules.
"It's going to add capabilities to those customers that have complex reconciliation needs," he said. "Either because they're in industries where they produce millions of detailed transactions that need to be reconciled back, or they're a part of larger organizations where they have to bring in external data, or they use other systems around the organization and they need centralized reconciliation."
The EPM engine embeds NetSuite Account Reconciliation with intelligence that helps users automatically perform functions such as reconciling and matching transactions, according to Farrell. This intelligence surfaces insights that users might not usually think about.
"Traditional analytics allow you to go in and say that you want to look at these reports or these KPIs, and that's what you get to look at," he said. "When the new intelligent insights in Account Reconciliation come through, they say, 'That's fine, but here are things that you should be looking at that you don't even know about, and here are how these things are associated.'"
Any technology that takes work out of the closing process should get a grand reception by accounting personnel. These folks want their lives back.

Brian SommerFounder and president, TechVentive
NetSuite Account Reconciliation is available now to all NetSuite ERP customers. There is an additional charge, for which pricing has not been disclosed. Oracle NetSuite has two major releases per year, with Account Reconciliation coming as a mid-cycle release.
Enabling better work-life balance
The NetSuite Account Reconciliation module should be in high demand from NetSuite customers, according to Brian Sommer, founder and president of TechVentive, a technology advisory firm in Carmel, Ind.
Being able to close the books faster and more accurately will help accounting teams have a better work-life balance, Sommer said. These teams know that month-end closings are a necessary part of the job, but it can take many hours that are crammed into a few days at the end of an accounting period to get this done.
"As a result, many corporate accounting team members lose out on vacations, family time and other activities if those events happen in the days after an accounting close," he said. "Any technology that takes work out of the closing process should get a grand reception by accounting personnel. These folks want their lives back."
Reconciliation is tedious, soul-sucking work that causes morale and engagement issues for accounting and other employees, Sommer said. Further, reconciliations are a necessary process for businesses, but they are not strategic or high value-added activities.
"Newer accounting graduates on a panel I listened to were quite clear that they wanted to do high value-add work in their career," he said. "They want to provide analysis on key business events and opportunities -- they don't want to do photocopying."
Jim O'Donnell is a senior news writer who covers ERP and other enterprise applications for TechTarget Editorial.