Getty Images
New Acumatica ERP features focus on productivity for SMBs
Acumatica's latest release of its SaaS ERP includes new features to improve ease of use and productivity for SMB customers, while strengthening its competitive advantage.
Cloud ERP vendor Acumatica highlighted industry specificity and customer rights at its Acumatica Summit for customers and partners this week.
The Acumatica Summit, held in Las Vegas with keynotes streamed for virtual attendees, focused on the company's commitment to a community of customers and partners, and demonstrated new functionality in the Acumatica 2023 R1 SaaS ERP.
The company updates Acumatica ERP twice a year, which includes updating its core product as well as adding new functions that are specific to the industry editions. Acumatica ERP, a cloud-native platform designed for SMBs, is available in a general business edition and in focused editions for retail and commerce, distribution, manufacturing and construction.
Acumatica 2023 R1 will be available in beta Thursday and will become generally available in April, according to the company. Its updates are intended to improve usability and productivity, said John Case, Acumatica CEO, during an interview.
"A lot of what we do in every feature update is in the financials of the core platform, but a lot is very specific to each particular product," said Case, who became CEO in March 2022.
For example, the Acumatica 2023 R1 Manufacturing Edition's production order screen now includes side panels that enable users to view and work on a bill of materials without leaving the screen. The Construction Edition includes features for simplified cost projection and work-in-progress reports. The Retail and Commerce Edition includes omnichannel support and will include a first-party payments capability so users can process and pay invoices directly within the application.
The company also unveiled a revised Customer Bill of Rights, which spells out commitments to customers, such as customer ownership of data and clear fee agreements. The revised Bill of Rights for the company's now 10,000 customers, a milestone highlighted at the summit, includes a new security model and the ability of users to access free professional online training.
"The Customer Bill of Rights is the way we're going to promise things to the community and customers based on the current business environment," Case said.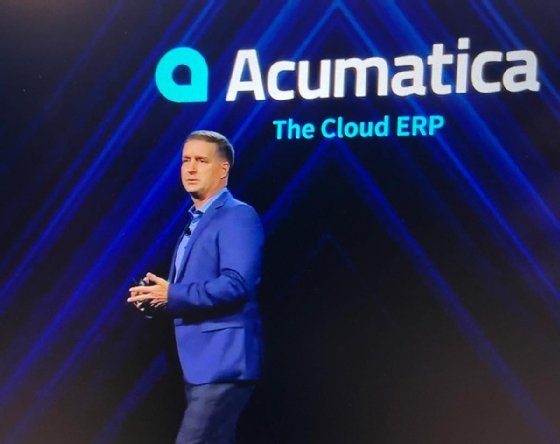 Medical equipment supplier selects Acumatica
Avante Health Solutions implemented Acumatica to replace a disparate landscape of ERP systems because of the vendor's customer and SMB focus, according to Khan Tran, Avante's CTO.
The Chicago-based supplier of medical equipment and services has grown through acquisitions, and each of the company's eight divisions ran a different ERP or used manual processes, Tran said in an interview. Avante selected Acumatica to unify the ERP landscape and was up and running on the system after a year-long phased implementation project that began in early 2020.
Other key elements for selecting Acumatica were that it was a cloud ERP that had strong ease of use, flexibility and rapid time to deployment, he said.
"Those elements may sound mundane at first, but they're what helped us to get over the hump," Tran said. "We don't have the level of sophistication and/or capacity to overhaul something like an SAP or [an Oracle], where it takes a lot of knowledge and a lot of investment."
Avante worked with Kensium Solutions LLC, a Chicago-based Acumatica partner, to design and deploy the system, and credits this relationship as another key factor in the successful implementation, according to Tran.
"Having support from Kensium or directly from Acumatica is a nice three-way partnership where everybody brings their best expertise to the table, yet allows that collaboration to discover new ways of doing things," he said.
Tran is looking forward to seeing if the new functionality in Acumatica 2023 R1 will be useful, but also wants to collaborate with Acumatica on developing specific functions.
"As we progress forward, we would love to be able to partake in their product roadmap and share that vision and understanding of what else they can bring to the table for our industry," he said. "Healthcare has been at the forefront because of the pandemic, so it will be interesting to see what's going to come out of their next release."
Focus on usability over bells and whistles
Overall, analysts described the functional additions in Acumatica 2023 R1 as relatively minor, but added that they should provide value for customers looking for better usability in the industry-edition applications.
On the whole, the updates are a little underwhelming, but several are useful, said Predrag Jakovljevic, principal industry analyst at Technology Evaluation Centers. For example, the progress billing functionality in the Construction Edition gives Acumatica a boost in an ERP category where it faces fewer competitors.
Sage has some functionality for construction, but NetSuite lags, he said.
"The e-commerce and distribution enhancements were nice, particularly the omnichannel capability and the connection between retail and wholesale distribution," Jakovljevic and. "This makes Acumatica competitive enough with NetSuite or Epicor."
The payments functionality will also make Acumatica ERP more competitive with NetSuite and Sage, which already offer banking integrations.
Although the new features aren't "earth shattering," they indicate that Acumatica is more interested in providing value that customers can use right away, rather than overwhelming them with bells and whistles, said Laurie McCabe, co-founder and partner of SMB Group.
Acumatica's emphasis on usability and making it easier to get help within the application are really important because ease of use can be even more important for SMBs than costs.

Laurie McCabeCo-founder and partner, SMB Group
"There are always overachiever customers that are clamoring and wanting [the latest] thing. But in reality -- especially in SMBs -- they can't always absorb it all," McCabe said. "Acumatica's emphasis on usability and making it easier to get help within the application are really important because ease of use can be even more important for SMBs than costs."
The industry-focused functionality provides users with more targeted ways to work more productively, she said. For example, a manufacturing production manager spends a lot of time on the Acumatica order screen, and the application now lets them see things like next-available action choices or a bill of materials without going to other screens.
"That's powerful because they're able to do more from the place they're usually in," McCabe said. "It's not just about adding new stuff, it's about making what you do have better."
The payments feature will also be well received by customers, she said.
"Payment is so tricky and so important, and there are so many issues regarding security that the more you can do to help customers handle these payments in a more integrated and secure way -- that's a big deal," McCabe said.
Jim O'Donnell is a TechTarget Editorial senior news writer who covers ERP and other enterprise applications.