Microsoft unveils AI-backed Copilot for Teams, Word and more
Microsoft 365 Copilot integrates AI-supported tools into Microsoft's productivity apps to help users write and organize emails, garner insights, and corral disparate data.
Generative AI will permeate many of Microsoft 365's productivity apps with the addition of Microsoft 365 Copilot, unveiled Thursday.
Microsoft 365 Copilot brings new AI-supported tools to Microsoft Excel, Outlook, PowerPoint, Teams, Word, Power Platform and Business Chat to help users with commonplace tasks.
Spanning Microsoft 365 platforms
Copilot 365 helps users generate text, edits and key takeaways in Word; translates ideas into presentations using natural language dictations in PowerPoint; and compiles real-time summaries and to-do items in Teams.
The power of generative AI Copilot services could allow employees to drastically improve work effectiveness.

Jason WongAnalyst, Gartner
"Microsoft 365 Copilot will make it possible for nearly all employees to have 'everyday AI' in their digital workplace," said Jason Wong, an analyst at Gartner. "The power of generative AI Copilot services could allow employees to drastically improve work effectiveness."
Microsoft 365 Copilot follows closely behind the news of Microsoft's Dynamics 365 Copilot for its CRM platform, revealed last week. Google also introduced new generative AI-supported capabilities in Google Workspace, its collaboration suite, this week.
Generative AI competition in collaboration software
"In comparing to Google's announcements on generative AI for Workspace, it appears that Google is playing catch-up," Wong said. "They have only announced new AI features in Google Docs and Gmail."
Microsoft is ahead of Google in terms of timing, but both Google and Microsoft have the same goal, according to Raul Castanon, an analyst at 451 Research.
"Microsoft struck first and gained from a first-mover advantage," Castanon said. "However, in essence, both companies are trying to do the same thing with the introduction of embedded generative AI capabilities in their respective productivity and collaboration product suites."
One highlight of Microsoft 365 Copilot is Microsoft Graph, according to Bob O'Donnell, an analyst at Technalysis Research. Microsoft Graph is a programming tool that can access a user's emails, contacts, documents and calendar, and study the user's data, language and tone to generate more personalized content, he said.
"Google's tools, on the other hand, feature a more open architecture that allows organizations to potentially choose their choice of LLMs -- such as GPT-4, in the case of Microsoft -- powering the generative AI services," O'Donnell said.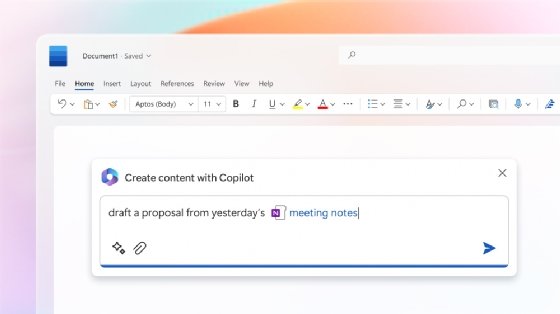 Microsoft also has an edge with Business Chat, which uses generative AI capabilities to pull data from various Microsoft platforms for communication purposes.
"Business Chat is a new application with a conversational interface that can perform work across the large language model, the Microsoft 365 applications and your data -- your calendar, emails, chats, documents, meetings and contacts," Wong said.
The AI-infused Copilot comes from Microsoft subsidiary GitHub, which it acquired in 2018.
Mary Reines is a news writer covering customer experience and unified communications for TechTarget Editorial. Prior to TechTarget, Reines was arts editor at the Marblehead Reporter.