Olivier Le Moal - stock.adobe.co
5 benefits of Microsoft Dynamics 365
Dynamics 365 offers a comprehensive set of cloud-based business apps to help organizations eliminate data silos, improve decision-making and automate workflows.
In a competitive business landscape, organizations must constantly seek ways to improve CX and employee efficiency. Microsoft Dynamics 365, built on the Azure cloud platform, has helped many organizations in this endeavor.
With decades of experience in the CRM and ERP product spaces, Microsoft designed Dynamics 365 to adapt to market changes, streamline operations and drive business growth. The platform's versatility lets it serve various industries, from retail and manufacturing to healthcare and financial services, which can benefit business management.
How does Dynamics 365 work?
Dynamics 365 is a suite of business applications that includes Dynamics 365 Customer Service, Sales, Marketing, Finance and Project Operations, each designed to address specific business needs. The platform offers a modular architecture, so users can start with the apps they need and add more as their organizations grow.
Dynamics 365 doesn't require extensive customizations to implement and offers configuration and development options for users that want it. For example, it lets users with no coding experience set up workflows, user roles and data fields.
For more advanced customizations, Dynamics 365 supports a set of APIs and SDKs that let developers create custom modules, integrate third-party apps and build entirely new functionalities.
Additionally, the platform integrates with Microsoft's Power Platform, including Power Apps for low-code app development, Power Automate for workflow automation and Power BI for advanced analytics. This integration with Power Platform lets organizations extend the capabilities of Dynamics 365 to fit their specific requirements, enhancing CX and operational efficiency.
Benefits of Dynamics 365
Business leaders should understand the benefits of Dynamics 365 to determine if the platform meets their needs.
1. Centralizes business apps
Dynamics 365 can help users centralize business apps into an integrated platform. For example, Dynamics 365 Commerce integrates with tools like Microsoft Teams, LinkedIn and Bing so CX teams can view past customer interactions and technical knowledge directly from Dynamics 365.
Dynamics 365 also lets organizations integrate their CRM, ERP and e-commerce platforms for a consolidated view of customer data, inventory levels and sales metrics. This centralization can improve workflows and offer data-driven insights.
Additionally, integrations with other Microsoft products, like SharePoint and OneDrive, can enhance data accessibility and collaboration. Customers can also use Power Apps and Power Automate to add custom capabilities to Dynamics 365. For example, a retail store could enhance Dynamics 365 Supply Chain Management with a custom mobile app that lets workers scan products out of their inventory as they move items from stockrooms to sales floors.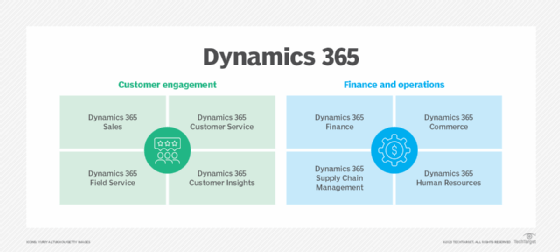 2. Offers remote access
To support remote work, Dynamics 365 uses cloud technology to offer remote access through its Outlook and Microsoft Teams integrations. These let users collaborate on projects, access client data and update project statuses from anywhere.
Dynamics 365 also offers mobile access for various tools, such as Sales, Customer Service, Field Service, Finance and Supply Chain Management. Mobile access benefits field service teams, in particular, as it lets technicians update job statuses in real time with Dynamics 365 Field Service. Microsoft plans to move all current mobile apps for Dynamics 365 to the Power Apps mobile offering in January 2024.
3. Improves decision-making
Dynamics 365 offers analytics and real-time data through Power BI integrations to help users monitor various KPIs, such as production efficiency and inventory levels, in real time. This visibility lets business leaders make quick adjustments to strategies, which can help them reduce costs and increase revenue.
Dynamics 365 Customer Insights also offers a layer of data analysis to help users understand customer behavior and preferences. Additionally, Dynamics 365 Finance offers built-in analytics tools to help users monitor their organizations' bottom lines.
4. Automates workflows
Modern organizations need automation to compete in competitive markets. Dynamics 365 offers many automation capabilities, such as Power Automate and built-in workflow, business rules and business process flows. These tools let users automate a wide range of processes, such as data entry and customer engagement tasks, which can save employees' time and minimize the risk of human error.
The platform's adaptability lets users create custom automation tools tailored to specific business needs. For example, users can create custom automations for sales processes in Dynamics 365 Sales or streamline contact center tasks in Dynamics 365 Customer Service.
5. Enhances security and compliance
All organizations must consider security and compliance. Microsoft built Dynamics 365 on Azure, a cloud environment that includes various security features, such as multifactor authentication and identity and access management. Dynamics 365 ensures compliance with industry standards and regulations so organizations can protect sensitive data and meet regulatory requirements.
Dynamics 365 offers many benefits to help organizations improve CX and employee efficiency. It can eliminate data silos, offer remote access, automate workflows and improve security. Additionally, Dynamics 365's integrations with other Microsoft products and services offers flexibility to help modern organizations overcome the unique challenges they face.
Robert Peledie is the director of CRM consultancy 365Knowledge Ltd., with years of consulting experience in global organizations.