Getty Images/iStockphoto
An overview of Microsoft Dynamics 365
Dynamics 365 unites various CRM and ERP tools into one platform. CRM apps include Dynamics 365 Sales and Customer Service, and ERP tools include Finance and Commerce.
Microsoft Dynamics 365 offers an integrated suite of customer engagement, and finance and operations applications.
Until 2016, Microsoft sold its enterprise-level CRM and ERP software under separate product names. Dynamics CRM offered marketing, sales and customer service features, while Dynamics AX offered tools for finance and supply chain management. The company then combined both products into a single platform called Microsoft Dynamics 365 to improve data sharing among different departments and improve overall efficiency.
Business leaders should understand the basics of this platform to determine if any combination of apps could help them meet business goals.
What is Microsoft Dynamics 365?
Dynamics 365 is a suite of cloud-based business apps that combines traditional CRM and ERP capabilities into a unified platform. Combining these capabilities lets organizations share data between various business tools to enhance productivity.
The tool's CRM apps streamline sales processes, help customer service teams resolve tickets and let marketers personalize the customer journey. Finance and operations teams can use its ERP apps to manage budgets, track inventories and onboard employees.
Microsoft built Dynamics 365 on top of its Power Platform, a low- and no-code tool that lets users build and customize business apps. Users can integrate Dynamics 365 offerings with Power Platform tools, such as Power BI and Power Virtual Agents, to extend data visualization, automation and chatbot capabilities.
Customer engagement apps within Dynamics 365
Dynamics 365's customer engagement apps streamline workflows for marketing, sales and customer service professionals.
Dynamics 365 Sales
Dynamics 365 Sales is a CRM platform offering data-driven insights and automation features to help sales teams improve efficiency and build strong customer relationships. Microsoft sells the platform in four pricing tiers -- Sales Professional, Sales Enterprise, Sales Premium and Microsoft Relationship Sales -- and offers Microsoft Sales Copilot as a generative AI add-on.
Dynamics 365 Sales Professional. This basic tier -- marketed to SMBs -- offers core CRM features but lacks the advanced customization and AI capabilities of the higher tiers. Sales Professional comes with workflow features that guide users through the sales process, and it offers predefined dashboards and charts that visually represent sales insights, such as deals won versus deals lost. Sales Professional also offers a 360-degree customer view that shows customers' contact information, past interactions and the status of deals that involve them from a centralized hub. Pricing for Sales Professional is $65 per user, per month.
Dynamics 365 Sales Enterprise. The Enterprise tier comes with all the same features as the Professional tier and also includes capabilities such as sales forecasting and sequencing. Microsoft designed this offering to meet the needs of large organizations. Sales Enterprise's forecasting features let sales representatives predict how much revenue they might generate over a given period. The sequencing feature -- formerly known as "playbooks" -- lets sales managers create customized workflow automations to enforce best practices across their departments. The product also lets users create marketing lists from contact, account and lead records so users can target customers with promotional content. Pricing for Sales Enterprise is $95 per user, per month.
Dynamics 365 Sales Premium. Sales Premium includes all the capabilities of the Enterprise tier and functionality such as AI coaching and relationships insights. Like the Enterprise tier, Microsoft designed this option for large organizations. The tool's AI coaching features offer sales reps recommendations in real time to increase productivity. The product also calculates customer health scores to alert reps of relationships that need attention. Additionally, Sales Premium offers AI-driven lead scoring to help sales teams prioritize tasks. Pricing for Sales Premium is $135 per user, per month.
Microsoft Relationship Sales. This offering adds LinkedIn Sales Navigator -- a tool that helps sales reps find and connect with potential leads on LinkedIn -- to Sales Enterprise and Premium for an increased price. Pricing for Relationship Sales with Sales Enterprise is $162 per user, per month. Pricing information for Relationship Sales with Sales Premium isn't readily available on the vendor's website.
Microsoft Sales Copilot. Sales Copilot, the app's latest addition, is a generative AI assistant Microsoft publicly released in September 2023. The tool comes with the Sales Enterprise and Sales Premium tiers, but Professional users can add it to their subscription for an additional fee. Sales Copilot can write sales emails, summarize email threads and pull data from Microsoft Teams into Dynamics 365 Sales. In 2024, Microsoft plans to add features, such as AI-powered dashboards to help sales managers track reps' performance. The company also plans to add automated content recommendations to help reps quickly offer customers relevant sales documentation. Pricing for Microsoft Sales Copilot is $40 per user, per month. Sales Enterprise and Sales Premium tiers include the feature for no additional charge.
Dynamics 365 Customer Service
Dynamics 365 Customer Service is a contact center platform that includes various features to help customer service agents efficiently answer and resolve customer questions and problems. Microsoft sells this product in two pricing tiers: Professional and Enterprise.
Customer Service Professional. The Professional tier offers core customer service features to help agents track, manage and resolve their cases. For example, it can automatically rate cases based on their severity level. It can also route customers to the most appropriate agent based on their geographic location, the nature of their problem or their problem's severity. Additionally, this tier offers knowledge management capabilities to help agents store, find and create knowledge articles. Pricing for Customer Service Professional is $50 per user, per month.
Customer Service Enterprise. The Enterprise tier offers all the features of Professional and includes additional AI features, such as real-time suggestions and insights. For example, as agents help customers with problems, the tool can suggest relevant knowledge articles and next steps to help resolve problems more quickly. Pricing for Customer Service Enterprise is $95 per user, per month.
Dynamics 365 Field Service
Field Service is a business app that helps field technicians offer more effective on-site service. Industries that might use this app include manufacturing, utilities and healthcare.
The app offers a dashboard that displays work orders as they come in through service cases, sales orders, customer calls and IoT data. For each work order, the dashboard shows which equipment and skills a technician needs to resolve the issue. The tool also offers a semi-automated scheduling board to help dispatchers assign the most appropriate technicians to each work order.
Field Service also includes a mobile app that offers remote technicians guided instructions and navigation capabilities to help find customers' locations. Additionally, users can integrate Field Service with Dynamics 365 Remote Assist and Guides -- apps that let technicians use mixed reality headsets to interact with remote experts and access on-site guidance.
Pricing for Field Service is $95 per user, per month.
Dynamics 365 Customer Insights
In September 2023, Microsoft combined Dynamics 365 Marketing with its Customer Insights customer data platform (CDP). The company renamed the marketing tool Customer Insights - Journeys and the CDP tool Customer Insights - Data, and sells the tools as one product.
The Journeys tool lets marketers and other CX employees design trigger-based customer journeys across channels. For example, marketers can use the tool to automatically send email greetings to customers after they perform a trigger action, such as creating an account or making a purchase.
The Data tool lets organizations unify customer data from various internal and external sources, such as other Microsoft applications or IoT data, and view it in real time. Marketers can then use this data to create customer profiles and segments, which helps them offer more personalized experiences across the customer journey.
Pricing for Customer Insights is $1,700 per tenant, per month. Users that already have at least 10 users on Dynamics 365 Sales, Customer Service, Field Service, Finance, Supply Chain Management or Commerce can add a Customer Insights license for $1,000 per tenant, per month.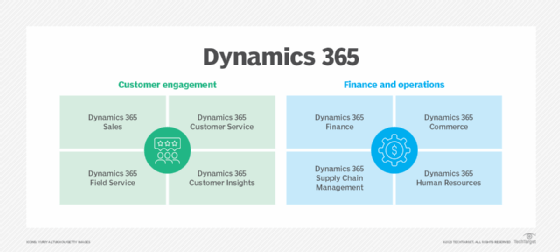 Finance and operations apps within Dynamics 365
The platform's finance and operations apps help accounting, supply chain management and HR professionals improve business processes.
Dynamics 365 Finance
Dynamics 365 Finance is Microsoft's financial management app. The tool offers features to help users streamline financial tasks, such as invoice creation, budgeting and financial forecasting.
The product's accounts receivable features can create invoices for sales orders and process several payment types, such as credit cards, checks and electronic funds transfers. The budgeting features integrate with Microsoft Excel to help plan long- or short-term budgets, track spending and enforce controls to prevent overspending. The forecasting features use AI to predict cash flows and estimate when organizations may receive overdue payments.
Pricing for this app is $180 per user, per month.
Dynamics 365 Commerce
Dynamics 365 Commerce lets retailers offer a consistent experience across various sales channels, such as digital, in-store and mobile. The platform lets users design customer-facing e-commerce websites and streamline back-office operations, such as inventory and delivery management.
Microsoft also offers an e-commerce add-on for this product, which includes AI-powered product recommendations that show customers products they might like based on past behaviors. It also offers AI algorithms that can automatically respond to or delete customer reviews based on their content.
Pricing for this app is $180 per user, per month. Users can also purchase the e-commerce add-on for $4,000 per month.
Dynamics 365 Supply Chain Management
Dynamics 365 Supply Chain Management helps users manage product planning, manufacturing, warehousing and fulfillment processes. The tool offers a comprehensive view of an organization's supply chain and inventory to help business leaders make more informed decisions.
The tool also offers AI-powered forecasting capabilities to help users predict trends in customer demand. Additionally, users can integrate this tool with Dynamics 365 Remote Assist and Guides to reduce equipment downtime on manufacturing sites.
Pricing for Supply Chain Management is $180 per user, per month.
Dynamics 365 Human Resources
Dynamics 365 Human Resources aims to streamline HR processes, such as employee onboarding, compensation and benefits management, performance reviews and leave of absence management.
The tool lists and tracks employees' skills, which helps HR teams match talent to projects. For example, the Supply Chain Management app offers a list of required skills for work orders. Integration with the HR platform lets operations and HR teams identify skills gaps that can inform training and hiring practices.
The platform also offers a self-service tool so employees can create profiles, view time-off balances and request leaves of absence. SMBs that only need limited capabilities can purchase these self-service capabilities alone for a reduced price.
Pricing for Human Resources is $120 per user, per month. The limited version, containing only self-service features, is $4 per user, per month.
Dig Deeper on CRM tools and strategy