Definition
customer data platform (CDP)
What is a customer data platform (CDP)?
A customer data platform (CDP) is a type of software application that provides a unified platform of customer information that can be collected, viewed or accessed by other systems. Unlike a data warehouse that is developed and managed by an internal IT team, a CDP is packaged software or software as a service (SaaS) that is sold by a vendor.
What does a CDP do?
The term "customer data platform" was coined by martech consultant David Raab in 2013. In a blog post, Raab defined the customer data platform as any system that can gather customer data from multiple sources, identify when data is related to the same customer, perform predictive analytics using the database and use the results to make informative decisions surrounding marketing campaigns.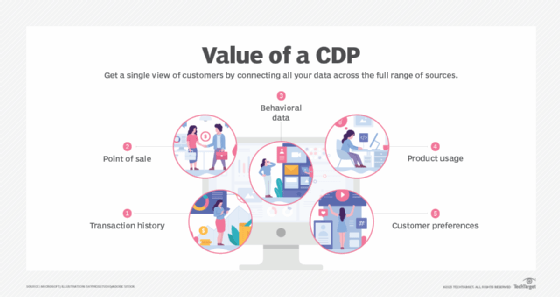 The following list shows capabilities a CDP normally has:
Unifies customer information in a central location so it is accessible to marketing, sales, customer support and finance teams.
Combines customer data from internal and external sources in a variety of formats, including structured and unstructured data, to create a single profile for each customer.
Handles queries like a regular database.
Offers tools for data management and operations, along with ancillary features, such as analytics and reporting.
Many vendors offer CDP products, including Amperity, BlueConic, Salesforce, Leadspace, Optimove and Twilio.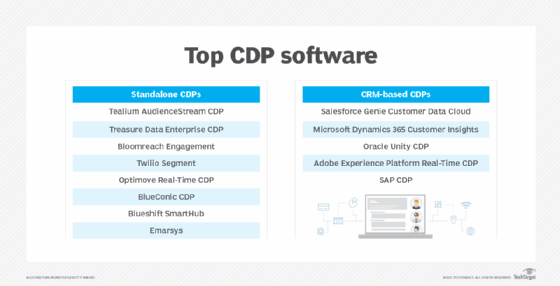 How do CDPs work?
A CDP ingests data from internal and external sources to create a unified view of the customer. Ingested data may come from exported files, such as a CSV file, or from real-time access via APIs and microservices. Most CDPs are built on a NoSQL database.
Once data is collected, it is displayed in a unified platform. A unique identifier is used to link all of an individual customer's information from multiple sources so that it is accessible to all relevant teams and systems. Marketers can then use the customer data to complete tasks such as measuring marketing campaign performance, conducting predictive modeling or performing customer segmentation.
Benefits of CDPs
A unified view of customers and their relevant data provides an understanding of customer usage and behavior that is more complete and thorough compared to a set of discrete and separate views (e.g., per delivery channel). Having this unified and accessible view of customer data facilitates better customer experiences via personalization, product delivery and customer support.
CDPs provide fast and cost-efficient access to customer data for marketers and related business users. Because a CDP is commercially available, off-the-shelf software, it is quicker to implement compared to an internally-sourced, custom development project.
Editor's note: This article was written in 2019. TechTarget editors revised it in 2023 to improve the reader experience.
This was last updated in
March 2023
Continue Reading About customer data platform (CDP)