alex_aldo - Fotolia
Compare the top 13 CDP software products in 2023
CDPs, which vendors may sell as standalone products or as subsets of CRM systems, help organizations build detailed customer profiles. Top CDPs include Emarsys and Oracle Unity CDP.
As sales and marketing teams use increasing amounts of data from disparate sources, customer data platforms have become more important in business.
Customer data platform (CDP) adoption marks a significant change in the CX space and reflects how software can help organizations achieve broad CX goals. For a long time, the CRM system was ideal to help organizations maintain close relationships with customers and suppliers and to provide data for campaign planning, purchase predictions and augmented support. However, CRM functionality only applies to existing customer contacts, which limits its capabilities.
CDP software, on the other hand, takes CRM to the next level. CDPs draw customer data from various sources, which lets them identify and track customers' transactional patterns and peripheral interests. Additionally, these systems can track the behavioral patterns of anonymous customers and prospects. CDPs, which can come as standalone products or offerings within larger CRM platforms, aggregate online and offline customer data and integrate it into a unified profile to eliminate redundancy.
Explore the top CDP software products in 2023, which include Tealium AudienceStream CDP, Treasure Data Enterprise CDP, Twilio Segment, Oracle Unity CDP and SAP CDP. The CDPs featured in this article were chosen based on professional and user reviews.
Top standalone customer data platforms
CDPs can offer more comprehensive ways to manage and use customer data than CRM systems. Although major CRM vendors like Salesforce and Microsoft include CDP services in their offerings, vendors like Tealium and Treasure Data specialize in CDPs.
Tealium AudienceStream CDP
Tealium AudienceStream CDP is an enterprise-level B2B and B2C platform that caters to various industries, like automotive, healthcare, financial services, insurance, pharmaceutical, sports and entertainment, travel and hospitality, retail, and e-commerce. The product offers broad integration with web and mobile data sources in addition to offline sources and IoT.
The platform's Customer Data Hub offers tag management and client- and server-side data collection and delivery that can benefit supply chain management. The platform has data cleansing features and an identity resolution function that uses data in profiles to reconstruct customer journeys. It also includes audience-based analytics dashboards and data supply chain visualization with data lifecycle visibility.
Pros: AudienceStream CDP supports mobile implementation and offers intuitive dashboards. The platform offers customizable visitor profiling tools, which feed real-time behavioral data into unified customer profiles. Also, the Tealium IQ feature offers permissions capabilities, which can limit certain functions -- such as the ability to change or delete information -- to authorized users.
Cons: The system lacks support for multiple environments, such as development, testing and production. Additionally, implementation can take time, and the AudienceStream interface is not reporting-friendly.
Integration: Tealium CDP comes with over 1,300 free integrations, which include Facebook, Google and Adobe -- many of which users can customize. Tealium's integrations are cross-type and include APIs, webhooks and prebuilt connectors.
Pricing: Pricing information is not readily available on the vendor's website.
Treasure Data Enterprise CDP
Treasure Data Enterprise CDP offers enterprise-wide customer views, customer segmentation and targeting, and customer engagement capabilities. The vendor offers different versions of its CDP for marketing, sales and service departments.
The platform can capture online and offline customer data across devices and channels. Also, machine learning (ML) capabilities can help marketing teams create narrow customer segments. The system gets insights from an AI-based analysis of customers' histories, behaviors and preferences to increase targeting accuracy. The vendor also offers an IoT module, which lets users collect and derive insights from IoT data.
Pros: Treasure Data Enterprise CDP offers data import and export features. It has a simple console interface, effective workflow features, custom queries and centralized performance metrics. It also has a responsive customer service team.
Cons: Users may experience problems with source connections, data visualization and performance speed.
Integration: Enterprise CDP offers over 100 integrations, which include AWS, Adobe Analytics, Facebook, Salesforce, Marketo and Zendesk.
Pricing: Pricing information is not readily available on the vendor's website.
Bloomreach Engagement
Bloomreach built its CDP offering, Bloomreach Engagement -- formerly Exponea -- for the B2C enterprise market, although it also caters to the telecommunications, banking and travel verticals. The system offers software development kits (SDKs) to help develop custom visitor data collection, digital ad management and ML-based customer personalization.
Pros: Bloomreach Engagement's strengths include its advanced analytics and omnichannel campaign support. Additionally, the product offers marketing automation, fast performance, a simple UI, effective training content and straightforward reporting tools.
Cons: The platform may experience integration glitches and requires significant IT support. Additionally, system updates can cause problems.
Integration: Bloomreach Engagement is hosted on the Google Cloud Platform. The product provides SQL integration with Microsoft, PostgreSQL, MySQL and Google BigQuery. Other integrations include Facebook, Google Ads and Amazon Alexa.
Pricing: Pricing information is not readily available on the vendor's website.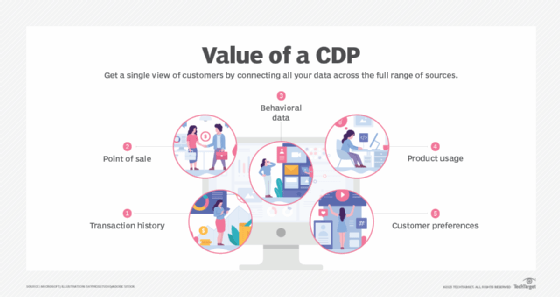 Twilio Segment
Twilio's CDP offering, Segment, has offerings at the enterprise and small business levels that focus on B2B retail, media and financial services verticals. The system's marketing features include analytics tools that can simplify customer data analysis and create buyer personas. The platform can also segment audiences based on behavior and offers data governance features. Additionally, Segment aggregates anonymous customer behavioral data from multiple devices into customer profiles.
Pros: Segment offers data cleansing in the API layer, data flow control and multi-target data exports. Additionally, users can implement third-party code without IT support.
Cons: The product doesn't include tag management and its debugging tool can be difficult to use. The product also has patchy instructional documentation and an unintuitive UI.
Integration: Segment integrates with over 250 marketing technology systems, as well as text messaging and push notification systems. Also, custom integrations can include data transforms -- features which help organizations convert data from one format to another.
Pricing: Segment buyers can choose between three pricing tiers: Free, Team or Business. The Team plan starts at $120 per month, whereas the Business plan has custom pricing.
Optimove Real-Time CDP
Optimove Real-Time CDP is for B2C retail, gaming, financial services and travel verticals. The system's Relationship Marketing Hub integrates predictive analytics with customer profiles. The platform includes AI to generate actionable insights, customer segmentation and identity resolution capabilities. Also, the product offers AI-based message prioritization features, which can prevent customers from receiving too many messages in one day. The product can process unstructured data and offers SDKs for web, iOS and Android development.
Pros: Real-Time CDP offers granular segmentation, personalized marketing campaigns, post-campaign evaluation features and simple campaign setup.
Cons: The platform lacks thoroughly developed reporting and can be slow at times. Some users express dissatisfaction with the message prioritization feature. Also, integration with multiple systems can pose challenges.
Integration: Optimove Real-Time CDP integrates with third-party systems, including Adobe, Oracle, Salesforce, Facebook and Google. The product includes API integrations and 80 out-of-the-box connectors through Azure Data Factory.
Pricing: Optimove bases pricing on the number of active customers an organization has per month, as opposed to how many team members use the software. Detailed pricing information is not readily available on the vendor's website.
BlueConic CDP
For midmarket B2B and B2C companies, BlueConic CDP handles four primary verticals: retail and e-commerce, media, financial services and travel. Although smaller than most of its competitors, BlueConic CDP helps organizations send personalized messages to customers across different stages of the customer lifecycle journey such as the acquisition, engagement and retention stages.
Features include identity resolution, unstructured data handling, offline data and SDKs for Android and iOS development. Its AI Workbench feature can deploy models for profile enrichment and customer segmentation. Additionally, AI Workbench offers custom visualizations, such as charts and graphs, so users can easily view and understand their data.
Pros: BlueConic CDP has a straightforward UI and offers simple website integration and data visualization.
Cons: Users cannot view profile metadata, and personalization can pose challenges.
Integration: The platform integrates with Facebook, Google and Instagram; Adobe Analytics; Salesforce, Marketo and HubSpot; Microsoft Dynamics and AWS; universal connectors; and web experience platforms.
Pricing: Pricing information is not readily available on the vendor's website.
Blueshift SmartHub
Blueshift SmartHub is a CDP that brings in customer data from various sources and uses customizable AI to analyze the data. The platform lets marketers create multichannel customer journey flows to unify touch points, such as desktop and mobile devices, and features real-time segmentation and marketing automation.
The product uses real-time behavioral data to help users make informed business decisions. The product also offers unlimited customer attributes, predictive analytics for customer engagement scores and taxonomies to create dynamic customer profiles. The platform can track transactional data and the number of times customers open emails. Blueshift's AI features let marketers create personalized marketing campaigns across channels that match the customer journey.
Pros: Blueshift SmartHub offers advanced reporting and simple customer segmentation.
Cons: The product has a steep learning curve, and the dashboard is often buggy.
Integration: The platform integrates with common tools like Adobe Advertising Cloud, AdRoll, AWS, Facebook, Google Ads, Magneto, Microsoft Advertising, Salesforce, SendGrid, Shopify, Zapier and Zendesk.
Pricing: Pricing information is not readily available on the vendor's website.
Emarsys
Primarily for marketing, Emarsys consolidates data from multiple sources, such as direct mail, SMS, mobile applications, email, digital advertisements and websites, to offer marketers a holistic customer view. The product's AI capabilities can help personalize marketing. Additionally, Emarsys lets users build automations to target customers based on where they are in the buyer journey, their predicted customer value and recent interactions with the brand.
Emarsys' Integrated Data Layer feature lets marketers collect customer information from multiple channels, and its Personalization Engine helps personalize web experiences. Additional features include customer lifecycle management and intelligence, analytics, marketing automation and cross-channel campaign execution.
Pros: Emarsys has omnichannel marketing capabilities, advanced automations and AI for predictive planning.
Cons: Due to its various features, Emarsys has a steep learning curve. The system also has limited reporting features which users may find tedious to operate.
Integration: The platform has over 80 prebuilt connectors to add-ons, such as Zendesk, Klarna, SegmentStream, Trustpilot, Segmentify, Salesforce Commerce Cloud, Google Analytics, Phrasee and Exactag.
Pricing: Pricing information is not readily available on the vendor's website.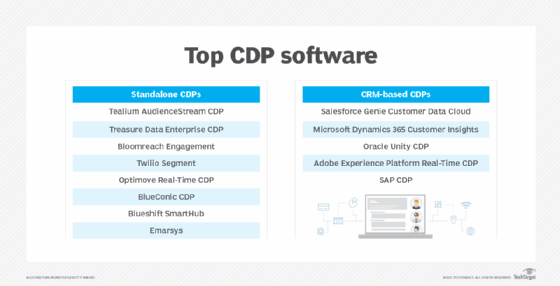 Top CRMs with CDP functionality
Like most customer-oriented software, CDPs need not stand alone. They can be add-on features in broader platforms -- most often in CRM systems. In response to the popularity of standalone CDPs, top CRM platform providers have added CDP functionality to better compete in the CX market.
Salesforce Genie Customer Data Cloud
Salesforce Genie Customer Data Cloud -- an expanded version of Salesforce's Customer 360 product -- is a CRM-based CDP. The product offers integrated customer engagement that uses Salesforce's acquisition of MuleSoft for cross-channel and cross-device connection.
Genie unifies data within a consent management framework, which helps marketers comply with customer privacy preferences. The platform also includes advanced audience segmentation and personalized engagement features. Additionally, the Salesforce Einstein AI engine offers insights to bolster customer loyalty.
Pros: Genie builds on the vendor's existing customer data management technology, with its existing client base. The CDP already fits into the Salesforce ecosystem.
Cons: Because Salesforce's architecture lacks flexibility, Genie may struggle to process the massive amounts of real-time data that IoT devices generate.
Integration: Through MuleSoft and its large API library and runtime engine, Genie has vast integration capabilities that can extend to most other CRM platforms, analytics sources and custom point-to-point connections. The platform also offers customizable APIs.
Pricing: Pricing information is not readily available on the vendor's website.
Microsoft Dynamics 365 Customer Insights
Microsoft's Dynamics 365 Customer Insights CDP has deep integration with the existing Dynamics platform. Alongside the product's data unification utility, which includes cross-channel multisourcing and persistent storage, Customer Insights offers self-service, data-driven analytics, extensive data ownership and governance features, and identity resolution. It also includes goal tracking and leader boards for sales reps.
Pros: The platform offers simple integration with other platforms and is based on existing Dynamics features and infrastructure. Customer Insights lets users easily organize data, and customers can manage their accounts. Additionally, the product offers an internal chat system and in-depth analytics.
Cons: Users may struggle to set up the platform, use reports and search for accounts and products.
Integration: Integration with other platforms and sources is near universal, given Dynamics 365's existing connectivity. Customer Insights offers a comprehensive API gallery and SDKs.
Pricing: Pricing starts at $1,500 per tenant, per month and includes up to 100,000 customer profiles and 10,000 accounts. Users can purchase add-ons for $1,000 per tenant, per month if they grow beyond these profile and account limits.
Oracle Unity CDP
Oracle Unity CDP -- a CDP which integrates with Oracle's Advertising and CX platform -- offers on-the-fly message modification. The platform also lets users analyze clickstream activity -- online behavioral data, such as the amount of time a customer spends on a particular webpage -- in real time.
Pros: Users can benefit from Unity's deep integration with Oracle's existing platform. The product's Subscription Management feature also offers a range of product ownership models and lets organizations share products across facilities.
Cons: Like Salesforce, Oracle may struggle to collect and process large amounts of real-time IoT data due to its inflexible architecture.
Integration: Integration comes through the existing Oracle Data Cloud, which can access any third-party data source.
Pricing: Pricing information is not readily available on the vendor's website.
Adobe Experience Platform Real-Time CDP
Adobe Experience Platform Real-Time CDP lets organizations streamline intelligent workflows across marketing systems. Marketing teams can test fine-tuned customer segments for personalized campaigns, and they can update customer profiles in real time.
The product updates in real time across sources with real-time activation, and can help marketers map complex customer journeys. The platform's Journey Orchestration feature offers real-time engagement based on where customers are in the customer journey. Additionally, the platform offers APIs so users can integrate it with third-party applications.
Pros: Real-Time CDP offers a simple UI, flexible customer journey touchpoints, responsive customer service and an effective search function.
Cons: Nontechnical users may struggle with the product's complexity and the toolbar is not intuitive.
Integration: Real-Time CDP integrates with data integration tools such as SnapLogic, Informatica and Unifi. Additionally, the platform offers API integration and mobile SDKs.
Pricing: Adobe offers three versions of its Real-Time CDP: B2C Edition, B2B Edition and B2P -- business-to-person -- Edition. The B2P version aims to help organizations process both B2C and B2B data and personalize experiences for individual people across various lines of business. Detailed pricing information is not readily available on the vendor's website.
SAP CDP
SAP's CDP lets users visualize customer profiles and their relationships with brands to better personalize engagements. Built on the SAP Customer Data Cloud foundation, SAP CDP is based on Gigya technology, which SAP acquired in 2017.
The CDP offers customer identity access management and enterprise consent and preference management. The product uses real-time data to drive customer registrations and engagement and offer a more personalized CX.
Pros: SAP CDP integrates easily with SAP Commerce Cloud and lets users aggregate data from multiple sources into a central repository.
Cons: The product's management console is complex, and integrations have room for improvement.
Integration: The platform integrates with other SAP products and tools such as Salesforce. SAP's Connector Studio offers templates to build integrations with other products.
Pricing: SAP CDP pricing follows a monthly subscription model based on the number of customer profiles an organization has. Detailed pricing information is not readily available on the vendor's website.
As with many platforms, the right one for any particular organization may require customization. But standalone or baked-in, CDPs have become critical to organize data for CX teams.
Editor's note: This article was originally written by Scott Robinson and expanded by Christine Parizo.