alex_aldo - Fotolia
Compare the top 10 customer data platform software products
CDPs can provide a distinct competitive advantage, but selecting a product can be tricky. Learn about the top platforms on the market, including major features and pros and cons.
Customer data platforms are growing in prominence and importance in businesses as sales and marketing teams struggle to take advantage of increasing amounts of data from disparate sources. Though not yet ubiquitous, product options are proliferating, with the CDP Institute reporting 65% growth in the industry in 2018 and projecting revenues of more than $1 billion in 2019.
Adoption of customer data platform software marks a significant change and reflects how software is enabling the broad goals of CX across businesses.
For a long time, the CRM system was the ideal mechanism for maintaining strong relationships with customers and suppliers, providing essential data for campaign planning, purchasing predictions and augmented support. But CRM is restricted to actual customer contacts, which limit its capabilities.
Customer data platform software takes CRM to the next level. CDPs draw from other sources, making them able to identify a customer's transactional patterns and peripheral interests, as well as tracking those who are anonymous. It can bring together multiple online and offline sources and integrate customer data into a single, unified profile that can be used across the enterprise, eliminating redundancy.
Stand-alone customer data platform software
CDPs offer a profound competitive advantage by providing a more complex and comprehensive way to manage and make use of customer data than CRM alone. While the major CRM vendors are working to integrate CDPs into their offerings, several vendors have emerged that specialize in customer data. Here's a rundown of the leading stand-alone CDPs today.
Tealium
Tealium CDP is an enterprise-level B2B/B2C platform catering to the healthcare, financial services, technology, retail and e-commerce industries. With more than 10 years in the market, it offers broad integration beyond web and mobile data, encompassing offline sources and IoT.
Its Universal Data Hub is particularly supply chain-friendly, providing tag management and both client-side and server-side data collection and delivery. The platform has strong data-cleaning features and an identity resolution function that replays data aggregated in profiles to reconstruct customer journeys. Audience-based analytics dashboards and data supply chain visualization -- with data lifecycle visibility -- are also included.
Pros: Customers can access its central data repository. It offers strong visitor profiling features and strong mobile implementation. The AudienceStream feature simplifies data governance. And dashboards are intuitive.
Cons: Support for multiple environments is limited -- i.e., dev, test, production. Implementation is lengthy. And AudienceStream interface is not reporting-friendly.
Integration: Tealium comes with 1,200 turnkey integrations available at no extra cost, including Facebook, Google and Adobe, many of them customizable. And integrations are cross-type, including APIs, webhooks and prebuilt connectors.
Arm Treasure Data
Arm Ltd.'s Arm Treasure Data Enterprise CDP offers the standard bells and whistles, including enterprise-wide customer view, precise customer segmentation and targeting, and precise customer engagement timing.
Customer data capture is cross-device and online-to-store. Machine learning facilitates audience segmentation granularity. Insights are derived from AI-based analysis of customer history, behavior and preferences to increase targeting accuracy. The vendor also offers an IoT module.
Pros: Both data import and export are strong. It offers a friendly console interface, easy-to-use workflow, strong customer service, custom queries and centralized performance metrics.
Cons: Some source connections are buggy, data visualization could be improved and performance is slow.
Integration: Enterprise CDP offers 72 top integrations, including AWS, Adobe Analytics and Facebook. Other integrations include Salesforce, Marketo, Zendesk and others, alongside dozens of peripheral integrations and APIs.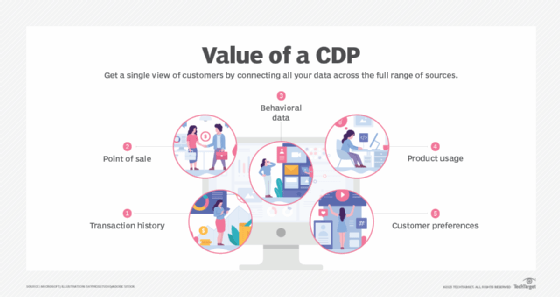 Exponea
Built for the B2C enterprise market, Exponea CDP caters to the telecom, banking and travel verticals. Relatively new to the CDP market, Exponea's strengths are its advanced analytics and omnichannel campaign support. Software development kits are offered for development of custom visitor data collection, digital ad management and machine learning-based customer personalization.
Pros: Exponea offers strong automation, fast performance, strong user interface, effective training content and easy-to-use reporting tools.
Cons: There are some integration glitches, it requires significant IT support and updates can break things.
Integration: Exponea is hosted on the Google Cloud Platform. It provides strong SQL integration -- Microsoft, PostGre, MySQL and Google BigQuery. Other integrations include Adtech, Facebook, Google, Amazon Alexa and many others.
Segment
With almost a decade in the marketplace, Segment.io Inc.'s CDP has offerings at the enterprise and small-business levels, focusing on B2B in the retail, media and financial services verticals. Analytics are integrated into marketing tools to simplify customer data analysis and include personas. The platform can segment audiences based on behavior, provides strong data governance features and enables anonymous behaviors to be aggregated from multiple devices to produce profiles.
Pros: Segment provides data cleaning in the API layer, easy control of data flow and easy-to-configure multi-target data export. And third-party code is readily implemented without IT support.
Cons: Tag management isn't included, debugger is limited, documentation is patchy and user interface is not very intuitive.
Integration: It integrates with more than 250 martech systems and text messaging and push notification systems. And custom integrations can include data transforms.
Optimove
Optimove CDP from Mobius Solutions is for B2C in the retail, gaming, financial services and travel verticals. Its Relationship Marketing Hub integrates predictive analytics with the customer model. The platform includes AI for generating actionable insights, multidimensional segmentation, customer prioritization and identity resolution features and is friendly to unstructured data. Software development kits are available for web, iOS and Android development.
Pros: Microsegmentation, behavior-based personal campaigns, post-campaign evaluation features and easy campaign setup are all included.
Cons: The Journey Builder feature is glitchy. Reporting is underdeveloped. The prioritization feature needs improvement. Integration with multiple systems is complex, and data is not real-time.
Integration: Optimove integrates with 35 third-party systems, including Facebook, IBM Watson, Oracle, Salesforce and MailChimp. API integrations is included, as well as 80 out-of-the-box connectors via Azure Data Factory.
BlueConic
For midmarket B2B and B2C companies, BlueConic CDP handles four primary verticals: retail and e-commerce, media, financial services and travel. While smaller than most of its competitors, BlueConic features sophisticated personal experience orchestrations across customer acquisition, engagement and retention.
Features include identity resolution, handling of unstructured data, offline data and software development kits for Android and iOS development. An AI Workbench enables deployment of models for profile enrichment, smarter segments and custom visualizations.
Pros: BlueConic offers a strong user interface, website integration and data visualization.
Cons: Profile metadata cannot be viewed, and personalization is difficult.
Integration: The platform integrates with Facebook, Google and Instagram; Adobe Analytics; Salesforce, IBM, Marketo and HubSpot; Microsoft Dynamics and AWS; universal connectors; and web experience platforms.
CRM-based customer data platforms
Customer data platform software takes CRM to the next level.
Like most customer-oriented software, CDP need not stand alone. It can, and does, make its appearance as a set of add-on features in broader platforms -- most often in a CRM system itself. In response to the popularity of pure-play CDP, the top CRM platform providers have been rolling out increased functionality to better compete.
Salesforce
Salesforce recently added several new features to its Customer 360 product -- dubbing the improved version Salesforce Customer 360 Truth -- making it a strong contender in built-in, CRM-based CDP. New capabilities include integrated customer engagement that optimizes the Salesforce acquisition of MuleSoft for cross-channel, cross-device connection and unifies data within a consent management framework.
The platform also incorporates advanced audience segmentation and personalized engagement, and the Salesforce Einstein AI engine has been configured to offer insights to bolster customer loyalty. The pilot for these CDP features is currently underway.
Pros: Building on mature customer data management technology already in place, with a vast and long-established client base, Salesforce's late entry into CDP will likely not keep it from gaining ground rapidly. The CDP features of Customer 360 already nest readily into the Salesforce ecosystem.
Cons: Salesforce's entrenched architecture will likely make a CDP IoT data-gathering product difficult to implement.
Integration: Via MuleSoft and its vast API library and runtime engine, Customer 360's integration is virtually limitless, extensible to most other CRM platforms, analytics sources and custom point-to-point connections. APIs are customizable.
Microsoft
Like Salesforce, Microsoft is late to the party with its Dynamics 365 Customer Insights CDP, but hopes its strong features and deep integration with the existing Dynamics platform will rapidly bring market share. Alongside its data unification utility, which includes cross-channel multisourcing and persistent storage, it offers self-service, data-driven analytics, extensive data ownership and governance features and identity resolution. It also includes goal tracking and leader boards for sales reps.
Pros: It's easy to set up and integrate with other platforms and is based on existing Dynamics features and infrastructure. Data organization is easy. Customers can manage their accounts. And it provides an internal chat system and in-depth analytics.
Cons: Setting up Insights is not straightforward, searching for accounts and products is challenging and reporting is surprisingly unfriendly.
Integration: Integration with other platforms and sources is near universal, given Dynamics 365's broad existing connectivity. It offers a strong API gallery and software development kits.
Oracle
Oracle's CX Unity product, which integrates with its existing Customer Experience Cloud, has a lead of many months on the Salesforce and Microsoft CDP offerings. It is likewise integrated with the Oracle Marketing Cloud and Data Cloud and offers on-the-fly message modification and real-time clickstream activity analysis.
Pros: Unity's deep integration with Oracle's existing platform is an obvious plus. Its Subscription Management feature, which exploits the emerging subscription economy by serving a range of product ownership models and makes it possible for products to be shared across facilities, is likewise a strong advantage.
Cons: Like Salesforce, Oracle will likely face challenges bringing IoT into the data-gathering fold due to its entrenched architecture.
Integration: Integration is through the existing Oracle Data Cloud, which can access any third-party data source.
Adobe
The Adobe Experience Platform enables the streamlining of intelligent workflows across marketing systems. Fine-tuned customer segments can be readily tested for personalized campaigns and customer profiles can be updated in real time.
The customer data platform itself updates in real time across sources with real-time activation, and more complex customer journeys are possible. Sophisticated journey orchestration includes customer-activated strategies, real-time engagement and open-ecosystem channels.
Pros: Experience Platform offers a friendly user interface, flexible customer journey touchpoints, strong customer service and a powerful search function.
Cons: It's complex for nontechnical users and the toolbar is not very intuitive.
Integration: It integrates with universal data integration tools such as Snaplogic, Informatica, Unifi. And it offers API integration and mobile software development kits.
As with so many platforms, the right one for any particular enterprise will be a fairly customized fit. But standalone or baked-in, CDP as a core organizing data source has become mission critical and needs to be on the radar of any organization investing in customer experience technology.