ltstudiooo - Fotolia
Microsoft CDP pricing might prove attractive to midsize retailers
With entry-level pricing of $1,500 a month, the new Microsoft CDP could attract midsize retailers.
Microsoft's recently released Dynamics 365 Customer Insights is a customer data platform with a pricing model that midsize retailers could find attractive.
Microsoft designed Customer Insights for online stores, brick-and-mortar retailers, B2B sellers and marketing teams, said Satish Thomas, group program manager for Dynamics 365, in an Oct. 10 video presentation. Businesses use CDPs to unify and update customer data across multiple platforms, including retail, e-commerce, marketing and sales.
Microsoft's CDP has all of those standard features, plus AI for customer segmentation and analytics for generating sales. The product also includes dashboards that display customer data intelligence and tools for unifying data from multiple sources.
Customer Insights' entry-level price of $1,500 per month for up to 100,000 customer profiles is "as low as it gets" for a CDP, said David Raab, founder of the CDP Institute, which educates marketers about managing customer data. The price could attract midsize retailers and possibly expand the market reach of Dynamics 365.
"If they make it really easy to connect to systems outside of Dynamics, that might attract people from outside the Dynamics customer base, which is already pretty big," Raab said.
The CDP market is currently wide open. Raab estimated only 20% of businesses that could benefit from a CDP have it. Such a large number of potential customers provides an opportunity for large and small vendors.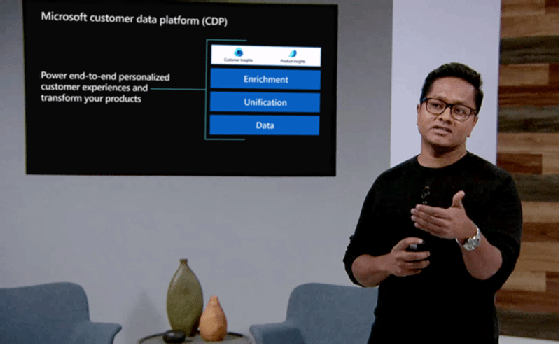 Add-on features for Customer Insights
Microsoft has included in its CDP add-on features that other vendors typically charge extra for, according to Raab. However, Microsoft is less generous when it comes to connecting Dynamics 365 to competing CX systems.
The company recently raised the price of its PowerApps integration tools. Competitors do not usually charge for connectors to other products, so customers will have to factor in the development and per-user subscription costs for PowerApps in their budgets.
But development costs might not deter retailers with CDPs on AWS, Raab said. Those retailers often look for alternatives to the IaaS provider, which is owned by their online competitor, Amazon.