olly - Fotolia
Microsoft PowerApps pricing proposal puts users on edge
Microsoft's PowerApps pricing changes, expected to take effect in October, could make them too expensive for some users who connect to data outside of SharePoint and Dynamics.
BOSTON -- Microsoft's proposed licensing changes for PowerApps, the cloud-based development tools for Office 365 and Dynamics 365, have confused users and made them fearful the software will become prohibitively expensive.
Last week, at Microsoft's SPTechCon user conference, some organizations said the pricing changes, scheduled to take effect Oct. 1, were convoluted. Others said the new pricing -- if it remains as previewed by Microsoft earlier this summer -- would force them to limit the use of the mobile app development tools.
"We were at the point where we were going to be expanding our usage, instead of using it for small things, using it for larger things," Katherine Prouty, a developer at the nonprofit Greater Lynn Senior Services, based in Lynn, Mass., said. "This is what our IT folks are always petrified of; [the proposed pricing change] is confirmation of their worst nightmares."
This is what our IT folks are always petrified of; this is confirmation of their worst nightmares.

Katherine ProutyDeveloper, Greater Lynn Senior Services
Planned apps the nonprofit group might have to scrap if the pricing changes take effect include those for managing health and safety risks for its employees and clients in a regulatory-compliant way, and protecting the privacy of employees as they post to social media on behalf of the organization, Prouty said.
Developers weigh in
The latest pricing proposal primarily affects organizations building PowerApps that tap data sources outside of Office 365 and Dynamics 365. People connecting to Salesforce, for example, would pay $10 per user, per month, unless they opt to pay $40 per user, per month for unlimited use of data connectors to third-party apps.
The new pricing would take effect even if customers were only connecting Office 365 to Dynamics 365 or vice versa. That additional cost for using apps they're already paying for does not sit well with some customers, while others find the pricing scheme perplexing.
"It's all very convoluted right now," said David Drever, senior manager at IT consultancy Protiviti, based in Menlo Park, Calif.
Manufacturing and service companies that create apps using multiple data sources are among the businesses likely to pay a lot more in PowerApps licensing fees, said IT consultant Daniel Christian of PowerApps911, based in Maineville, Ohio.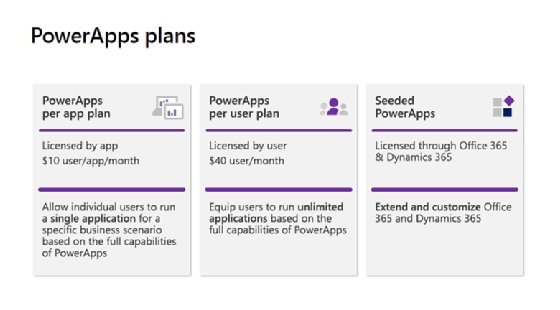 Annual PowerApps pricing changes
However, pricing isn't the only problem, Christian said. Microsoft's yearly overhaul of PowerApps fees also contributes to customer handwringing over costs.
"Select [a pricing model] and stick with it," he said. "I'm OK with change; we'll manage it and figure it out. It's the repetitive changes that bug me."
Microsoft began restricting PowerApps access to outside data sources earlier this year, putting into effect changes announced last fall. The new policy required users to purchase a special PowerApps plan to connect to popular business applications such as Salesforce Chatter, GotoMeeting and Oracle Database. The coming changes as presented earlier this summer would take that one step further by introducing per-app fees and closing loopholes that were available on a plan that previously cost $7 per user per month.
Matt Wade, VP of client services at H3 Solutions Inc., based in Manassas, Va., said customers should watch Microsoft's official PowerApps blog for future information that might clarify costs and influence possible tweaks to the final pricing model. H3 Solutions is the maker of AtBot, a platform for developing bots for Microsoft's cloud-based applications.
"People who are in charge of administering Office 365 and the Power Platform need to be hyper-aware of what's going on," Wade said. "Follow the blog, comment, provide feedback -- and do it respectfully."