Adobe Sign introduces updates targeting mobile device users
The updates include a new home screen and a page for users to track the signing process, the ability to zoom and navigation buttons that help improve users' experience on mobile.
Adobe Sign updates this week brought new features supporting mobile devices and new integrations with Microsoft cloud products including SharePoint, Dynamics, PowerApps and Flow, Teams and Azure.
According to Mike Prizament, senior product marketing manager at Adobe, the company emphasized improving user experience on mobile because nearly half of its users start the signing process on their phones. "If 50% of people check their email, and then they try to start signing a document on their phone, we want it to be as easy as possible," he said.
The Adobe Sign updates include the following:
Improved mobile signing experience: Adobe Sign enables users to zoom in on areas they need to sign and provides mobile-friendly navigation buttons that guide the signer through required fields. The company said these functionalities are available on mobile web and don't require users to download an app.
New home screen interface: The Adobe Sign home screen has a new design intended to make the main e-signature tools more visible and accessible. The tools let users send out a document for signatures, track document status and manage the signing process. Users can send documents from the Adobe Sign home screen for people to sign instead of emailing the document or sending paper copies, according to the company.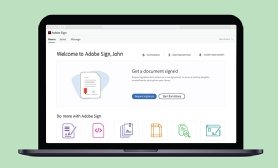 New manage page: The new page lets managers responsible for sending documents for signatures track or modify the process. The user can check to whom the documents were sent, determine whether a recipient opened the document yet, change or cancel recipients and archive the documents.
Adobe Sign allows two different levels of account sharing on the manage page: view only and full access. The view-only sharing mode allows the main manager to share the account to team members so they are given access to only view the status of the task. The full-access sharing mode gives complete control to team members to take over the manager's account in case the person is taking a vacation or leaving the company, according to Adobe.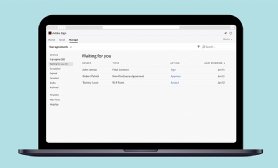 Users can swap back and forth between accounts in a drop-down menu on the manage page.
Integrations with Microsoft cloud productivity products
Adobe Sign has updated integrations with the following Microsoft products:
Microsoft SharePoint: Users can create and embed digital forms that can be filled, signed and reused. The update is intended to help customers collect information from a large number of people inside and outside the company. Data from the forms is automatically saved and mapped back to a SharePoint list.
Microsoft Dynamics 365: E-signatures works with Dynamics 365 Sales in more languages, including German, French and Japanese.
Microsoft PowerApps and Power Automate in the Government Community Cloud: Users can add signing workflows when a new document is uploaded in SharePoint, then route final documents and create an audit trail to OneDrive/SharePoint.
Microsoft Teams: Team members can send documents for signatures and manage, track and get notifications for the status of important documents. The Adobe Sign integration in Teams is certified as part of the Microsoft 365 Certification program, ensuring that enterprise data privacy and security are protected from third-party developed applications in Microsoft 365.
Microsoft Azure: Adobe Sign is now available in Microsoft Azure in Europe and stores all data, content and information within the EU.
Microsoft Azure Active Directory: Microsoft Azure Active Directory enterprise customers can use single sign-on to send Adobe Sign to their employees via the Adobe admin console within 30 minutes.
"Signature is a key component to identity, and identity is a key component to trusted commerce. Adobe has a huge potential to leverage over 1 billion PDF users in the future of legal signing authority," said R "Ray" Wang, principal analyst and founder at Constellation Research.
He said the latest integrations with Microsoft products will enable tools such as Dynamics 365 Sales, Microsoft SharePoint, Teams and other apps to take advantage of signature from Adobe.
Wang said Adobe ultimately competes with DocuSign, a cloud service providing e-signature technology.
Adobe sees a big potential still ahead for the market of e-signatures, citing IDC research sponsored by Adobe that found 80% of enterprise document processes still rely on paper. "There's still a huge opportunity there, and this is a big area that Adobe Sign looks to solve together with Adobe Document Cloud," Prizament said.
Dig Deeper on Content management software and services