Microsoft Dynamics 365 AI going hard after Salesforce
Microsoft hammers Salesforce by launching low-code, AI-based virtual agents for customer service. Also: New tools for sales and marketing add automated insights to Dynamics 365.
Microsoft and Salesforce are attacking each other again. Microsoft Dynamics 365 AI tools are coming that will beef up sales, marketing and -- most of all -- service and support, unveiled the day after Salesforce announced Quip Slides, a PowerPoint competitor.
Salesforce appears to be annexing Microsoft's business-productivity territory, while Microsoft is rolling its forces deeper into Salesforce's CRM domain by more tightly connecting Teams collaboration with its CRM suite, freshened up with new AI capabilities.
"You've got Salesforce announcing Quip Slides, and you've got Microsoft doing a whole bunch of integration between Teams and Dynamics ... who's going after whose market?" said Alan Lepofsky, analyst at Constellation Research.
In a media briefing ahead of its Ignite user conference, the tech giant took some direct shots at rival Salesforce in introducing Microsoft Dynamics 365 AI tools that buttress CRM processes. Of particular note was Dynamics 365 AI for Customer Service, which adds out-of-the-box virtual agents.
Assistive AI for contact centers
Who's going after whose market?

Alan Lepofskyanalyst, Constellation Research
Virtual agents can take several forms, two of which include chatbots that do the talking on behalf of humans, or assistive bots that prompt humans with suggested answers for engaging live with customers either on voice or text channels.
New Microsoft bots, built on Azure Cognitive Services, won't require the code-intensive development or consultant services that other vendors' CRM tools do, claimed Alysa Taylor, Microsoft corporate vice president of business applications and global industry. She singled out Salesforce as a CRM competitor in her comments.
"Many vendors offer [virtual agents] in a way that is very cumbersome for organizations to adopt," Taylor said. "It requires a large services engagement; Salesforce partners with IBM Watson to be able to deliver this."
Either way, the bots will require training. Microsoft Dynamics 365 AI-powered bots can be trained by call center managers, asserted Navrina Singh, Microsoft AI principal product lead, during a demo.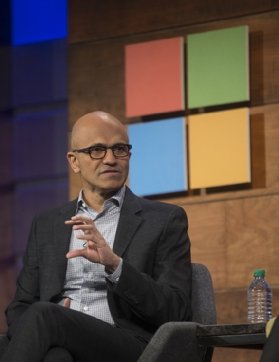 The bots can tap into phone log transcriptions, email and other contact center data stores to shape answers to customer problems and take some of the workload off of overburdened contact center agents, Singh said.
The virtual agent introductions were significant enough that Microsoft brought out CEO Satya Nadella for a cameo with Singh during the briefing.
"The thing that's most exciting to me," Nadella said, "... is that [Microsoft] can make every company out there an AI-first company. They already have customers, they already have data. If you can democratize the use of AI tools, every company can harness the power of AI."
Other Dynamics 365 AI tools for CRM
Sales and marketing staffs get their own Dynamics 365 AI infusion, too.
Microsoft brings Dynamics 365 AI for Sales in line with Salesforce Einstein tools that use AI to prioritize lead pipelines and sales-team performance management.
Microsoft Dynamics 365 AI for Market Insights plumbs marketing, social media and other customer engagement data to improve customer relations and "engage in relevant conversations and respond faster to trends," Taylor wrote in a blog post announcing the new system.
While the Microsoft moves appear effective, industry observers questioned whether they can Microsoft make an impression in Salesforce's massive market footprint, even if they are easier to use, more economical and more intuitive than Salesforce's.
Lepofsky said he isn't sure, because of the sheer numbers. The 150,000-strong Dreamforce user conference is at the same time as Ignite, and the latter will likely draw only about a sixth of the Dreamforce crowd. And Salesforce likely won't be resting on its AI credentials either.
"I think you can speculate that Salesforce will also be talking about AI improvements at Dreamforce, so perhaps it's not that differentiating for Dynamics," Lepofsky said.
While Microsoft announced no release date for its AI tools, a preview site will go online this fall, Singh said.