FinancialForce adds Einstein Analytics to back office
FinancialForce added an analytics layer to its Professional Services Automation product to help its users find better insights in their back-office applications.
FinancialForce, an ERP software vendor whose products are built on Salesforce's architecture, unveiled the fall 2018 release of its Professional Services Automation software, adding a layer of Einstein Analytics into the offering.
FinancialForce also added integration APIs to third-party back office applications, starting with integration with SAP Concur, the expense filing software. FinancialForce executives said Concur is the only third-party integration currently available, but more will be added according to demand.
The ERP vendor, one of Salesforce's biggest independent software vendors, also added Salesforce Lightning, the CRM company's second-generation user interface. Professional Services Automation (PSA) enables users to transition to using FinancialForce on Lightning.
FinancialForce previewed the incorporation of Einstein AI features into its products in November 2017. The company said those features are generally available now.
The tighter connection to Salesforce, with which FinancialForce is already closely intertwined, has spurred speculation about the possibility of Salesforce acquiring the ERP software to add ERP to the roster of Salesforce customizations.
Salesforce, in an unattributed email, said as a matter of policy, it does not comment on "rumors or speculation." However, one FinancialForce executive did not rule out a potential sale to Salesforce, which is a leading investor in FinancialForce.
By incorporating Einstein into its PSA software, FinancialForce is starting to usher in AI and analytics into the back office for organizations. Typically seen in CRM as tools to help organizations derive more insights from their customers' data, AI and analytics are now moving into back-office applications to help organizations find more insight about their own internal processes.
"With artificial intelligence, you want to get access to the largest set of transactions and data, and when you can access it all on the same platform, that means a richer data set, and more precise decisions you can make for your next best actions," said Ray Wang, founder of Constellation Research, in an interview at a FinancialForce luncheon for analysts at the Dreamforce 2018 conference in September.
Our customers are collecting a wealth of information, and analytics is the first step of turning the lights on and analyzing their business.

Lori Ellsworthvice president of product management of PSA, FinancialForce
According to a 2017 survey conducted by the Harvard Business Review, 51% of AI leaders surveyed said that by 2020, AI will have its biggest internal impact on back-office functions such as IT, finance and accounting.
FinancialForce said Salesforce Einstein Analytics improves visibility and analysis against billings, backlog, capacity and utilization and help make the vendor's ERP platform more scalable for enterprise growth.
"That matters to our customers," said Lori Ellsworth, vice president of product management for PSA at FinancialForce. "Our customers are collecting a wealth of information, and analytics is the first step of turning the lights on and analyzing their business."
Salesforce Lightning comes to PSA
In addition to adding Einstein Analytics to the PSA tool, FinancialForce is also making it easier for users to transition to Salesforce Lightning, Salesforce's second-generation user interface.
"In this release, we've done work to take better advantage of the Lightning look and feel," Ellsworth said. "We think about it as the next generation for PSA solutions with the Lightning Experience."
Ellsworth said that roughly 10% to 15% of FinancialForce customers are using Lightning, adding that users are experimenting with and are developing a rollout plan.
"It's a change management exercise," Ellsworth said about the relatively low adoption of Salesforce Lightning at this point.
Adding Einstein Analytics
The purpose of FinancialForce's PSA upgrade is to help enterprises focus on deeper functionality for its service organizations, and that's where it hopes Einstein Analytics helps.
Bennet Yen, vice president of product at FinancialForce, claimed at the Dreamforce event that FinancialForce is the first vendor to incorporate Einstein AI features in general release products.
Wang said FinancialForce is among the first vendors with generally available Einstein features, but not necessarily the first.
However, Wang said FinancialForce's AI strategy improves its suite of ERP products and its speed to market with Einstein Analytics features effectively quickly takes advantage of Salesforce's Einstein branding campaign.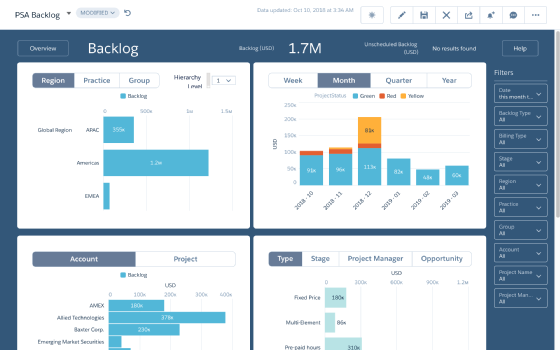 Also, the new release of FinancialForce's financial management module features enhanced, role-based dashboards and advanced financial reporting capabilities powered by Einstein analytics that provide enterprise-scale reporting dimensions.
In addition to adding Einstein Analytics, FinancialForce is beginning to open integrations to other back-office applications to provide better connection and more insight.
Salesforce acquisition on the horizon?
Meanwhile, speculation about Salesforce seeking to acquire FinancialForce -- one of the CRM giant's biggest independent software vendor partners -- has long percolated, partly because Salesforce doesn't have an ERP cloud system.
Asked about acquisition talk, Yen acknowledged, "I think that's an option down the road.
"We partner together on a lot of deals already," he continued. "Our sales folks work together. Our marketing teams work together, and our product teams are very close."
FinancialForce does not view Rootstock -- another cloud ERP vendor that is a preferred Salesforce partner -- as a direct competitor because Rootstock is focused on manufacturing and distribution, while FinancialForce is for service-oriented companies.
As for Wang, he dismissed talk of a Salesforce takeover of FinancialForce, saying there is little rationale for it with the two companies already tightly linked.
Ellsworth declined to comment further, saying that any move by Salesforce to buy FinancialForce is "a decision our board needs to make."