Google Analytics for Salesforce helps users scour web data
Salesforce will sell Google Marketing Platform products on its own site in North America, strengthening the partnership between the two software giants.
When Salesforce first partnered with Google, the alliance was met with excitement, but also skepticism. Salesforce...
Continue Reading This Article
Enjoy this article as well as all of our content, including E-Guides, news, tips and more.
has touted partnerships before, but there have been times when little has come from them. The big tech vendors are trying to ensure that doesn't happen this time, with several new integrations and Salesforce selling Google Marketing Platform products directly.
While the partnership was announced last year, the integrations are now generally available. The CRM vendor, at its Dreamforce 2018 conference, showcased how two customers are using the Google Analytics for Salesforce platform, Google Analytics 360.
Open Colleges, a Sydney-based online college company that works with 50,000 students, has been using Sales Cloud and Marketing Cloud with the Google Analytics for Salesforce software to better personalize experiences for students.
"Google Analytics 360 helped Open Colleges see how our TV ads were turning into online leads," Lawrence Daffurn, head of lifecycle marketing for Open Colleges, said at a Dreamforce session at the Moscone Center in San Francisco. He added that Google Analytics 360 is helping the company gain insights from scouring web data combined with data from Marketing Cloud.
After looking at what the Google Analytics for Salesforce integration entailed, the outcome for Open Colleges was to be able to send more targeted marketing messages to its audience through multiple channels, not just one.
"Fifty-five percent of our leads don't pick up the phone," Daffurn said, outlining the need for more personalized marketing for potential students. "The partnership enabled us to improve the customer experience for our students."
Salesforce deepens Google integration
Salesforce needs web analytics for the Google Analytics integration. With many users looking for insight from their websites, the CRM leader was hampered by a long-standing gap in data tracking.
It was possible for users to combine data insight from Salesforce and Google Analytics 360, but the process was burdensome and difficult, and it required multiple interfaces -- compared to now, as the Google Analytics 360 data is embedded directly into the various Salesforce products.
At Dreamforce 18, Salesforce said it would tighten its partnership with Google and will sell Google Marketing Platform products -- Google Analytics 360, Google Optimize 360 and Google Tag Manager 360 -- directly from the Salesforce website in North America.
Also, Salesforce expanded the Google Analytics integrations within Sales Cloud, allowing users to take Einstein Lead Scoring and e-commerce metrics and import them into Google Analytics 360 to provide a more detailed perspective of their data.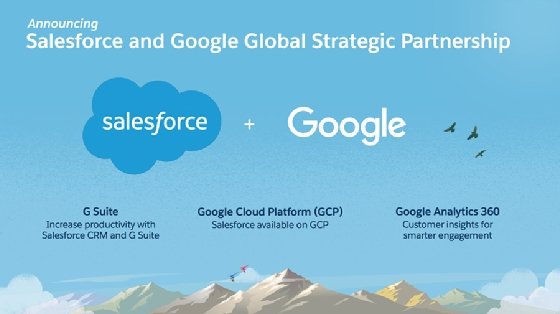 Rakuten starts small with analytics integration
Google Analytics 360 helped Open Colleges see how our TV ads were turning into online leads.

Lawrence Daffurnhead of lifecycle marketing, Open Colleges
These deeper integrations were a welcomed addition for Chris Moody, manager and data analyst at Overdrive, which is a division of Tokyo-based e-commerce platform software vendor Rakuten.
"We had challenges -- main things like offline and online data were in separate silos, and our data was channel-specific," Moody said at the Dreamforce session. "Web trends were capturing some analytical data, but not most of it."
Moody and his group set up goals and conversions inside Google Analytics to help find insights into their data, but cautioned attendees to tackle the project in smaller chunks, rather than trying to inject analytics into all of their data at once.
"Start small," Moody said. "You may find that some funnels have gaps, and you should focus on those. Incremental is the way to do it."
Google Analytics for Salesforce helped Rakuten get a better vision of its data, according to Moody.
"We get near-real-time data and insights," he said. "It allows for the opportunity for data to go through Salesforce, into the connector and into Google Analytics 360, and you're able to see some amazing things."