Salesforce Einstein Voice, Customer 360 data sharing on deck
Salesforce users to benefit from new and extended partnerships with Apple, AWS and IBM, the upcoming Customer 360 integration tool and Einstein Voice.
SAN FRANCISCO -- Salesforce unveiled products to improve data sharing and ease integration, as well as high-profile partnerships with Apple and AWS this week, but it was news of the upcoming Salesforce Einstein Voice Assistant that got the most buzz among users at the company's annual conference.
Salesforce disclosed plans to launch the Customer 360 platform, an administrative interface aimed at connecting customer data across its applications. Salesforce hopes that Customer 360, combined with Salesforce's Integration Cloud -- built from the MuleSoft acquisition earlier this year -- provides the ability to connect data from all of the company's disparate systems and applications to give users a holistic view of their customers.
"It took a while for all of Salesforce clouds to be formed and because they were developed separately and some began as applications or acquisitions, this is a way to bring them together," said Brent Leary, co-founder of CRM Essentials, a CRM consulting firm. "The ease of integration is the selling point."
Salesforce co-founder and CTO Parker Harris said during the conference keynote that Customer 360 has the potential to bring together an organization's various Salesforce products.
"It is part of the Customer Success Platform -- it's at the heart of it," Harris said, adding that the addition of MuleSoft via the Integration Cloud will help organizations tie in third-party systems with Salesforce products.
It will make shuttling the data easier and connecting APIs easier.

Arul DanielVP of enterprise software and engineering, Realtor.com
"You have other technology in the enterprise -- HR, ERP -- and you want to know that information about your customers, too," Harris said. "That's why we have integration and that's why we bought MuleSoft."
Arul Daniel, VP of enterprise software and engineering at Realtor.com, built out his own integration tool to help move data across the real estate search company's Salesforce applications and third-party tools. He hopes that Integration Cloud and Customer 360 can take over that responsibility once it's generally available -- which won't be generally available until sometime in 2019. It is currently in a closed pilot release.
"It should really help and won't force me into one type of technology," Daniel said. "It will make shuttling the data easier and connecting APIs easier."
Einstein finds its voice
Among the new Salesforce products unveiled here at Dreamforce 18, Einstein Voice excited both analysts and attendees the most. Through natural language processing, Salesforce Einstein Voice transcribes verbal commands using natural language processing to classify the updates you need to make within a given Salesforce application. This means through Salesforce AI functionality, users can update customer profiles, compose emails and schedule meetings by talking to their mobile device.
"From an employee standpoint, [Einstein Voice] makes CRM easier to use," said Leary, who also authors the voice technology blog Voices Carry. "Most sales people are living on their phone and it's the main reason that the Apple-Salesforce partnership works."
Not only does Salesforce Einstein Voice help users input data into their CRM, it also updates Customer 360 IDs so that its customers' preferences are constantly up to date.
"You're getting these interactions into the CRM that you wouldn't have had before," Leary said. "It removes so much friction and creates better opportunities for the user side."
Attendees of Dreamforce expressed optimism about Einstein Voice but wondered about the use cases beyond just updating a customer record or telling a sales rep what their day looks like. The benefit is apparent for employee-facing processes, but attendees are curious if Einstein Voice can also help find insights with customer interactions -- such as phone calls.
"We're interested in Einstein Voice with all the leads that come through the Ford website and all the dealer websites," said Tom Thomas, VP of business intelligence and analytics at FordDirect, a data and advertising company that works with Ford and Lincoln automobile dealerships. Thomas said between all of the independent dealers FordDirect works with and inquiries directly to Ford and Lincoln, there are hundreds of thousands of calls each month. Thomas hopes that Einstein Voice can help FordDirect analyze and learn from these phone calls to better serve its customers -- the dealerships.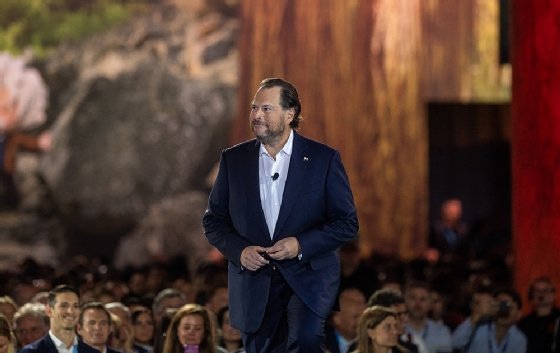 "We want to interrogate those phone conversations and match what in those conversations can lead to a sale," Thomas said.
As with most emerging technology, there are also concerns with Salesforce Einstein Voice. Some people scoff at the proliferation of connected devices that track and listen to what we say, according to Leary.
"There are privacy concerns," Leary said. "Certain people you just can't win over. But once you see some use cases, the value proposition will be more than the concerns."
Einstein Voice will be in pilot as part of the Winter 2019 release. Pricing will become available at that time.
Salesforce expands partnerships
The Salesforce partnership with AWS was also expanded during Dreamforce, simplifying how data is shared across AWS and Salesforce and integrating AWS PrivateLink with Salesforce APIs, as well as integrating Amazon Connect with Service Cloud.
Salesforce also deepened its partnership with IBM Watson, with Watson Discovery for Service Cloud. The application, which is in Salesforce's AppExchange, uses AI-powered search to crawl through different enterprise data sources to provide service agents information they need to resolve cases more quickly and reduce time spent for searching for information. The application is generally available in the AppExchange.
Dig Deeper on Customer service and contact center