Definition
Salesforce Einstein
What is Salesforce Einstein?
Salesforce Einstein refers to an integrated set of artificial intelligence (AI) technologies developed for the Salesforce Customer Relationship Management (CRM) platform. Einstein is available for the entire suite of Salesforce products known as Customer 360. In combination with data and CRM, Einstein makes Customer 360 smarter and helps organizations do everything from anticipating new sales opportunities and resolving service cases to creating predictive journeys and designing personalized customer experiences (CX).
Salesforce Einstein is the world's first "generative AI" built for CRM. It is seamlessly integrated into many Salesforce products that compose the Customer 360 portfolio, including the following:
As of 2023, Salesforce claims that Einstein delivers over 200 billion predictions every day across all the above integrated applications. This AI is data-ready, meaning it eliminates the need to do data preparation or model management. As long as an organization's data is available in the Salesforce CRM, Einstein can deliver useful insights and predictive recommendations that teams can then use to better understand customers better, generate relevant content at scale and deliver personalized experiences to every customer on any channel.
Einstein is also modeling-ready, which means enterprises can make full use of multi-tenant, automated machine learning (ML) anytime and access the model necessary for their specific use case. Finally, as part of the existing Salesforce CRM platform and supported by existing model management and monitoring tools, Einstein is production-ready. Teams can easily implement its AI capabilities for many business functions, including sales, marketing, service and Information Technology (IT).
Salesforce Einstein in Marketing Cloud
Einstein AI tools in Salesforce Marketing Cloud let marketers activate available data to design personalized marketing campaigns at scale. Each campaign can connect every moment of customer engagement across every channel and touchpoint, including email, mobile, advertising and chat apps. With unified customer engagement and connected customer journeys, organizations can make timely recommendations to customers and nurture stronger relationships with them.
Einstein also makes it easy to create appropriate segments and target the right audience with personalized, relevant, hyperdynamic content on every desired channel. It is valuable for building automated email campaigns, setting up conversational mobile messages and creating interactive content that can be optimal for driving higher conversions.
Marketing teams can also use Einstein to identify the perfect send time and frequency for emails and other marketing messages. By doing this, they can increase the chances that their tailored content will drive higher customer engagement and maximize marketing effectiveness and return on investment (ROI).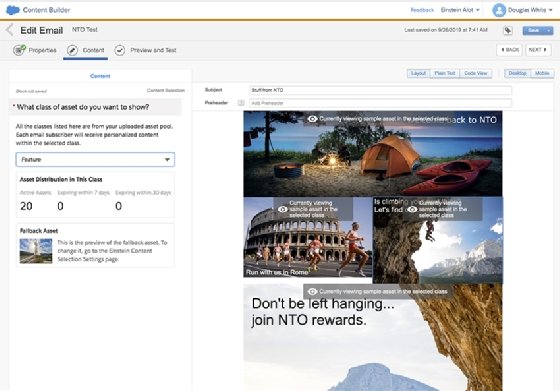 Salesforce Einstein in Sales Cloud
Einstein is also available in Salesforce Sales Cloud. It processes large quantities of customer data easily and generates useful insights automatically to help sales teams make accurate forecasts and automate many sales processes. Einstein Sales GPT can also provide guidance from prospect to close as well as conversational intelligence that can accelerate time-to-close.
Some key features of Einstein in Sales Cloud are as follows:
Autogenerated personalized emails for every sales conversation.
Call summaries, action items, conversational insights and customer signals that help sellers move deals forward faster.
Sales Assistant that can handle many tasks so salespeople can focus on more important activities like customer relationship-building.
Self-serve seller onboarding that can reduce ramp time for new reps and get them on the floor faster.
Buyer Assistant that automatically qualifies leads from the company website and passes them on to sales reps.
Einstein for Sales also has powerful data collection and mapping capabilities. It pulls critical context from relevant sources across the web into the CRM platform and updates existing records so reps always have the most timely information on every deal and customer. It can also generate predictions and explanations that enable sales managers to make forecasts confidently and act appropriately to grow the sales pipeline.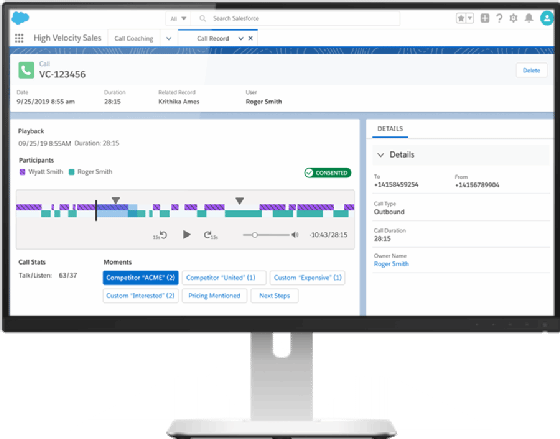 Salesforce Einstein in Service Cloud
Einstein's AI capabilities are handy for service teams. Customer service reps can access up-to-date customer data anytime to enhance and personalize every interaction. Organizations can scale their service offerings across any channel with Einstein Bots. A built-in bot builder with an easy, point-and-click interface makes it easy to build and launch multilingual bots in just a few minutes. In addition, an application programming interface can extend Einstein Bots to any channel or the organization's custom client.
Einstein Service Generative Pre-trained Transformer (GPT) uses trusted CRM data and enables personalized, smart, data-driven automation. It also includes many features that can help boost agent productivity, resolve cases faster and boost customer satisfaction. These include the following:
Personalized service replies for any channel.
Automatic wrap up summaries based on case data.
Next best actions that can be suggested to customers.
Automated data entry for new cases plus filtering so every case goes to the right agent or queue.
Knowledge base search so agents can access the most relevant information anytime.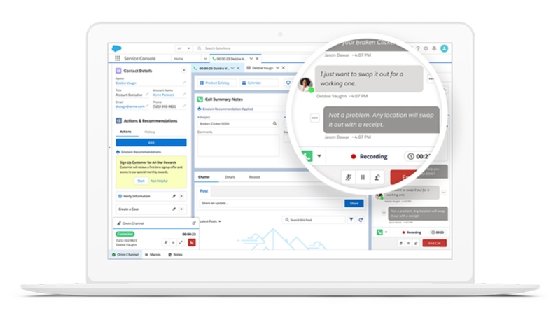 Salesforce Einstein in Commerce Cloud
In Salesforce Commerce, Einstein AI provides product recommendations, tailored product sorting and meaningful search results, all of which can help improve CX during shopping. Einstein's AI capabilities use an open-model ecosystem and flexible large language models (LLM) ideal for e-commerce and digital storefronts. These capabilities enable online sellers to do the following:
Implement new commerce experiences faster.
Deliver humanized, in-app experiences and personalized product recommendations to every customer.
Autogenerate content for product descriptions.
Grow cart size and capture customer loyalty.
Capture and convert search traffic to the storefront.
Einstein AI is also embedded in Tableau and Flow. In Tableau, Einstein makes it easy to uncover answers to business-critical questions with intelligent predictions and recommendations. Businesses can also use Einstein's conversational intelligence in Flow to automatically generate CX workflows and simplify complex tasks.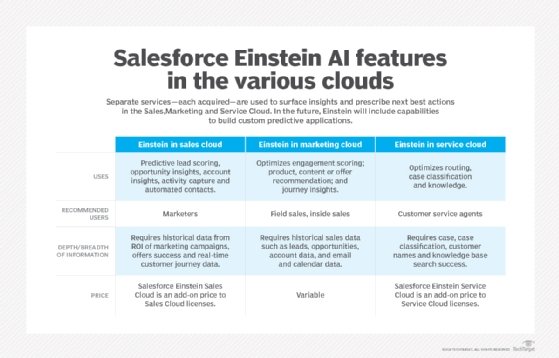 Key benefits of Salesforce Einstein
Because Einstein works seamlessly with all Salesforce Customer 360 products, it can usher in many benefits to organizations that use these products, such as the following:
Facilitate faster closings on more deals.
Provide better, more personalized customer service.
Enhance understanding of customer behaviors and make it easier to create more targeted segments.
Advance personalization and timing of marketing content to engage the target audience optimally.
Power personalized shopping experiences that help retain customers.
Einstein also connects disparate teams by unifying customer data, creating a consistent view of every customer and helping them collaborate better to provide seamless experiences across any channel, every time.
Data protection in Salesforce Einstein
Einstein is built on Salesforce's effective, flexible security architecture. This architecture includes the Einstein Trust Layer that safeguards sensitive customer data. This feature offers the benefits of generative AI in Customer 360 while ensuring data protection and privacy. It separates sensitive data from LLMs, which enables organizations to maintain strong data governance controls. They can also confidently optimize and deploy the LLM they need confidently for their specific tasks while meeting their data privacy, security and compliance goals.
Salesforce also follows key principles intended to make AI trustworthy. The goal is to ensure that Einstein remains safe to use for every organization.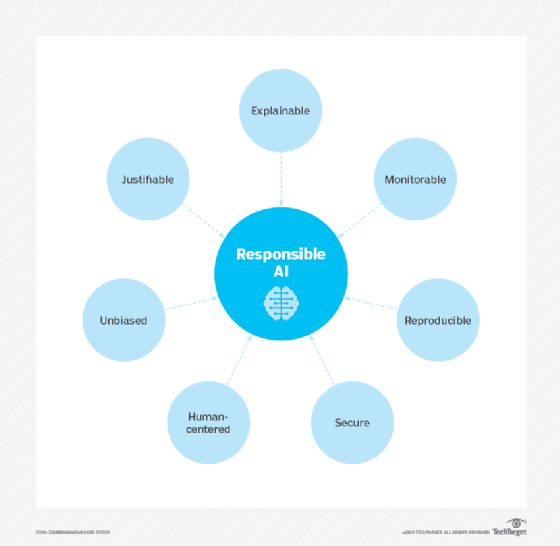 Compare AI-powered CRM platforms and check out six generative AI tools to consider for marketing and sales.
This was last updated in
October 2023
Continue Reading About Salesforce Einstein