Definition
customer engagement
What is customer engagement?
Customer engagement is the way a company creates a relationship with its customer base to foster brand loyalty and awareness. This can be accomplished via marketing campaigns and web content as well as outreach using social media, mobile devices and wearable devices.
Successful customer engagement goes beyond a customer's initial transaction. The goal is to deliver relevant content through marketing and engagement campaigns that encourage repeat customer interactions. By extending the customer experience beyond a purchase, successful customer engagement extends the customer lifecycle, fosters loyal customer relationships, attracts new customers and helps companies better anticipate customer expectations and needs.

Why is customer engagement important?
Businesses and other organizations benefit in many ways from successful customer engagement strategies:
Customer acquisition costs. The cost of acquiring new customers can run much higher than the cost of customer retention. Customer engagement strategies extend the customer journey beyond the initial interaction or purchase, curbing churn rates. Engaged customers often become repeat customers.
Brand awareness. Customer engagement is important for e-commerce businesses that must use the internet effectively to reach potential customers. Successful marketing and social media campaigns as well as responsive customer support on social media can increase the reach of a company's brand. For instance, customers that get responses to questions or problems through social media might shop more with those organizations in the future. Customers might also be more likely to recommend engaging brands to their colleagues and friends.
Loyal customers. Customer and brand loyalty is often increased through customer engagement that fosters emotional bonds. Loyal customers can also become promoters and brand ambassadors for companies.
Strong customer experience. Customer engagement that extends the customer journey beyond one transaction can increase customer satisfaction and get customers to buy more. Strong customer experiences involve optimizing every point of contact between a customer and an organization. They includes websites with strong user experience (UX), the sharing of engaging content and quick customer service interactions. Customer experience marketing is the marketing arm that deals with this.
Anticipation of customer needs. Customer engagement that deploys strong, proactive customer service and actively monitors customer feedback deepens a company's insight into customer behavior, needs and preferences. This insight can lead to new products and services that better meet customers' needs.
Strategies for engaging customers
Companies have developed a range of techniques, functionality and incentives to engage customers. Some of the basic ways they do this include phone and email; customer service chatbots and self-service capabilities; social media; loyalty programs; interactive in-store experiences; and user-generated campaigns, such as photo and video contests.
Broader strategies businesses use to enhance engagement include the following:
Active listening. Organizations that actively listen to their clients or customers scan the web for feedback, and monitor email, phone calls, regular mail and social media channels.
Content. Customers are more likely to visit a website when new content is regularly posted. Good options for regularly posted content include blogs, white papers, case studies, video and other kinds of digital content. Responsive brands that exhibit engaging personalities can catch customers' attention and result in valuable retweets and likes.
Customer contests. Contests launched through Facebook, Twitter, LinkedIn and other sites are a way to drive customer engagement and can help brands trend on social media. For example, in 2021, Goldfish launched its #GoForTheHandful TikTok contest that challenged customers to hold more than 301 Goldfish crackers in their hand. By 2023, the hashtag had more than 12 billion views on TikTok.
Direct messages. Companies can text messages to customers' smartphones and communicate with wearable devices to foster engagement. Internet of things (IoT) sensors are used to capture their attention, reminding them to schedule maintenance on a product, update products and replace parts that are failing or wearing out. Customer service agents can also use mobile data to approach customers on social media or via text to suggest products they may be interested in.
New ways to interact. Slack channels, customer support help desks, forums and mobile apps are other ways companies get feedback from customers and foster communities of users.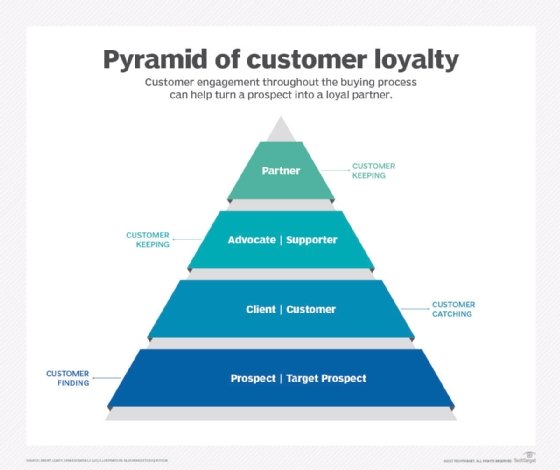 Measuring customer engagement
Determining true customer engagement isn't easy, and experts don't agree on exactly what it is. However, companies can use various metrics to determine the return on investment of their customer engagement efforts.
One approach is to use A/B testing of website presentations, marketing campaigns and other customer interaction efforts to observe customer engagement patterns. These tests reveal which of several approaches is likely to result in higher sales, more membership and other increased measures of customer success and engagement.
Other metrics used to measure customer engagement include the following:
Traffic. This indicates how popular, useful and easy to use a company's site or app is.
Active users. This shows how many existing customers use or interact with a website or app.
Audience growth. This is a measure of a brand's ability to bring on new visitors and customers.
Interaction with links on websites. This indicates whether specific aspects of engagement are successful.
Likes and shares on social media content. These are a measure of customer connectedness.
Feature use. This indicates what features are most used on an online service or app.
Opt-outs. This refers to users who are disengaging with a customer engagement campaign and need to be nudged to come back.
Text analytics of customer sentiment. This provides insight into customer behavior.
Response times of customer service cases. This and time to resolution of cases are indicators of customer connectedness.
Click-through rates in email campaigns. These show how effective these promotions are at getting users to engage.
Facebook and Twitter analytics. These show how a brand is performing online.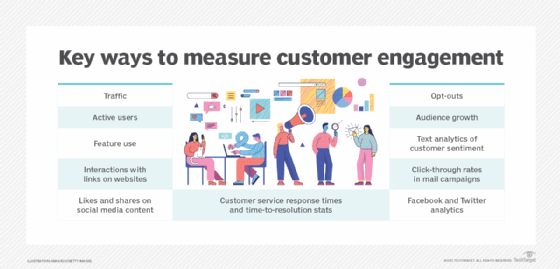 Customer engagement trends
New and evolving technologies, such as Bluetooth, IoT and artificial intelligence, are affecting customer engagement trends:
Wearable technology. Wearable Bluetooth devices, such as iBeacon, combine the digital experience of customer engagement with physical experiences. Companies use iBeacon to identify when a customer is in a physical store and send them real-time alerts about discounts and sales they might be interested in.
Healthcare platforms. Customer engagement has also moved beyond the realm of retail or traditional product sales. Industries like healthcare are using technologies such as customer portals to engage patients in their health regimen and communication with doctors. Wearables are a key tool in healthcare engagement, helping patients measure various health indicators and track their progress.
Customer service metrics. Many companies track customer service engagement in precise ways. They track first contact resolution rates, which measure how many customer service cases are resolved without being escalated, and case deflection, which measures how many cases are prevented from happening at all.
Personalized UX. Successful customer engagement campaigns personalize customer experiences. They rely on websites and apps with strong UXes that attract customers and make it easier for a customer to find the product they want or an answer to their question. These campaigns tailor their UX, messaging and content marketing to specific customers based on customer data.
Examples of customer engagement
Real-world examples of ways companies' customer engagement strategies include the following:
Spotify. Spotify often makes personalized value propositions to its customers by regularly sending them personalized playlists based on their listening habits. Spotify will often personalize the names of these playlists too, such as "Only You." If a user's name is MacKenzie, they may title the playlist, "Made for MacKenzie."
Uber Eats. Uber Eats uses behavioral data to personalize notifications to customers. For instance, if a customer regularly orders from a specific restaurant, Uber Eats will send personalized messages addressing the customer by their first name and alerting them to deals at that restaurant.
Whole Foods. Whole Foods uses its chatbot to send customized recipes to customers based on their interactions. Users can log on to Facebook and prompt the Whole Foods account to send them recipes based on prompts, such as types of food, specific ingredients and even emojis.
How to implement a customer engagement strategy
Implementing a customer engagement strategy includes the following steps:
Identify the target audience and strategy. To implement a personalized customer engagement strategy, it's important to understand which pieces of content, promotion and engagement are going to resonate with a specific type of customer. To do this, marketers must know as much as possible about a customer, including their purchasing history, their needs and their online behavior. With this information, a marketing team can use different content strategies and touch points for different demographics of their customer base and provide personalized experiences.
Identify key metrics. A company must identify the metrics and analytics they are going to track and assess their success. They should track active users, what features and products are popular, which customers promote the brand on social media, and opt-out and opt-in numbers.
Optimize strategy. A company must monitor customer behavior, feedback and industry trends to maintain a competitive edge and optimize its marketing strategy. This can include modifying content strategies and incorporating new engagement platforms. Companies should also commit to offering as many channels as possible for customer support to make it easy for customers to ask questions and resolve problems. This includes live chats on a website, chat bots, conversations on social media and phone calls.
Encourage interaction and feedback. Companies should continually foster interaction and feedback from customers. This includes informing customers of updates, news and tips on products; responding to customer comments and messages; and creating loyalty programs that reward customers for their continued business and promotional contests. Strong, enjoyable and regular customer interactions build customer loyalty, which is vital to successful customer engagement.
Customer engagement is an effective strategy for creating customer loyalty. Read the 6 ways to build customer loyalty for your business.
This was last updated in
June 2023
Continue Reading About customer engagement