Definition
customer journey map
A customer journey map is a diagram (or several diagrams) that depict the stages customers go through when interacting with a company, from buying products online to accessing customer service on the phone to airing grievances on social media.
To create effective visual maps that reflect customers' journeys through these channels, journey maps must be rooted in data-driven research and must visually represent the different phases customers experience based on a variety of dimensions, including customer sentiment, goals and touch points.
To be comprehensive, companies often need to create several customer journey maps based on a 360-degree view of how customers engage with the company. For example, one journey map may begin with a customer using Twitter to comment about a company, product or brand, then using the phone to reach a customer service line and, finally, using the company website. Another scenario may begin with online browsing, proceed to a phone inquiry and so on.
Benefits of customer journey mapping
The reasons for creating a customer journey map include understanding the path and channels your customers take to get your product. It's a valuable tool that can be used to forecast the path of future customers, as well.
Creating a customer journey map can provide insightful information for all levels in a department, from a sales rep who needs to figure out the best ways to interact with potential customers to managers looking for insight on which outlets customers use most. It can also highlight gaps or misdirection and can identify gaps in the customer experience (CX), including:
gaps between devices, when a user moves from one device to another;
gaps between departments, where the user might get frustrated; and
gaps between channels, where the experience of going from social media to the website could be better.
Perhaps the main benefit of a customer journey map is that it provides clear information on how customers move through the sales funnel. Maximizing the efficiency of that path means more sales at a quicker pace. In addition, understanding the customer experience is vital for sales and marketing to understand the customer experience.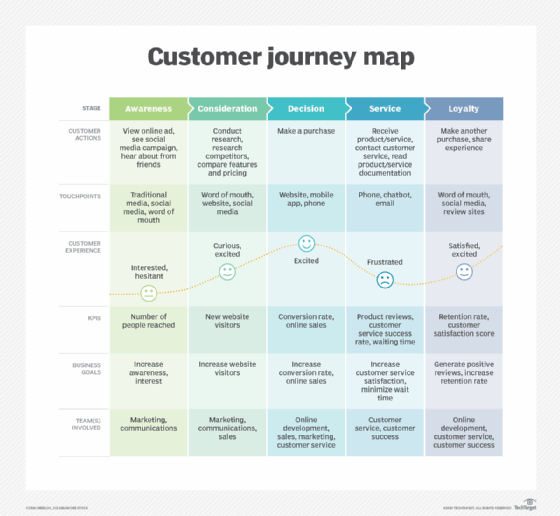 Components of a customer journey map
A customer journey map is made up of several components, including:
Customer stages. One of the first steps of creating a customer journey map is to identify stages in the customer journey. There are at least four stages in a customer journey: inquiry, comparison, purchase and installation. These stages may have different names; inquiry, for example, is sometimes called awareness. Often, there is a fifth stage called loyalty or advocacy.
Buyer personas. A buyer persona is a composite representation of a market segment. It is an important tool for creating journey maps because CX teams can more accurately predict those customers' behaviors and feelings using personas.
Customer touchpoints. A customer journey map should always include touchpoints that a customer is likely to use at each stage in the journey. For example, during the installation or service stage, a customer may use phone calls or chatbots to communicate with a brand.
Emotions. One of the main goals of creating a customer journey map is to predict the customers' emotions and feelings. This way, a brand can pinpoint potential pain points and successes.
Creating a customer journey map
Each stage of the customer journey is vital for sales and marketing departments.
The customer journey begins when a customer asks about a product or service. At that point, they become a prospect. The comparison stage is where customers use readily available information about different products in any given market to compare features, pricing, customer service ratings and so on. The purchase stage is when the prospect becomes a customer, which then triggers the service department to begin the final phase: installation.
There are important requirements to map customer journeys effectively.
Focus on customer perspective. The journey map needs to focus on how a customer experiences interactions, not how the company perceives those experiences.
Account for customer segments. Account for the fact that different customer segments experience products, brands and services differently.
Research your maps. Use tools such as customer analytics to develop your maps to best reflect your constituencies and their likely behavior.
Ensure that maps reflect all touchpoints. Maps must reflect all potential communication points through which customers want to connect with companies: email, text, websites, social media platforms and so on. Maps must also reflect different sequences for these maps, in which customers take different paths.
When designing a customer journey map, there's no set protocol, but there are guidelines for it, including that it should be visually appealing, comprehensive and understandable. Typical customer journey maps include infographics, diagrams and timelines. Multimedia has also been used for customer journey maps, including videos and storyboards.
The information included on the map should have both statistical and anecdotal insight and should be customer-facing.
Customer journey mapping tools and software
With customer journey maps being such an important visual for sales departments, there is a plethora of tools, customer journey map templates and software to help ease the process.
There are two ways of thinking about the tools that help to create a customer journey map. The first is software that helps identify the different touchpoints of customers and that compiles that information for the department. Then, if there is a graphics team or graphic designer in-house, creating a customer journey map is left to them.
There are also ready-to-use tools that can help with customer journey mapping visualization. Some include Salesforce Journey Builder, Smaply and Canvanizer.
Common problems
Creating a customer journey map is not always an easy or simple process. Some common challenges include:
Failing to involve necessary departments. When creating a customer journey map, organizations must involve a variety of roles and departments, especially customer-facing ones. Companies should receive input from their employees during the creation of a customer journey map; they should also distribute the maps and educate customer experience, marketing and sales teams about how to use them to market to target audiences and, ultimately, improve CX.
Lack of customer data. Customer journey maps are difficult to create without relying on data to determine the customers' behaviors, preferred touchpoints and customer satisfaction levels during each stage in the journey. Companies can gather customer data through implementing voice-of-the-customer programs, deploying surveys and monitoring social media channels.
Treating the customer journey map as a static entity. Customers, markets and products change, and companies should consistently update customer journey maps to reflect those changes. Without frequent updates, customer journey maps may become inaccurate or outdated.
This was last updated in
July 2020
Continue Reading About customer journey map