Definition
Salesforce Service Cloud
What is Salesforce Service Cloud?
Salesforce Service Cloud is a customer relationship management (CRM) platform for Salesforce clients to provide service and support to their business customers. Salesforce based Service Cloud on its Sales Cloud product, a popular CRM software for sales professionals.
Service Cloud enables users to automate service processes, streamline workflows and find key articles, topics and experts to support customer service agents. The purpose is to foster one-to-one marketing relationships with every customer across multiple channels and devices.
Service Cloud can "listen" and respond to customers across a variety of social platforms and automatically route cases to the appropriate agent. Social customer service is integrated with Salesforce Customer Success Platform, which enables the social team to gather a comprehensive picture of the customer to best inform responses.
Salesforce AppExchange makes it possible to embed customer support software into applications. In-app mobile support can include live agent video chat, screen sharing and on-screen guided assistance. The software is also integrated with Salesforce Community Cloud, which provides more communication channels for agents and customers.

What is Service Genie?
Service Genie leverages all the data gathered by the Salesforce Service Cloud and other Salesforce platforms to produce a customized and personalized experience in real-time for customers. Everything in a customer's data profile is available for use by Genie, which uses all Salesforce platforms to dynamically integrate data resources into a personalized customer experience and to resolve customer issues.
Main features and benefits of Salesforce Service Cloud
Key features of the Service Cloud platform include the following:
Lightning Service Console. A comprehensive and customizable user interface (UI) and dashboard for customer service agents that offers productivity tools, analytics and customer views.
Case management. Agents can use the Service Console to juggle multiple cases at once across multiple channels. Case management is accessible via both desktop and mobile apps using resources within a company's knowledge base.
Workflow and approvals. Workflow and approval processes can be automated with artificial intelligence (AI) and drag-and-drop technology.
Omni-channel routing. Cases and leads can be automatically directed to specific employees based on factors such as employee skill set and availability. Supervisors can access a complete view of routing and agent activity.
Social customer service. This helps agents respond quickly to customer inquiries and requests via social media such as Instagram, Facebook and Twitter.
Telephony integration. Links with popular computer telephony integration applications to manage calls to and from customers with customer information on hand.
Automation with macros. Automates repetitive customer service tasks.
Account and contact management. Links agents with existing customer data on buying patterns and previous purchases to provide better customer satisfaction.
Asset and order management. Tracks customer data, such as assets, order history and support history.
Custom reports and dashboards. Provides a 360-degree view of customers by presenting relevant data during the contact to help customers make more informed decisions.
Other features of Service Cloud include the following:
Support for multiple languages and mobile applications.
Integration with legacy systems.
Live agent webchats.
Team collaboration systems.
Community Cloud integration.
Service-level agreements (SLA) with visual timelines.
Salesforce's Einstein generative AI and voice technology.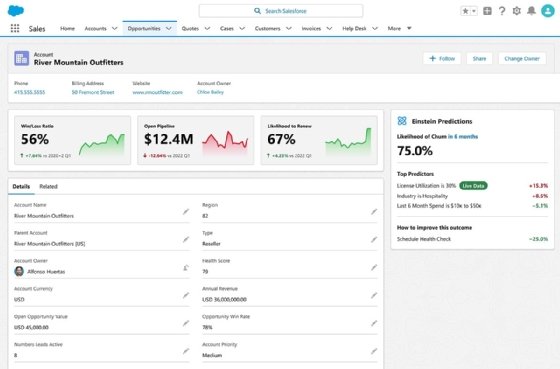 Salesforce Service Cloud pricing and tiers, free trial
Salesforce Service Cloud comes in the following four pricing tiers:
Essentials. This level is marketed toward small customer service teams. Price is $25 per month, per user for up to five users
Professional. This option has complete service CRM capabilities and costs $75 per month, per user.
Enterprise. This tier has customizable CRM offerings for larger companies. Subscriptions cost $150 per month, per user.
Unlimited. This maximum service tier offers enterprise-level functionality with additional support options, sandbox testing, and unlimited tabs and apps. Cost is $300 per month, per user.
A free trial of Service Cloud's basic features lets users try Salesforce by using the following:
Preloaded or uploaded data.
Preconfigured processes, reports and dashboards.
Online training resources with guided experiences.
Salesforce Service Cloud cost considerations
Before users enter a relationship with Salesforce, review the following with the vendor:
Data and file storage costs. As the volume of customer data increases, storage costs might be assessed.
Service and support costs. Basic service management and field service are included in Salesforce products, but additional levels of support carry fees and should be examined carefully.
Mobile device support. A mobile app developer is available at an extra cost to ensure all kinds of mobile devices are supported.
Costs for exceeding API call limits. Each transaction uses an API call, so very busy systems might exceed minimum limits and incur overage costs unless an upgrade package is purchased.
Contract renewal costs. Special offers might no longer be available when renewing a contract; pricing increases must be carefully examined.
Employee training costs. Salesforce is a powerful system, and costs for training employees should be factored into any buying decisions.
Salesforce Sales Cloud vs. Service Cloud
When customers enroll with Salesforce products, they have the option to choose between the Sales Cloud and the Service Cloud modules. There is considerable overlap between the two modules.
Sales Cloud is used by businesses focused on generating leads, opportunities and sales. Salesforce Service Cloud contains all of the features of Sales Cloud, plus additional features for service-oriented businesses with higher support process demands.
What is Salesforce Contact Center?
Late in 2022, Salesforce released an upgrade to its contact center platform called Salesforce Contact Center. Among the added-value cloud features available to contact center agents are AI tools to analyze customer voice calls, enhanced survey management, and AI-based bots to enhance call routing and customer self-service capabilities.
This was last updated in
April 2023
Continue Reading About Salesforce Service Cloud