Getty Images
Why is personalization important?
Personalization is key in many marketing teams' strategies. It plays an important role in helping organizations retain customers, build trust among audiences and stay relevant.
Personalization customizes experiences, offers, services and interactions to help brands build connections with consumers.
Done well, personalization can replicate the experience of shopping in a physical store and build lifelong connections for customers. Happy customers are also more likely to recommend a brand's products to their friends and across social media, so good personalization strategies can help organizations grow their customer base and increase sales.
"Personalization has become a critical component of any marketing strategy," said Michelle Tilton, vice president of marketing at Gryphon.ai, a sales enablement software vendor. "Consumers are human, and all humans react to things that are relevant to them personally."
What is personalization?
Personalization applies when selling to consumers or other businesses. This strategy can be as simple as giving employees the time they really need to respond to communications and build a genuine connection with customers.
Organizations try to replicate this experience at scale with marketing automation across email and social media, which is not always straightforward. Natalie Daigle, manager of UX research at consulting firm Brooks Bell, said she recently conducted a customer research study for an athletic apparel retailer, which found its communications can come across as insincere without personalization.
"While brands may feel like adding the customer's name throughout the page is 'personalized,' it's not driving the value customers expect," she said. This is faux personalization, according to Daigle, as consumers continue to get desensitized to seeing their names in every promotional email.
Brands can use automated personalization to do some of the heavy lifting early, Daigle said. However, they should advance into manual personalization as they better understand customers' needs, motivations and anxieties.
"It's through that deep understanding that brands can create experiences that keep their customers coming back for more," she said.
5 reasons to embrace personalization
A personalization strategy can bring a lot of benefits to marketing teams, like helping them get to know customers and improving brand loyalty.
It's through that deep understanding that brands can create experiences that keep their customers coming back for more.

Natalie DaigleManager of UX research, Brooks Bell
1. Helps marketers understand customers
Personalization can help marketing teams learn customers' current needs and potential future interests. Without that connection, teams struggle to gain immediate insights and predict trends, according to Derrick Jenkins, head of marketing at Owler, a sales intelligence platform.
To discover trends, Jenkins said his team analyzes customer data collected from personalized marketing efforts to inform new product development, evolve current offerings or decide when to discontinue a product.
"It's critical to make a habit of reviewing the data gathered from various personalization tactics to see what's working," he said.
2. Lets brands stand out
Personalization can also help brands stand out. Ian Televik, former vice president of marketing and CX at Fabric, an on-demand retail platform, said he finds it incredibly valuable to personalize tours for clients visiting their robotics fulfillment centers.
"We always try to personalize their site tour experience by ensuring that the products they see moving around the warehouse are from their industry," he said.
For example, an apparel company executive would see shoes and garments in the totes, while a consumer package goods executive may see diapers and laundry detergent. This personalization can speed up the sales process and contribute to a higher close rate.
3. Enables higher conversion rates
If marketing teams deliver great content when a user wants or expects it, they can enable better growth and conversions, said Seth Bindernagel, vice president of marketing at Commerce Layer, a commerce API provider.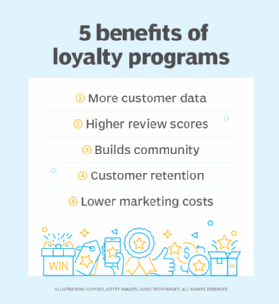 He said he once worked at an education technology company that taught people to code and showed people content when they wanted to practice. It gave practice problems in the coding language that people studied at a specific time of day that the technology knew was best for each individual.
"Highly personalized content led to much higher conversion rates to our subscription product," he said.
4. Creates higher brand loyalty
Bindernagel also worked at a sleep-tracking company that based the entire UX on personal insights. The result was one of the highest retention rates he said he had seen of any product he worked on.
"People loved their daily personalized stats, and they loved telling people them," he said.
Additionally, higher brand loyalty can translate into people joining an organization's loyalty program, which often provides personalized offers and other rewards to customers in the program. High brand loyalty means organizations have long-term, committed customers and is often based on an emotional connection to the brand, which personalization can help enable.
5. Builds trust
One of the top reasons personalization is important is that it helps build trust, said Lisa Jillson, vice president and head of marketing and product design at Arity, a mobility data platform. Trust requires planning for a continuous relationship that organizations must nurture. Jillson said she found consumers are more likely to opt in to receive more personalized features when given the choice on what they want to send, receive, know or share.
"Brands need to think deeply about what their customers are interested in, to not only gain their trust but to also create a loyal customer that will continue to come back again and again," she said. "Be clear, transparent and forthright with consumers, and the rest will fall into place."
Dig Deeper on Marketing and sales
The current legal landscape surrounding AI-generated content is murky and fraught with confusion. Here's where it currently stands and what to know ... Continue Reading
An organization facing a dire shortage of QA engineers can't just dump these tasks on developers. Here's how to keep up software quality with limited... Continue Reading
Avoiding General Data Protection Regulation penalties means getting your CRM compliance program in order before the sweeping regulation goes into ... Continue Reading