Orbon Alija/Getty Images
What are the different types of marketing personalization?
Marketing teams use multiple personalization strategies for customer outreach, like emails, targeted ads and chatbots. Each approach brings several benefits and can improve CX.
Marketing personalization has grown because organizations want to deliver unique and customized experiences for prospects. Now, personalization is essentially basic etiquette to engage prospects and customers through digital channels.
Customers expect brands to tailor experiences to their needs, and as more tools enable personalized touchpoints, most organizations use marketing personalization tactics in their campaigns. Personalized marketing uses data collected from individuals, whether behavior-based or zero-party data, to deliver relevant messages at the right times in the customer journey. Often, personalized marketing is subtle and encountered daily. Sometimes, personalization can be so effective that it feels like a human-to-human relationship between brand and consumer.
Explore different types of marketing personalization that companies can use within their marketing campaigns.
1. Personalized emails
Personalization in email communications can help deliver unique messages to individuals. If a marketing team can maintain a clean database of contacts, they can personalize emails in the following ways:
using customers' first names in greetings;
referencing their jobs or geographic location in the body of the email; and
offering targeted recommendations and content.
When done correctly, email personalization can lead to increased open rates and click-through rates and can increase sales.
However, marketing teams should ensure they can maintain accurate data in their contact database. Organizations often collect data during conversion points on a website, like forms or account creation. Marketers should validate this information, keep it clean -- like capitalizing first and last names -- and know what data is valuable to collect in those conversion points.
If marketers use this data and the tools available -- like personalization engines -- they can send product recommendations based on past purchases and personalize emails with unique offers or updates.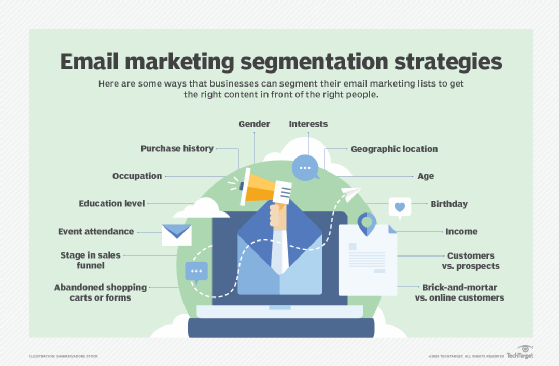 2. Targeted advertising
Marketing teams can use retargeting in various ways, whether in search engines, websites or social media. With this strategy, they can ensure the company's message or offer follows a user during regular, online behaviors.
Retargeting is the practice of sending targeted advertisements to people who have already interacted with a brand's website, like visited a pricing page, viewed certain products, left items in their shopping carts or read blog posts. The website uses tracking pixels from advertising platforms, such as Google, Facebook or LinkedIn, to see what pages a user visited.
Retargeting can engage contacts who have not yet purchased from the brand and adds in a layer of personalization based on what pages or information they interacted with. This strategy aims to remind users of the brand across other sites through display ads so they might revisit and make a purchase. Personalization prioritizes the user's past touchpoints and serves ads with content relevant to them.
3. Dynamic content
Website personalization enables marketing teams to create unique experiences for users with dynamic content focused on tailored recommendations and exclusive offers. With data from users or behavioral analytics, marketers can create sets of rules to display different content to users based on demographic information, past purchases or pages they visited to move them through the customer journey.
Personalization on webpages can enhance users' experiences as they browse a website, but marketers can create dynamic rules to create personalized landing pages. Teams can create these rules based on what source the user comes from or what campaign drove the user to those pages.
However, dynamic content requires tools like marketing automation software, enterprise content management systems or open source plugins to create these rules.
4. Product recommendations
Another type of marketing personalization is product recommendations. Many of the above strategies also employ this approach, like sending recommendations through email, retargeting and changing content on a webpage to show related products or services the prospect may like.
Product recommendations require marketers to maintain good records of past purchases. Additionally, marketing teams can recommend products to new or unknown visitors, if their browsing behaviors appear similar to existing customers. For example, if a new website visitor views certain pages or products that existing customers viewed before making a purchase, marketers can display content to recommend similar products or services to the new visitor.
5. Personalized chatbot experiences
A more recent entry into marketing personalization is chatbots. Chatbots can help visitors find information they need when visiting a site and act as a form of lead capture, as they can collect data points from users. This can help users find what they need, while also logging data about them.
Similar to how marketers can create rules to present dynamic content, they can also create rules to enable different chatbot experiences. For example, marketing teams can create specific chatbot experiences for different pages or sections of a website, like showing a certain bot after a visitor views a pricing page. Teams can also change chatbots based on demographic information or if the visitor is a new or existing customer.
These examples can lead to a variety of ways marketing teams can deploy chatbots and use customer data to make it a one-to-one communication method.
Dig Deeper on Marketing and sales
To start a bulk SMS marketing strategy, marketers should create message templates, monitor engagement and ensure that customers can opt in or out of ... Continue Reading
How should marketers text their audiences? First, ensure customers opted in to receive texts. Then, promote, incentivize and update customers on ... Continue Reading
Personalization and segmentation both bring different benefits to marketing teams and use different types of customers data. Find out the main ... Continue Reading