Getty Images/iStockphoto
5 tips for an effective marketing automation implementation
Successful marketing automation implementations require steps beyond those that go into the usual technology rollouts. Here are some tips to help businesses along the way.
A successful, effective marketing automation implementation can be a tricky undertaking.
Many of the steps that lead to success are obvious, including carefully defining requirements and goals from the outset, aligning the marketing automation tool with existing systems and aligning the proposed solution with the enterprise business strategy.
These steps are important, but they apply to most major implementations of new platforms -- steps that are basic to synchronizing any digital transformation project with a business.
Here are some not-so-obvious steps that are more specific to a marketing automation implementation.
1. Include the right stakeholders in both the project planning and design phases
It's increasingly common to have business and IT users in the same room when selecting and implementing any new enterprise system. But where marketing automation implementation is concerned, it's important to go further and include someone from each of the following areas:
representatives from both sales and marketing who know and understand the processes;
someone who knows the CRM system inside out;
someone from analytics who understands how to best use the data that automated marketing processes gather;
someone who knows the marketing content is created and the processes that use it;
someone who knows the products and services inside out; and
an executive C-suite leader.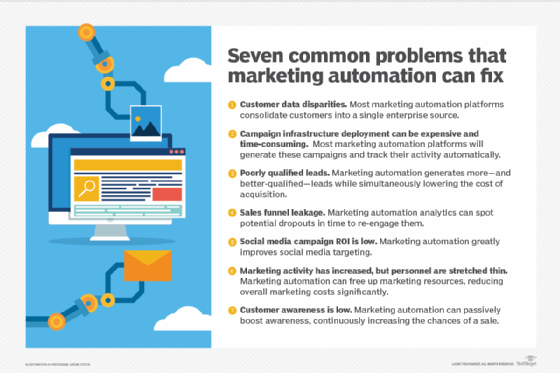 2. Run a pilot program
A useful step in settling on a marketing automation design and establishing requirements is to run a pilot program before meeting with vendors. It's even useful to do this before building out the formal business case.
It's important to note that businesses can't just drop a marketing automation tool in place and flip it on.
The idea is to have the team sit down and brainstorm a prototype campaign -- how the players collectively envision a campaign would work, running on the new platform. The moving parts of the campaign that the marketing automation tool would handle will be done manually, enabling testers to document how automation will help and what the peripheral benefits would be -- as well as what parts of that automation might prove tricky. This not only produces a more thorough set of requirements, but it also makes for a stronger business case.
3. Take an iterative approach
It's important to note that businesses can't just drop a marketing automation tool in place and flip it on. Many processes will change with these new tools, and it will be necessary to move forward in increments, adding new processes -- or replacing old ones -- carefully and deliberately. With each step, it's important to measure the performance of the new process while also keeping an eye on how the change affects surrounding processes.
To this end, a British import might be of use -- the Dynamic Systems Development Method, an Agile methodology that minimizes time to full deployment while catching glitches and issues early on. It assumes several iterations for new process implementation and stresses active user involvement at every step.
4. Don't underestimate the amount of content the business will need
Marketing automation is powered by content. A lot of content is necessary to start the automation process, and the business will keep producing more. Just gathering existing content to bring up the new system is daunting, as business leaders will need to review it for timeliness and relevance. Once that's done, a strategy for content production is necessary, ensuring that the system has as much new content that it will require moving forward.
Businesses will need to determine the volume and rate of production, and organizations' analytics people will need to monitor content effectiveness with customers to determine which content is delivering.
5. Don't underestimate the total cost of ownership
The entire point of implementing a marketing automation platform is to reduce the cost of sales and marketing operations while boosting sales. Business leaders can't correctly anticipate ROI if total cost of ownership is off, and it will be if businesses aren't careful to anticipate external costs.