Definition
channel strategy
A channel strategy is a vendor's plan for moving a product or a service through the chain of commerce to the end customer.
The purpose of a channel strategy
In the business-to-business (B2B) world, a channel strategy aims to provide the best way to expose a company's products or services to potential customers.
A company with a simple product that is easy for a customer to install and requires little support may focus on web sales or retail sales via brick-and-mortar stores as its channel strategy. On the other hand, a company with a complex product that requires expertise to properly implement and calls for a high level of support to ensure a positive customer experience may turn to value-added resellers (VARs) or systems integrators (SIs) as its channel strategy.
In a broader context, a channel strategy may be a component of a business's go-to-market strategy. The go-to-market approach typically defines a business's target market, determines the buyer (IT manager vs. C-level executive, for example), outlines the product's value proposition and sets forth the channel strategy.
Types of channel strategies
Product manufacturers and service providers have a number of channel options from which to choose.
Direct sales
The simplest approach is the direct channel in which the vendor sells directly to the customer. The vendor may maintain its own sales force to close deals with customers or sell its products or services through an e-commerce website. Direct selling via catalog represents another possibility, although this business has been largely subsumed by e-commerce.
Indirect sales
Vendors can also pursue sales via indirect channels involving one or more intermediaries. Indirect sales models include retail, which can involve selling through a physical store or an online e-tailing company. In addition, vendors can sell through VARs, companies that bundle a vendor's product or service with other products and services to provide an overarching solution for customers. The vendor-to-VAR-to-customer channel is sometimes referred to as a one-tier distribution channel strategy. In two-tier distribution, the vendor sells to a distributor, which, in turn, provides the vendor's products and services to a network of VARs.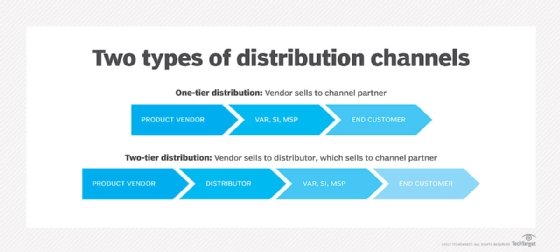 In addition to retailers, VARs and distributors, managed service providers (MSPs), consultants, SIs, original equipment manufacturers (OEMs), independent software vendors (ISVs), wholesalers and distributors may also serve as channel partners. A vendor pursuing indirect channels will often create a partner program to manage relationships with its business allies.

Consumer sales
Businesses selling to consumers, as opposed to B2B vendors, may take a somewhat different channel strategy approach, in which direct and indirect sales typically have different meanings.
In multichannel marketing, for example, companies may create direct channels, such as catalogs, direct mail pieces or email campaigns, and/or indirect channels in which they hope to attract buyers through websites or social media. With omnichannel marketing, meanwhile, a business tries to provide buyers with a seamless shopping experience, regardless of whether the buyer is shopping online from a desktop or mobile device, placing an order on a telephone or visiting brick-and-mortar stores.
Although these sales and marketing tactics are often associated with consumer sales, B2B companies may also use channels such as direct mail and social media when attempting to land business customers.
How to create a channel strategy
When devising a channel strategy, a vendor must make decisions about which channel or channels to use and the types of partners it will seek to cultivate. The appropriate strategy can vary from one product or service to another.
A vendor that builds a channel strategy around both direct and indirect sales channels, however, must take care to avoid channel conflict. Channel partners will soon become disgruntled if a vendor's direct sales force competes with them for customer business. Thus, a channel strategy may involve market segmentation. For example, a vendor could target only large enterprises with its direct sales force, while reserving small and midsize businesses for its channel partners.
This was last updated in
August 2018
Continue Reading About channel strategy