Get started
Bring yourself up to speed with our introductory content.
The history and evolution of CRM
Customer relationship management had simple beginnings, which evolved into a sophisticated system that helps businesses improve the overall customer experience.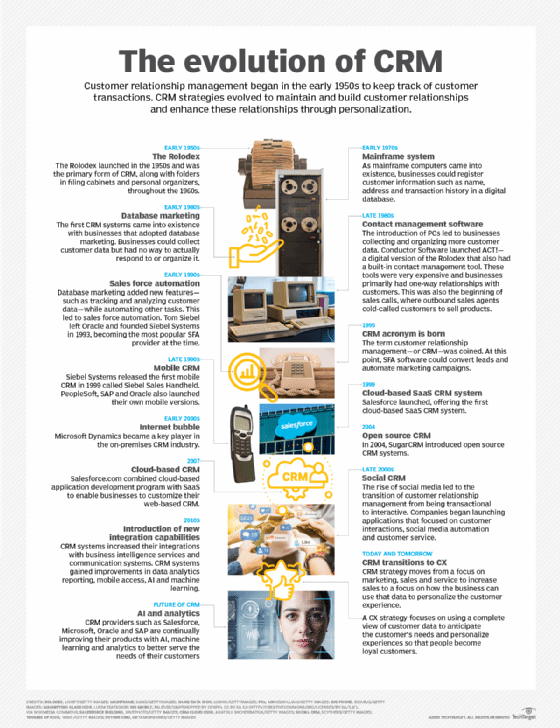 Customer relationship management was once simply a way to record transactions, but it is now much more complex and integrates all departments of a business to ensure the customer is satisfied.
Before the introduction of computers and the internet, businesses relied heavily on paper to record interactions and transactions with customers. As computers became more readily available to businesses and customers, customer relationship management transitioned to a digital experience.
Over the last 20 years, it has become important for businesses to adopt CRM strategies and tools to foster relationships with customers. CRM systems today focus on uniting sales, marketing and customer service departments with the goal of improving customer relationships and increasing sales.
A CRM is an important component of a customer experience (CX) strategy, which focuses on fostering the customer relationship throughout their journey with a business -- beginning when customers are sales prospects and continuing through to post-sales and customer retention.
CX strategy requires a complete view of customer data so that the business can understand the customer, create a customer vision, develop a relationship with the customer and capture customer feedback. A CRM system in conjunction with a CDP can help to provide a complete view of the customer. By knowing and understanding the customer, the business can better create a personalized customer experience.