Evaluate
Weigh the pros and cons of technologies, products and projects you are considering.
Choosing between single- vs. multivendor strategy for CRM
There are two ways to set up a CX tech stack -- either an integrated CRM suite or best-of-breed approach. There are benefits to each model, and the two are compared here.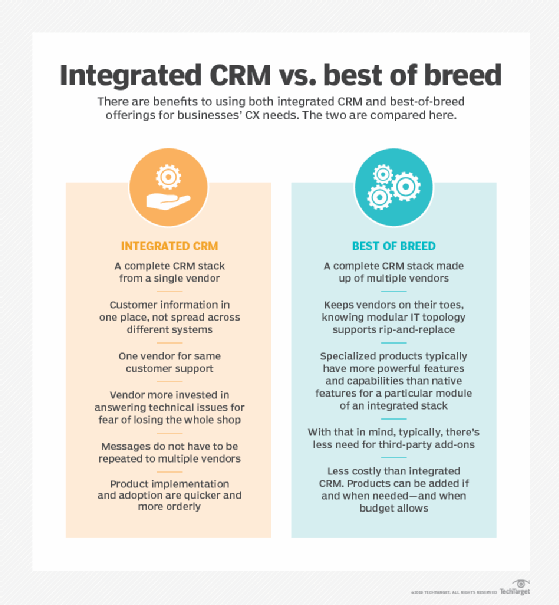 As technology advances and businesses continue to add more and more CX software to their tech stacks, the question of a single- vs. multivendor strategy looms. But there are benefits to each school of thought.
The biggest benefit to using an integrated customer relationship management (CRM) suite is having all data in one system instead of spread across different platforms. And product adoption and implementation are often quicker -- especially for newer companies -- because platform components are designed to work together.
According to "The Forrester Wave: CRM Suites, Q4 2018" report, Oracle and Salesforce are industry leaders in the world of CRM suites. Oracle's strengths are sales, marketing, customer service and field service capabilities; Salesforce caters to both B2C and B2B organizations and offers products in the financial services, education, healthcare, government, nonprofit and philanthropy industries. SAP and Microsoft come in right behind Oracle and Salesforce as strong performers.
However, using the best-of-breed approach can be as beneficial as an integrated suite. Many long-established companies already have multivendor tech stacks that work well for them, and it may be too expensive to move to a single vendor. Moreover, specialized products using a multivendor approach can have more powerful capabilities than those native to a suite.
There is no right or wrong decision in the single- vs. multivendor strategy debate. It simply comes down to what is best for each business.