7 ways to successfully align your sales and marketing teams
Learn how to create a close collaboration between sales and marketing that can lead to more effective marketing campaigns, an increase in qualified leads and a boost in revenue.
Sales and marketing teams have traditionally operated in silos, but this is no longer a viable strategy. For teams to be successful today, they must collaborate.
By working together, these teams can increase their ability to execute their market strategy and corporate messaging effectively, and track and adjust their efforts to deliver results to the organization.
What is sales and marketing alignment?
Sales and marketing alignment is when the marketing team and sales team agree to focus on common priorities, strategies and goals to provide a better experience for customers and to increase business performance. Done well, it enables teams to implement more effective and results-oriented marketing campaigns, leading to more qualified leads, a boost in sales and increased revenue.
Why is sales and marketing alignment important?
Aligning sales and marketing lets teams share communications and systems. This can lead to shorter sales cycles, as well as improved conversion rates and forecast accuracy. The two teams should also meet regularly to ensure shared goals and metrics are tracked and that any information regarding workflow, opportunities, obstacles and wins is communicated to everyone involved.
What are the benefits of aligning marketing and sales?
Some advantages of the alignment between sales and marketing include enhanced collaboration due to defined roles and responsibilities, improved workflow through the use of shared tools and a faster response to changes in marketing dynamics. Other benefits include a better understanding of the target customer profile, an improved customer journey, increased customer satisfaction and an accelerated sales cycle.
7 best practices for sales and marketing alignment
These seven best practices will help an organization to align its sales and marketing teams.
1. Agree on a buyer persona
A buyer persona -- also known as a customer persona -- helps an organization describe its ideal customer so it knows how to market to them. The description can include age, sex, occupation, geographic location and numerous other factors. Unique identifiers, such as how the buyer researches products, how they like to communicate and why they might need the product, provide additional details. In this way, a picture evolves of who will possibly buy the product and the best ways to communicate with them.
2. Set shared goals and objectives
Teams must now decide on their shared goals. Is the objective to generate more leads, increase company or brand awareness, generate more website traffic or revenue, or all of these? A joint service-level agreement should be created to ensure team members know the messaging and protocols to follow, how to update them, timelines and how to resolve customer issues.
3. Identify KPIs
Outlining account-based marketing metrics and KPIs lets sales and marketing align their goals with business objectives and measure performance over time. For example, lead scoring assigns values, often in the form of numerical points, to each lead generated so sales can track the interest of potential customers. Other possible areas to track include account penetration rate, average deal size and customer acquisition cost. Evaluating the results helps teams decide if they are allocating resources -- staff, money or both -- in the right areas or if adjustments need to be made.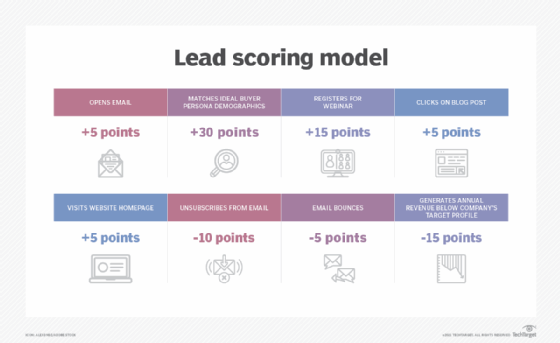 4. Create content to support the strategy
Sales and marketing should have regular brainstorming sessions to create content -- emails, brochures, pamphlets and website content, for example -- with a consistent message that educates buyers about the organization, its product(s) and how it solves the customer's pain points.
5. Use a customer relationship management system
A customer relationship management (CRM) system helps teams track and analyze customer interactions throughout the customer lifecycle. Data collected with a CRM system helps sales and marketing teams provide better customer service and get insight into customer trends. A CRM system can also offer marketing automation and aid with closed loop reporting.
6. Improve the customer experience
Create a single customer journey that provides information at the awareness, consideration, decision, service and loyalty phases. Perform a buyer's journey audit to see if there are any loopholes in the processes. Use customer feedback to identify areas of improvement.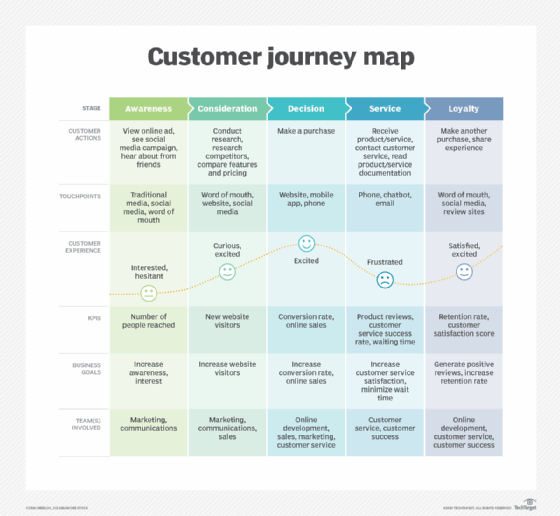 7. Implement retention efforts, including win/loss efforts
Sales and marketing must continue their efforts once a purchase has been made to gauge post-sale growth and retention. Customer loyalty is important for repeat sales and to spread information about the organization and its products through word of mouth and online recommendations.