sommai - Fotolia
5 things to know about Salesforce Customer 360
Salesforce Customer 360 -- a tool that connects customer data stored in multiple silos -- is currently in beta and will be available to all users later this year.
Customers expect service agents to know who they are, understand their preferences and have a detailed record of their history with the brand.
Salesforce Customer 360, introduced in September 2018, is a tool that aggregates customer data from across the various Salesforce clouds, as well as external data sources, enabling organizations to track customers across various touch points on the customer journey. Salesforce Customer 360 is the company's attempt to deliver the elusive 360-degree customer view.
"If you have seven Salesforce orgs and a back-end ERP, they're probably not talking to each other," said Amber Boaz, a Salesforce MVP and owner of CRM platform Rapid 7. "It's the conduit through which data stores can talk to each other and not all have to be merged into one system."
Customer 360 is currently in beta testing and will be generally available in the second half of 2019. Here are five Salesforce Customer 360 features organization should know about when considering implementation.
1. Customer IDs
Salesforce Customer 360 users can customize a combination of Boolean and fuzzy logic to find duplicate records across the Salesforce clouds and match them together. For example, if records for Susan Smith in Marketing Cloud and Sue Smith in Commerce Cloud both have the same phone number, Customer 360 will determine whether to match those records.
Ultimately, administrators retain the ability to override the suggested matches that Customer 360 comes up with. Then each customer is assigned a customer ID that is common across all of the original data sources.
Customer 360 helps users pair down customer records. For example, say there are 30 million records across an organization's systems; the matching feature determines that there are 8 million individuals represented in those records, said Ruairi Maclennan-Smillie, associate solutions engineer at Salesforce, in a demo at Salesforce World Tour Boston.
2. Click-based UI
Salesforce administrators can use Salesforce Customer 360 primarily as a data mapping and transformation system to connect Salesforce clouds.
"If you have multiple Salesforce cloud instances, there is no central place where you can bring that together and understand how your entire Salesforce relationship comes together, and there is no single person in your organization that helps you manage that," Ron Pereira, senior director of product marketing for Customer 360 said at Salesforce World Tour. "This is the place for a super admin to come in and connect your Salesforce apps."
3. External data sources
Customer 360 pulls data from Salesforce clouds, Salesforce partners and external data sources. This is where Mulesoft -- which Salesforce acquired last year in its biggest purchase to date -- comes in. Users can pull data from Salesforce's partners directly into Salesforce, and use Mulesoft APIs to integrate data from non-partner sources. For example, users can see data from loyalty or membership programs from within the Salesforce customer profile.
"Enterprise-size companies with a lot of users that have grown through mergers and acquisitions and won't truly merge will benefit from Customer 360," Boaz said. "I don't think it will be beneficial to smaller organizations."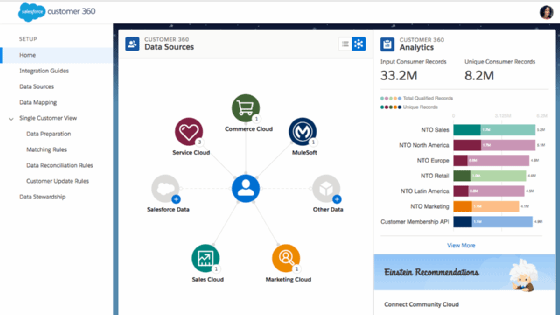 4. No data lakes
Salesforce Customer 360 does not create a duplicate copy of the data or store it in a centralized data lake when connecting records or pulling data from external sources. Instead, the data stays in the system in which it originated and is accessible from a single interface that is useful to marketing, sales and service professionals.
5. Data governance
It is difficult for organizations to be compliant with GDPR and the California Consumer Privacy Act when data is not clean. Matching customer data in Salesforce Customer 360 not only cleans data, it also connects all the places across systems where that customer's data is located. Therefore, when customers request that an organization delete their data, the organization can be sure that it has deleted it from all its systems.
"The idea behind the data stewardship feature is that you are not going into each individual cloud or all of your other systems to delete data," Maclennan-Smillie said.
Dig Deeper on Customer experience management