New Salesforce Customer 360 aims to unify data sources
In aggregate, the new Customer 360 features Salesforce added to its sales, marketing, e-commerce and service platform resemble a customer data platform. Customers, analysts and partners weigh in.
SAN FRANCISCO -- Salesforce's new customer data and identity platform released this week connects data across sales, service, marketing and other departments within an organization to provide users with a single ID for each customer.
The platform, Salesforce Customer 360 Truth (also called Single Source of Truth and SSOT by Salesforce executives) is considered by many to be a customer data platform (CDP) -- though that is only one component of the new platform.
Whatever one calls it, Salesforce Customer 360 Truth resembles competing CDPs from Oracle, Adobe and Microsoft in functionality. Customers, analysts and partners said the new feature bundle solves a problem endemic to many CX platforms: reconciling customer IDs and data across sales, marketing, e-commerce and customer service platforms to a golden record.
Features in Customer 360 Truth -- which come at no extra charge to Salesforce subscribers -- include customer data management, identity management and privacy tools that are available now. Salesforce plans to release a unified customer profile, the most significant feature, in 2020.
The capabilities, taken together, will not only aggregate updated customer data from one base like a CDP, but will be able go further than CDPs, typically used by marketing and advertising teams. Customer 360 Truth features can route it and push actions and personalizations to sales, service and support teams dealing with an individual customer, the company said.
Customer data will be structured on the Cloud Information Model open standard modeled by MuleSoft and developed jointly by AWS, Genesys and Salesforce for The Linux Foundation.
It's all long overdue, IDC analyst Neil Ward-Dutton said.
"Salesforce should have done this five years ago. If anything's surprising, it's that they have managed to not have it until now, because many customers have more than one cloud and there's been no easy way to get a view of individual, unique IDs," Ward-Dutton said. "It's instructive that it's free. I think that's the only thing they could do. If they would have charged for this, it would have been a really bad mistake."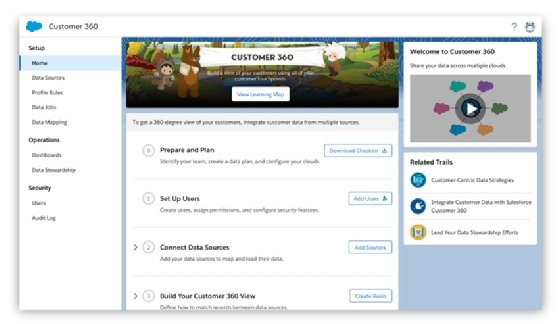 Customers, partners take stock
Customers generally reacted positively to the news of Salesforce Customer 360 Truth at Dreamforce here this week, with some wondering what data and process housecleaning outside of Salesforce will be required to use the tools.
If anything's surprising, it's that they have managed to not have it until now, because many customers have more than one cloud and there's been no easy way to get a view of individual, unique IDs.

Neil Ward-DuttonAnalyst, IDC
That's the case for e.l.f. Cosmetics, CIO and CTO Ekta Chopra said. Her company runs Salesforce marketing, sales, service and e-commerce clouds, and also is an early adopter of Salesforce's order management system, processing about a million transactions a year. While Customer 360 Truth features look promising, her company will have to evaluate how to manage different types of profiles such as customers versus wholesalers.
"We have to make sure we're gathering all that data in the best possible way," Chopra said. "We're not just a direct-to-consumer business."
Hyland Software is both a Salesforce customer and a partner, with its OnBase enterprise content management system integration available on Salesforce's AppExchange. Salesforce Customer 360 Truth is a move in the right direction to reconcile conflicting customer data, but the process will always require a mix of different vendors' tools to nail it all down, said Ed McQuiston, Hyland executive vice president and chief commercial officer.
"There is no one, ubiquitous platform that gives you 360," McQuiston said. "Salesforce plays a critical part for us in terms of understanding the customer, our interactions, et cetera. But we use our own product with it, because I want to see the contracts we have, the support information. I want that complete view."
Patrick Morrissey, general manager of Salesforce partner Upland Software, said he thinks Customer 360 features will help Salesforce customers use Upland's Altify revenue management tools more effectively.
"Customer revenue optimization intersects quite nicely with Customer 360," Morrissey said. "The problem is that the data and processes don't connect. The vision that Salesforce has around Customer 360 is fantastic, because it brings the data together for the customer and reduces friction."
CDPs can only go so far
Salesforce might not call Customer 360 Truth a CDP because its capabilities extend beyond what competing CDPs do, said Joe Stanhope, analyst at Forrester Research, who watches the technology closely.
"Salesforce was talking quite a bit about CDPs in the early iterations of Customer 360," Stanhope said. "But I think, over time, the scope evolved and expanded. Ultimately, Customer 360 is about more than a CDP, and even more than just marketing. Customer 360 is the key to enabling the Salesforce ecosystem with data."
Arizona State University's CTO of EdPlus online learning, Donna Kidwell, sees the Salesforce tools as a good start to wrangle sprawling data. Her team is building a blockchain ledger to track accomplishments of the university's learners, which comprises students pursuing degrees, professionals earning certifications, high schoolers attending camps and others who interact in some way with the university.
The ambitious project involves Salesforce CRM data and Salesforce Blockchain as a spoke of a much larger wheel that ultimately will enable data sharing across educational institutions and employers.
CDPs in general -- and Salesforce Customer 360 Truth in particular -- may help consolidate data that can be fed into the ledger at some point in the future. But ultimately, managing customer data across learning systems, HR applications, Salesforce and other contributing systems is a much larger problem than a CDP can solve.
"I'm definitely tracking the CDPs," Kidwell said. "I'm hopeful that Salesforce will ease some of those concerns, but I can't imagine they'll be the single source. There's not going to be a single source of truth. We're actually going to need data strategies, and our technologies will help implement those strategies."
Dig Deeper on Customer experience management