Salesforce email marketing gets Einstein AI infusion
Salesforce adds Einstein AI features to email marketing tools to find images and keywords and provide keyword analysis to help email campaigns succeed.
Salesforce unveiled on Thursday Marketing Cloud email features to come, including Einstein AI tools to automate, personalize and analyze outcomes of email campaigns and interactive emails. Salesforce also introduced testing tools to detect potential errors before hitting the send button.
The Salesforce email marketing AI features scheduled for release later this month include Einstein Content Selection, which makes personalized recommendations for images based on customer preferences. Einstein Copy Insights, also slated for later this month, predicts verbiage most likely to drive customer response in email subject lines and body text, as well as for social media and text messages.
Also, part of the upcoming release is a testing and validation tool that examines email addresses for missing elements, text errors and off-topic offers before sending emails to a list.
Einstein Messaging Insights, scheduled for January release, analyzes email campaigns to figure out why some campaigns underperform against expected results. More importantly, it can help determine why overperforming ones succeed.
"If you're doing something that's performing pretty well, it's going to try to tell you why," said Bobby Jania, Salesforce product marketing VP. "So, you're learning from that and can use it in other campaigns."
Salesforce also plans to pilot an interactive email builder, based on technology from its Rebel acquisition earlier this year. It can embed surveys, polls and image carousels inside emails. That avails content that otherwise might require an email recipient to click on a web link, which reduces customer engagement.
Consumers and B2B buyers prefer email as the channel to receive marketing messages, according to a Salesforce-commissioned survey of 8,000 consumers and B2B buyers conducted last April. Respondents indicated email remains the favorite channel despite the rise of competing social media and text messaging channels, Jania said.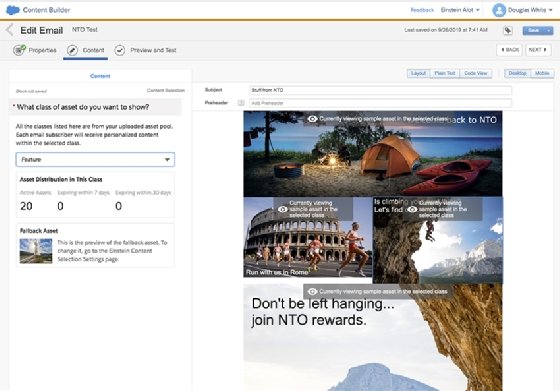 Email is not going anywhere as the most-used digital marketing channel, said Constellation Research analyst Nicole France. The upcoming Salesforce email marketing tools aren't particularly groundbreaking, she said, as other vendors offer similar capabilities.
However, France said that Salesforce is doing what it does well: Getting Einstein AI into the hands of its customers by embedding it in tools they can use right away without help from a data scientist. That will make the tools useful.
"No one's using AI for the sake of using AI," France said. "This is a practical use of AI in the marketer's daily work."