arrow - Fotolia
Salesforce Pardot, Interaction Studio get feature boosts
Salesforce adds Einstein AI, as well as personalization and data visualization features from its acquisitions of Evergage, Datorama and Tableau, to Marketing Cloud.
Salesforce Marketing Cloud users will finally get their hands on technology Salesforce acquired from Datorama, Evergage and Tableau in the form of new features due to be released in the coming months.
Salesforce Pardot, the B2B marketing automation suite under Marketing Cloud, will debut Salesforce Pardot Premium this month, the company said. Aimed at enterprise users, the new package adds Einstein AI capabilities to tackle predictive campaign analytics and the difficult concept of attribution -- how marketers determine which campaign or channel drove what revenue.
Earlier this year, Salesforce acquired Evergage, a personalization technology vendor. Features from that acquisition will manifest themselves in Salesforce Interaction Studio, another wing of Marketing Cloud in which users track real-time engagement with customers via numerous channels such as marketing emails, social media channels and customer service.
Within Interaction Studio, new features slated for third-quarter release include Einstein Personalization Recipes, which enables the design and testing of recommendations for individual customers; Einstein Personalization Decisions, which uses an AI learning model to determine next best actions; and A/B testing to predict how different experiences may perform on different channels.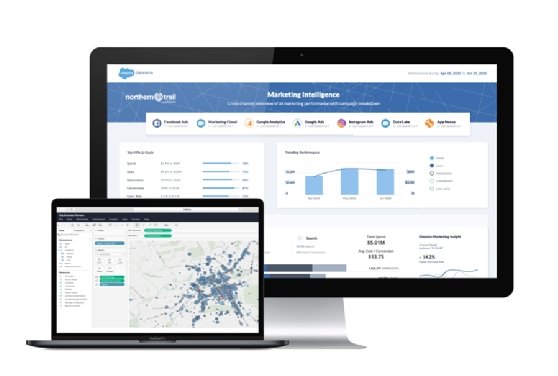 Salesforce takes on Adobe with new features
The Salesforce Pardot Premium and Interaction Studio features may challenge those of market leader Adobe, Constellation Research analyst Nicole France said. While existing Salesforce users will welcome these granular, AI-assisted recommendation tools if they hadn't used them before, enterprise users who already get that functionality from a mixed Salesforce-Adobe tech stack may also look at how they overlap.
"This is partly about having a competitive play [with Adobe and other vendors]," said France, adding that users want to simplify their stacks by reducing the number of vendors they need to put together to get the job done. "It's also partly about having a tool that's well integrated to a set of tools you're already using -- from a user standpoint, there is some appeal."
Even when we come out of this, back to some sense of normalcy, a lot of behaviors have probably changed forever.

Adam BlitzerCEO, Salesforce Marketing Cloud
Available now in Salesforce Marketing Cloud are data-handling features built from its 2018 Datorama acquisition, combined with Tableau data visualization and analytics technology. Together, they pull together a Salesforce user's marketing data and port it to charts and graphs based on a number of metrics such as geography or role of their customers in the buying process to understand and optimize marketing performance.
While integrating features from the acquisitions of Datorama, Evergage and Tableau were on the product roadmap for some time, Salesforce Marketing Cloud CEO Adam Blitzer said that some were moved up in the development queue after the pandemic reconfigured the needs of Salesforce users. Those included the analytics and tools that allow the mixing and mingling of different data sets.
"We have reevaluated our roadmaps, based on the world in which we find ourselves," Blitzer said. "No one is sure when the current environment is going to end as we are in lockdown and isolation. ... Even when we come out of this, back to some sense of normalcy, a lot of behaviors have probably changed forever. This notion of running your business from anywhere, being able to work from anywhere, is likely here to stay."