Sergey Nivens - Fotolia
Salesforce Datorama acquisition to bolster Marketing Cloud
Salesforce continues piecing together its Marketing Cloud -- this time with the $800 million acquisition of Datorama, an AI marketing software company.
The Salesforce Datorama acquisition is expected to enhance the Salesforce Marketing Cloud system and better compete with Adobe -- the CRM software vendor's main competitor in the marketing space.
The Salesforce Datorama acquisition marks the fourth purchase for the vendor this year, following its acquisitions of Attic Labs, CloudCraze and MuleSoft. The cost of buying Datorama, according to reports, was about $800 million.
Datorama uses AI and machine learning to provide marketing intelligence and analytics to help organizations identify which campaigns work best and what the next best marketing tactic should be. Salesforce appears to be looking to the Israel-based company's technology to bolster its Einstein AI-backed business intelligence software.
The move will strengthen Salesforce's portfolio in marketing and analytics, said Ray Wang, principal analyst and founder of Constellation Research.
"Datorama looks at every piece of analytics around the campaign to figure out why one was more successful than another. Salesforce has been building out its Marketing Cloud and [has] been doing specific acquisitions to bolster its marketing and ad-tech capabilities," Wang said.
Not all observers think the Salesforce Datorama acquisition was the best move to help with marketing analytics.
Datorama customers have used the product more for reporting, rather than analytics, according to Tina Moffett, senior analyst at Forrester Research.
"Datorama's strong suit is in its ability to connect disparate data sources -- from Facebook and ad servers and email providers -- into one central system, and it uses AI to do that," Moffett said. "A lot of the organizations that we've talked to use Datorama as a central reporting and dashboard tool."
I'm thrilled to welcome @Datorama to the salesforce family. The best of both worlds: Analytics and Marketing. The Datorama platform allows marketers to easily connect separate sources of critical platform data to create incredible insights. See it at @Dreamforce! pic.twitter.com/HcXG7Eg2O8

— Marc Benioff (@Benioff) July 17, 2018
Building capabilities through acquisition
When you see this acquisition, you have to think the next thing for Salesforce is ad tech.

Ray Wangprincipal analyst and founder of Constellation Research
Salesforce has been visibly working to improve Marketing Cloud and has done so mainly through acquisitions.
That campaign started with acquiring ExactTarget in 2013 and turning it into the core Marketing Cloud system. Salesforce then bought Krux in 2016 to improve Marketing Cloud's data management capabilities and soon renamed Krux to Salesforce DMP.
Salesforce's acquisition of Datorama AI marketing software fits the same theme, but the purchase may have surprised some.
"Salesforce's [approach] is to build capabilities through acquisitions," Moffett said. "For them to focus on marketing performance measurement and then acquire a company wasn't that big of a shock. I think what was a big of a surprise was that it was Datorama."
Surprise or not, Salesforce appears to have big plans for Datorama.
"Salesforce's acquisition of Datorama will enhance Salesforce's Marketing Cloud with expanded data integration, intelligence and analytics, enabling marketers to unlock insights across Salesforce data and the myriad of technologies used in today's marketing and consumer engagement ecosystem," Ran Sarig, Datorama CEO and co-founder, wrote in a blog post.
Meanwhile, Wang said he could see the Salesforce Datorama acquisition laying the groundwork for another Salesforce product: an advertising cloud.
"When you see this acquisition, you have to think the next thing for Salesforce is ad tech," Wang said.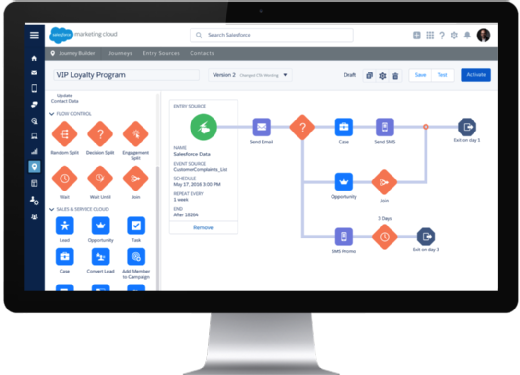 Salesforce sets sights on Adobe
Salesforce's focus on strengthening Marketing Cloud also is apparently aimed at Adobe -- another marketing software giant.
The two software goliaths have battled fiercely in recent years, and the Salesforce Datorama acquisition should be viewed in the context of that technological arms race, Wang said.
"From a Marketing Cloud perspective, it's Salesforce and Google versus Microsoft and Adobe, and that's what people need to recognize when considering their investments," he said.
The big tech leaders all are trying to make it easier for organizations to connect the dozens of marketing tools that most large enterprises use.
"The bigger issue is the fact that most organizations run 40 to 50 martech solutions and want to know how to consolidate [their data]," Wang said. "Everyone is looking for one vendor to make this easier, and the integrations that Datorama has are important and allow you to connect those different pieces."