Salesforce Genie integrates automation, CDP, AI features
Salesforce Genie delivers a suite of automation, analytics and customer data tools the company claims is one of its biggest innovations over its 20-plus year history.
SAN FRANCSICO -- Salesforce released Genie, a suite of features that combines AI, Flow automation and a customer data platform to trigger actions across all its clouds in real time.
Salesforce Genie, released during the Dreamforce conference here this week, is a data platform for customer experience orchestration based on the Salesforce CDP. It builds a customer graph based on Salesforce metadata. It is a data lake itself and ingests data within the Salesforce platform and from outside sources, such as data lakes and lakehouses hosted by other cloud vendors.
Genie taps the CDP to find a single customer or group of customers with AI and ML and connects that data to a Flow automation, which triggers the next action. Early examples of actions include serving ads, content or offers; making sales recommendations based on browser behavior; pulling up historical sales and service data or reacting to real-time maintenance alerts to solve customer problems; or regulatory processes, such as deleting customer data when they opt out of marketing.
"Real-time access to the entire customer profile is huge, both because it's technically difficult and because it's very important to many users," said CDP Institute founder David Raab. "We consider this a core requirement for any CDP, but in practice, some firms do a better job of delivering it than others. If Salesforce does what they say, they are offering a particularly robust version of this."
The functionality of Salesforce Genie has been available since 2020 for Marketing Cloud users who subscribed to the CDP. Genie generalizes the CDP to all Salesforce clouds; pre-built tools will be available across Sales, Service, Marketing and Commerce clouds, as well as the Salesforce Platform, Tableau, Slack and MuleSoft. Salesforce said 18 partners also released Genie Salesforce automation tools on AppExchange to coincide with its release.
"You can see exactly how whole new sales processes are going to be treated when you're doing B2B selling," said Constellation Research founder R. "Ray" Wang. "They're going to try to use this everywhere."
They're going to try to use this everywhere.

R. 'Ray' Wang Founder, Constellation Research
In combination with Salesforce Flow -- an automation tool -- and Einstein AI, users can run analytics and AI on their data inside and outside of Salesforce to create customer experiences across sales, service, marketing and e-commerce.
Some enhancements to Salesforce automation features and the underlying Salesforce platform were required to execute Flow automations in microseconds, said Patrick Stokes, executive vice president and general manager of Salesforce Platform. Building the data platform with the Salesforce metadata model also enables use of Flow and Einstein tools across both Salesforce and non-Salesforce data ingested into the Genie data lake, he added.
Along with Salesforce Genie, Salesforce announced two key partnerships: one with Snowflake to facilitate two-way data exchange between it and Genie for joint users, and another with AWS to let Amazon SageMaker users "bring their own AI" to run on Genie data.
"We've always been an open platform -- or tried to be as open as humanly possible," Stokes said. "We really wanted to open this up as well."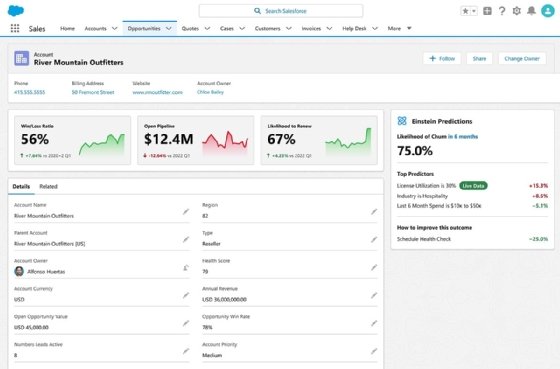 Genie will also extend Salesforce's Customer 360 to its Industry Clouds as well, said David Schmaier, Salesforce president and chief product officer. Genie-powered custom apps for healthcare might be known as "Patient 360" for healthcare users, "Citizen 360" for government users, and so on. Schmaier added that Salesforce CDP has been its fastest-growing product, attracting 500 marketing users since its 2019 pilot and 2020 release.
The Genie rebranding of the CDP was to "make it fun," he said. Genie comprises a new set of services that run on top of the CDP, so current CDP users won't have to migrate to a new platform. Genie certifications for Salesforce developers and other Trailblazers are in the works.
Users scale up CDP deployments
Regardless of which CDP vendor they engage, companies are expanding CDP usage beyond original marketing uses, Raab said. Companies want to use customer data in conjunction with sales and customer service activities.
Privacy regulatory compliance also drives CDP expansion. CDPs can be used to automate and control access to customer data based on organizational rules, governmental regulations and customer preferences.
Salesforce Genie takes the CDP to "the next level," Wang said. It's not enough for vendors to offer a CDP; they need to give customers the ability to accomplish workflows with the data they aggregate. That involves breaking processes into chunks and moving them forward with automation to keep up with customers.
"To take the CDP to the next level, you really have to do it in a very different way," Wang said. "You have to not just think about the data that's there -- you have to think about how everything's connected."
Companies including SAP, Upland, Acquia, Optimizely and Twilio acquired CDP startups in recent years, leading to major market consolidation. Parts of Salesforce's CDP "DNA," as Stokes put it, came from prior acquisitions, such as Datorama, but it was largely homegrown.
CDPs are very complex products to build, Raab said, which is why so many other vendors bought instead of built. Salesforce's strategy may have put the CRM juggernaut behind its competition for a time, but Salesforce Genie may prove it was worth the wait if the company delivers on the hype.
"It does make sense for Salesforce to build this, since it needs to fit within their existing platform infrastructure," Raab said. "Generally speaking, CDP technology isn't all that different from other data management tech, so they probably wouldn't have gained too much if they had bought an existing CDP."
Salesforce Genie is available today as the Salesforce CDP. Marketing Cloud Customer Data Platform licenses start at $12,500 per month for the corporate plan. Separate pricing plans are coming for users who do not use the marketing-specific features of the Salesforce CDP.
Don Fluckinger covers enterprise content management, CRM, marketing automation, e-commerce, customer service and enabling technologies for TechTarget Editorial.