FotolEdhar - Fotolia
Salesforce rebrands CDP, adds marketing features
Salesforce finally calls its customer data platform a CDP with its latest release, adds marketer-friendly segmentation features and MuleSoft, Tableau integrations.
Salesforce's marketing-oriented customer data platform has features planned for release in June to facilitate more granular segmentation, analytics and integrations with outside data sources.
Enhanced segmentation features make it straightforward for marketers -- as opposed to IT staff building SQL database queries on behalf of them -- to remix new groups of customers with a drag-and-drop interface.
One example of this could be breaking out a group of prospective campaign customers who are loyal top spenders with a propensity to make purchases according to AI predictions, who previously made e-commerce purchases and clicked on a particular product on a website, said Robin Grochol, senior vice president of product management for Salesforce Marketing Cloud.
The company also renamed it the Salesforce CDP. Up to now, it had been called Customer 360 Audiences. Salesforce released its CDP last year, joining a crowded marketplace that includes SAP, Adobe, Microsoft and Oracle, as well as dozens of independent CDP smaller vendors and some upstart platform contenders sprouting from new mergers, such as Twilio Segment.
The Salesforce CDP rebrand will reduce confusion among prospective users, said Rebecca Wettemann, CEO of Valoir, an independent analyst firm.
Salesforce recognizes that integration and intelligence are the key battlegrounds for differentiation.

Rebecca WettemannCEO, Valoir
"It's significant," Wettemann said. "Salesforce recognizes that both existing customers and those outside the Salesforce flock need to understand what Salesforce offers -- calling this a CDP is making it clearer."
The Salesforce CDP is built on the Salesforce Platform -- meaning it can ingest customer data from all the Salesforce clouds such as customer service and CRM, as well as from external sources outside the Salesforce platform. For now, Salesforce is focused on features that serve Marketing Cloud users.
That does not preclude Salesforce from making it more of a general-purpose CDP in the future, with features tailored to users in other lines of business such as sales and customer service, said David Raab, founder of the CDP Institute. He said that Salesforce users who haven't yet bought other CDP tools will be the most likely users of the Salesforce CDP -- for now -- and those who already have third-party CDPs in place probably won't be inclined to rip and replace.
Pandemic, martech mess drive the rise of CDPs
Both Grochol and Raab said CDPs are popular right now for two reasons: One, the COVID-19 pandemic forced marketers to sharpen all-digital approaches as businesses closed and in-person meetings and transactions ground to a halt.
The second reason, which started long before the pandemic, is that CDP technology enables marketers to aggregate customer data strewn across more than 8,000 plug-and-play marketing automation tools that they've employed over the last decade. The vast variety of marketing apps have given marketers freedom to customize tech stacks to their businesses, but those tools tend to build their own data sets in silos.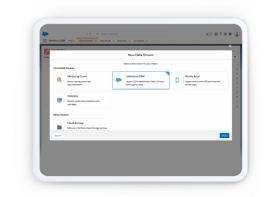 "The core fact that is driving the growth of CDP is the fragmentation of the data being spread out over all these tools," Raab said. "People definitely want something to pull it together, and it takes a separate system to do that. It's not going to be something in CRM, marketing automation or any other product that wasn't built for it. They need purpose-built software."
Salesforce CDP users also get new integrations to MuleSoft for ingesting customer data from outside sources such as loyalty platforms, ERP and retail point-of-sale systems from the likes of Microsoft, AWS and ServiceNow. Furthermore, new connectors to Tableau offer data visualizations to marketers to make more informed decisions about what customer groups to use in marketing campaigns and also to measure effectiveness of campaigns.
Such integrations might be what drives Salesforce customers to pick the Salesforce CDP when they're choosing between it and standalone CDPs.
"Every vendor with a CDP is trying to differentiate right now," Wettemann said. "We're increasingly seeing companies looking beyond their core CRM vendor when they are looking for a CDP. Salesforce recognizes that integration and intelligence are the key battlegrounds for differentiation."