Nmedia - Fotolia
SAP CDP the latest customer data platform on a crowded block
SAP released a customer data platform, following its CX platform competitors Microsoft, Salesforce, Adobe and Oracle. The SAP CDP extends outside of the common marketing use case.
SAP released its customer data platform, a year and a half after announcing its development. The SAP CDP follows the recent release of similar tools from Microsoft, Adobe, Oracle and Salesforce to market.
SAP's CDP was built from technology acquired from Gigya, an ID management platform the company acquired in 2017. SAP expanded those features to manage customer profiles in real time, for users to personalize e-commerce and marketing engagements with their customers.
Some CDPs are specifically for marketers. The SAP CDP is more generalized, handling data not only from marketing and advertising sources, but also customer service and even offline operations applications such as inventory systems, said Adrian Nash, head of strategy at SAP Customer Experience.
That's an interesting differentiator, said CDP Institute founder David Raab, who closely tracks CDP offerings from both large technology vendors and standalone CDP companies.
"It's more of an enterprise-wide resource that's going to include a lot of back-office data," Raab said. "Most CDPs are focused on direct customer data. In theory, a CDP can pull anything."
After an analyst briefing, Raab said the SAP CDP checked off a lot of boxes for features users need, such as low-code tools to build data connectors from the CDP to outside applications. That can be a difficult process for the average knowledge worker in the absence of low-code mechanisms to accomplish it.
"Low code is the new AI," Raab said. "You have to have it. The new interface makes it easy enough to add new data sources."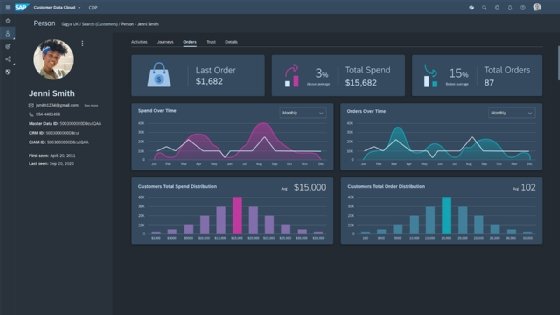 CDPs manage data privacy compliance
CDPs started out as pure data-handling systems to aggregate information flowing from CRM, advertising, marketing, customer service and e-commerce applications to give sales and marketing teams a full picture of their customers' interactions.
With global consumer privacy laws such as California Consumer Privacy Act and the E.U.'s GDPR data privacy laws, users want CDPs to be the tool that manages privacy compliance as consumers claim their right to opt out of marketing campaigns and data sharing. Microsoft and Oracle address privacy compliance with their CDPs.
Low code is the new AI. You have to have it. The new interface makes it easy enough to add new data sources.

David RaabFounder, CDP Institute
The SAP CDP -- which encompasses consent and preferences management -- was built with this in mind, Nash said. In the development phase, SAP built features in its CDP that honor marketing opt-out policies that still enable users to do routine business with their customers. Examples might include processing orders for products and services, fielding customer service calls and managing warranties. SAP calls it "holistic data privacy," where incoming customer data can be merged to a unified CDP profile only when consent policies allow it.
"For example, you can purchase something and not sign up for marketing communications -- but [the CDP user] still needs to legitimately deliver that product or service from a digital commerce storefront to the service engine," Nash said. "By connecting the data and interpreting why it's needed in the first place, we can make sure that only data from the CDP is being used as it should be.
"Building that into the platform impacts how you push data into the CDP but more importantly, how you push it out; those checks need to be done at that point in time," Nash said.
The SAP CDP will be generally available at the end of November. Pricing data will be available in early December.