Sergey Galushko - Fotolia
SAP CX application stack grows with addition of Emarsys
SAP scoops up a marketing automation platform with CDP capabilities, as well as personalization and the ability to reach customers across digital channels.
Updated on Nov. 5, 2020
With the acquisition of Emarsys, SAP Customer Experience -- the CX application stack that until earlier this year went by the name C/4HANA -- users will get deeper marketing personalization and customer data platform capabilities.
Terms of the deal were not disclosed. The Austrian marketing automation vendor's platform is known for its personalization, cross-channel marketing campaign management and customer data platform (CDP) capabilities. Its customers reside in the retail and B2C space.
The privately held Emarsys claims 1,500 customers globally and, by some estimates, generates approximately $100 million annual revenue, having raised $55.3 million in funding. CEO Ohad Hecht said in an interview with Forbes last year that Emarsys had been approached twice by other suitors in recent years.
While the Customer Data Platform Institute lists Emarsys as a CDP vendor on its site, founder David Raab said Emarsys is better known for its personalization engine, having added a CDP later. In strategic terms for SAP, he likened the acquisition to Salesforce acquiring personalization vendor Evergage last February.
"SAP has marketing capabilities but isn't really known for them, and they are more oriented to B2B than B2C -- the deal definitely fills a gap for them," Raab said. "I'd love to know the price -- it cannot have been cheap."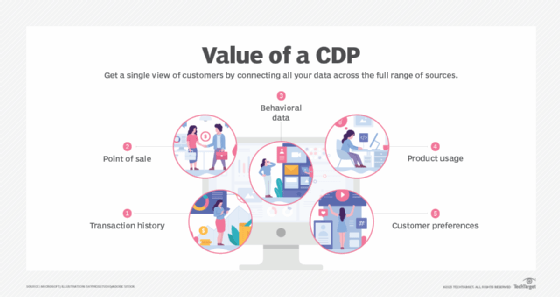 SAP CDP to come
SAP has had a CDP in the works since May 2019, based in part on technology SAP acquired from customer identity management tool Gigya, according to Adrian Nash, head of strategy at SAP Customer Experience. He said the Emarsys acquisition was a natural fit for the SAP Customer Experience application suite but couldn't give much more specifics on how it would be integrated because the deal isn't yet complete.
The deal definitely fills a gap for [SAP]. I'd love to know the price -- it cannot have been cheap.

David RaabFounder, CDP Institute
Both Nash and Alex Timlin, senior vice president of verticals at Emarsys, emphasized the personalization platform aspects of Emarsys that drive B2C e-commerce in the SAP ecosystem when discussing how Emarsys dovetails with SAP CX technologies. Emarsys has many users who already connect its marketing automation platform to SAP sales and product data systems, Timlin said, so the acquisition made sense.
SAP had launched several development projects around customer data "foundational elements" before the Emarsys acquisition, Nash said. Emarsys brings related technology.
"I wouldn't say 100% that we've defined what that looks like, but we've got a working hypothesis," Nash said. "When we close -- and have the product teams together -- then we'll have a solid plan of how that looks."
While SAP had new personalization capabilities for web and mobile apps to drive e-commerce revenue on the roadmap, the events of 2020 accelerated those plans as SAP customers' e-commerce activity increased by 50% during the lockdown period, Nash said.
Personalization is not a new strategy for marketers, Timlin added, but their CEOs now can see clearly how crucial it is to driving digital e-commerce revenue this year when retail businesses were closed. They also see how digital channels in general drive customer loyalty and higher lifetime value over the course of an engagement.
"It's not a side project or something on the back burner [anymore]," Timlin said. "It makes a lot more sense right now."
More news and information on SAP CX tools will be forthcoming at the SAP Customer Experience Live virtual event Oct. 14, Nash said.