BillionPhotos.com - Fotolia
Microsoft CDP adds cross-channel analytics
Microsoft Dynamics 365 Customer Insights CDP adds integrations with other CX systems that perform analytics, customer data governance and sentiment analysis.
Microsoft released voice channel support for Dynamics 365 last week. On Thursday, it connected the voice channel to its Customer Insights customer data platform, availing sentiment analysis and voice of the customer measurement to its CDP customer profiles.
Moreover, Microsoft previewed Engagement Insights, planned for release next year. This cross-channel analytics tool surveys customer interactions across websites, mobile apps and connected devices such as smart TVs and game consoles to detect changes in customer behaviors. That information feeds into Microsoft CDP customer profiles to inform the next marketing and customer service actions users can take.
Microsoft also released integrations between the Customer Insights and advanced Azure analytics services, supplemented with machine-learning templates that enable non-data scientists to set up AI apps for common marketing uses, such as subscription churn prediction, product recommendations and customer lifetime value.
These new features aren't revolutionary, said CDP Institute founder David Raab. But they're important next steps for customers to deploy the Microsoft CDP. Taken together, they enable users to set up and gain insights from customer data much more quickly than building those connections themselves or with third-party developers.
"[Microsoft's CDP] is showing maturation," Raab said. "We knew the first release out of the box would be pretty bare-bones, but because of the underlying platform they'd be able to tap into it and rapidly grow it in sophistication."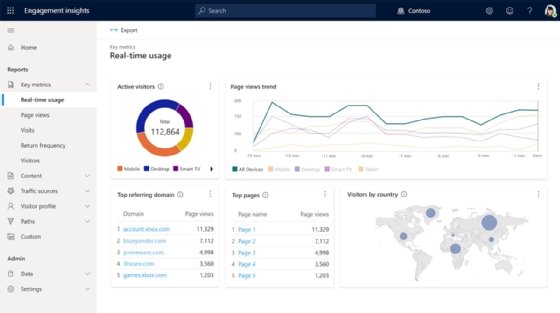 Microsoft grows customer intelligence capabilities
Using the Microsoft CDP in concert with cross-channel analytics and AI tools can help CMOs get a firmer grasp on customer data insights to create revenue for their companies, said Constellation Research analyst Liz Miller. Business pressures are pushing them to do just that.
We knew the first release out of the box would be pretty bare-bones, but because of the underlying platform they'd be able to tap into it and rapidly grow it in sophistication.

David RaabFounder, CDP Institute
"This actually allows you to not just collect all the data, but to understand the quality, source and usability of the data being brought into the CDP," Miller said. "With this integrated view, you could create business intelligence to understand which data is moving the growth needle."
In the data security realm, Microsoft added the ability to tag sensitive customer data across its applications and enforce privacy policies, which limits the ability for end users to see or distribute it. This follows Oracle and Adobe's moves to bolster compliance capabilities in their CDPs earlier this week.
These features are important for both government and private-sector users to meet mandates of emerging consumer privacy laws such as the EU's General Data Protection Regulation and the California Consumer Privacy Act, said Dina Apostolou, Microsoft's global senior director of product marketing.
Other features released include connectors to third-party data sources that can feed into the Microsoft CDP. The first are LiveRamp, Google Ads, Facebook, Marketo, MailChimp, HubSpot and several others. Microsoft built integrations with the third-party tools that Microsoft Dynamics 365 marketing users employ the most, and will add more in time, Apostolou said.
Theoretically, that could open up use of the Microsoft CDP to customers who don't use other Microsoft customer experience applications.
"We're taking a vendor-agnostic approach," Apostolou said. "Customer Insights is built to ingest data from any source [and] activate insights on multiple destinations."
The feature releases coincided with Microsoft's Business Applications virtual launch event on Thursday. Those live now come included at no extra charge to Microsoft CDP customers. Pricing information for Engagement Insights and its associated features will come later, Apostolou said.