CDP Institute releases customer data platform certification
While waiting for Salesforce to release a customer data platform and for Adobe to perfect its newly released CDP, RealCDP certification aspires to validate CDPs available today.
Editor's note: This is the second of two parts. Read the first here.
If the CDP Institute has its way, its new RealCDP certification will clear up confusion in the martech marketplace about what is -- and isn't -- a customer data platform, or CDP.
Also, the group said the new independent standard will help distinguish CDPs from data management platforms (DMPs).
Consultant and CDP Institute founder David Raab, who invented the term customer data platform in 2013, said use cases for CDPs and DMPs remain different. CDPs handle a company's own first-party customer data, while DMPs handle purchased data from second and third parties. Some tech vendors claim their tools can do it all.
"Is the CDP the right tool to do what a DMP does?" Raab said. "No, because DMPs are optimized for certain applications in the same way every other system in the world is optimized."
Raab said he hopes the CDP Institute's certification will create a minimum standard for CDP functionality to help marketers spend their budgets wisely.
"What marketers want is all their data in one place, accessible, to be shared by all their systems," Raab said. "Not just a shared customer ID, or a set of attributes applied to a cookie or some other identifier, but all the raw, gruesome details from all the different systems."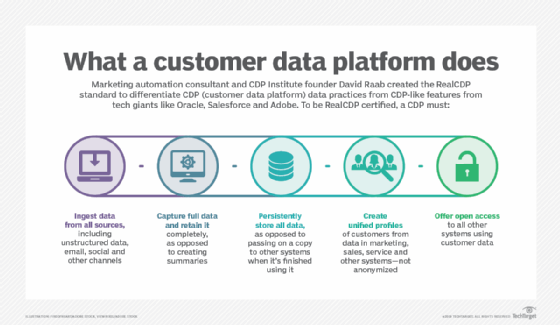 Report criticizes CDP category
CDPs still are an emerging technology, said Forrester analyst Joe Stanhope, who co-authored the October 2018 report, "For B2C Marketers, Customer Data Platforms Overpromise and Underdeliver."
The report called CDPs a "Band-Aid approach" to much bigger problems with centralizing customer data, maintaining data hygiene and deploying effective data. Maybe worst of all, it said, CDPs add another layer of complexity to already convoluted martech stacks.
"CDPs raise an important issue," Stanhope said. "We can all agree that managing and activating marketing data is hard, and it's getting harder -- a constantly moving target. There's always new channels, new data sources, new tools. Data is the fuel for marketing, but [using] it is really hard."
For his part, Raab agreed with some elements of Stanhope's assessment. He acknowledged that, even as CDPs advance, no technology can be all things to all people.
"It's not a magic bullet," Raab said, pointing out that CDPs don't perform identity resolution well -- a point that stands out in the Forrester analysis. An example of that is confirming that a person communicating from the web is the same person who previously contacted you from a mobile device. But other tools, working in conjunction with CDPs, do this well, Raab said.
Salesforce, Adobe integrate their own
Large CRM, marketing automation and adtech platform vendors also play in this space. Salesforce has its own DMP from its 2016 Krux acquisition, and it plans to release a CDP later this year. It's purportedly built in-house and will reside somewhere in the Salesforce Customer 360 family of tools.
We can all agree that managing and activating marketing data is hard, and it's getting harder -- a constantly moving target.

Joe StanhopeAnalyst, Forrester
Adobe also includes both a DMP and CDP as part of its integrated martech and adtech clouds, as does Oracle.
"The first generation of SaaS took applications to the cloud, but the data still remained in silos," CEO Shantanu Narayen said in his Adobe Summit user conference keynote in March 2019, when he unveiled the Adobe Experience Platform. It includes CDP-like features hooking into its martech and adtech clouds.
"We think that new architecture is required to make this explosion of customer experience channels manageable," Narayen said.
What this will mean for the independent CDP and DMP vendors is yet to be determined. Marketers will need to make "rational buying decisions" in the interim, Raab said, as to whether they will trust big vendors to roll out deep CDP features the smaller ones already have and if it's worth losing ground to competitors in the interim while waiting for the big vendors to deliver.
Raab said his group would certify Salesforce's upcoming CDP as RealCDP if it meets the criteria.
In a blog announcing its CDP plans last month, Salesforce Marketing Cloud CEO and Chief Analytics Officer Bob Stutz acknowledged that part of the inspiration for the CRM vendor creating its own CDP is how frequently the abbreviation now pops up on prospective customer requests for proposal (RFPs).
"These companies are getting RFPs with 'CDP' written on them, and they're saying 'We don't have a solution for that,'" Raab said. "If you're a big company like a Salesforce or an Adobe, or Oracle, you hate to admit you don't have it. The first step is to deny and say, 'You don't need this.' The second step is acknowledging the problem, and the third step is eventually delivering [the CDP]."