Fotolia
Adobe Experience Platform unites Magento, Marketo, customer data
Adobe makes a play for customer experience leadership by adding Magento- and Marketo-based clouds and building it on the Adobe Experience Platform foundation to unify the data.
LAS VEGAS -- The Adobe Experience Platform boasts a feature called Unified Profile. It's a fancy name for what the rest of the market calls a customer data platform. These applications create one customer record from which all customer interactions in sales, marketing, service and e-commerce are launched, instead of the multiple, probably conflicting records in each of those systems.
Several other capabilities also debuted in the Adobe Experience Platform on the opening day of the Adobe Summit 2019 user conference, including those in Adobe Commerce Cloud, which incorporates features from the acquisition of Magento last year, and major upgrades to Adobe Marketing Cloud from the Marketo acquisition.
But Unified Profile will be a key component if the new platform is to succeed, Gartner analyst Benjamin Bloom said.
That's because it's a way for Adobe to take IT infrastructure development, as well as data integration problems off the chief marketing officer's agenda, Bloom said. He also pointed out that some of the demos Adobe showed demonstrate that CIOs and customer service leaders also are managing CX initiatives. But the CMO still is who Adobe and its competitors focus on, as marketing automation still drives customer experience in many organizations.
"You can move data throughout your martech stack in ways that you have some control over it -- whereas if you were to build your own from scratch you'd have a whole lot of architectural decisions, technical questions to ask and decide," Bloom said.
"Do you really want to own the roadmap?" he added. "You want to own and spend time on campaign strategy, customer lifecycle -- things that can generate business value much quicker than capital expenditure required for a technical project."
Managing data is many marketers' biggest challenge. In his keynote, Adobe CEO Shantanu Narayen said the idea is to make those customer profiles immediately actionable to provide real-time customer experiences.
"It's the ability to put the customer at the center of your strategy, orchestrate the customer journey for them, and deliver this world-class customer experience they expect -- that I believe will separate the leaders from the laggards in any industry," Narayen said.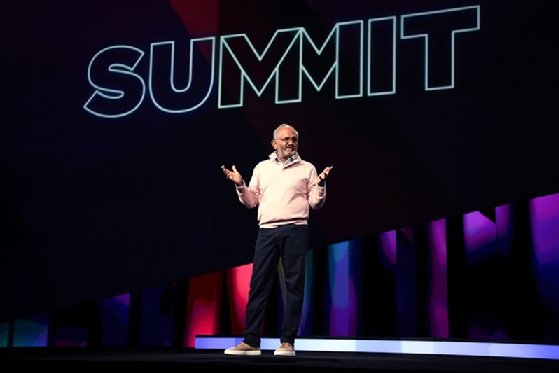 Customers react to Adobe Experience Platform
Reaction was generally positive to Adobe Experience Platform demos -- some real and some hypothetical -- in financial, retail and educational sectors.
For Marketo customers, when asked if they had concerns after the Adobe acquisition, the Summit was the place to express their grievances. Particularly worried, it appeared, were those who use the marketing automation platform paired with competing platforms and feared the integrations might suddenly become less tight or degrade over time.
So far, so good with Marketo, said Loren Posendek, marketing operations manager for Duo, recently acquired by Cisco. She uses Marketo with Salesforce to process leads from inbound marketing, as well as from events to sell a multifactor authentication security app.
The Unified Profile, she said, may end up making her job a little easier as her team takes data from the many sources that CISOs and data security buyers provide, including from free trials of Duo.
"It will probably help us the best with the automation part, but also seeing the complete picture of a record," Posendek said in an interview. "That's really big when we're routing, we want to see the big picture and not just one portion."
Matthew Owen, a Chicago consultant and Adobe customer who designs visual content for large venues, said he finds Adobe to be more focused on the end-product content's look and feel compared to competing vendors' products. Ultimately, that is what makes better customer experiences.
"They've always been creative in marketing, they have a more organic background in being a marketing company," Owen said in an interview, whereas competitors such as IBM and Oracle come from a more technical background. All of them, though, have diversified by acquiring other companies.
"Adobe's people and culture are a big differentiator," Owen said.
With AI, we can dynamically target new segments -- people who need our services -- and serve messages anywhere in BuzzFeed, Pandora or USA Today, where they are.

Susan Somersille JohnsonChief marketing officer, SunTrust Banks
Financial services could be a beneficiary of these new tools, too. SunTrust Banks chief marketing officer Susan Somersille Johnson led a campaign to engage nearly 4.4 million consumers to drive home ownership and make better long-term financial decisions. The traditional brick-and-mortar bank sees digital sales growing, now at 30% overall. Customers are, more than ever, making deposits, paying bills and buying financial services online without setting foot in one of SunTrust's 1,400 branches.
Johnson said in a keynote conversation with Abhay Parasnis, Adobe executive vice president and CTO, that she's looking forward to seeing upcoming AI features, which are included in the AI suite that Adobe dubs Sensei, in Adobe Experience Cloud.
"With AI, we can dynamically target new segments -- people who need our services -- and serve messages anywhere in BuzzFeed, Pandora or USA Today, where they are," Johnson said.
Account-based experience
Adobe executives termed "account-based experience" the unification of the vendor's marketing tools on the Adobe Experience Platform with Unified Profile, mashing up two familiar concepts: one-to-one account-based marketing and customer experience.
They rationalized using the phrase because they're seeing lines between B2B and B2C break down as some companies sell into both sectors at once. Furthermore, many B2B businesses employ B2C tactics such as gathering behavioral data to drive personalized marketing materials to sell to business-based customers.
That's come about because people who make buying decisions are doing more and more online research on their own before ordering -- just like they would at home buying a car, going out for dinner or investigating financial services.
"The distinction of what's a B2B company and what's a B2C company is certainly blurring," Narayen said to a group of journalists and analysts after his keynote.
This trend is driving Adobe to invest heavily in features such as Unified Profile, as well as in deeper content management integrations across Adobe clouds, he said.
Editor's Note: TechTarget offers ABM and project intelligence data, tools and services.
Next Steps
Methods to integrate customer data
CX still looking for customer data integration
Building a customer data platform