ashumskiy - Fotolia
Create a winning personalized customer journey
Web content management platforms, customer data platforms and matchmaking can all help companies create and implement a personalized customer journey savvy consumers demand.
Consumers want information when and where they need it, and they've come to expect their digital buying experience to be more personalized. So the pressure is on businesses to successfully integrate personalization into their interactions with customers.
Today's content is no longer locked inside webpages but dynamically assembled at runtime, enabling a more personalized customer journey. When creating digital experiences, businesses should identify a target audience, know what that audience wants, suggest approaches based on those wants and have the right content ready to properly execute a personalized customer journey.
To successfully map customer journeys, companies need to ask themselves three key questions:
What kind of content do our customers need, and how do they acquire it?
What do we know about our target audiences?
How do we verify that the content produces expected results?
Companies turn to web content management (WCM) platforms, personalization engines and monitoring tools to create a successful customer journey. But to deliver a personalized customer journey, businesses must blend the right technologies with easy-to-use methods.
WCM platforms facilitate personalization
Companies need a third-generation WCM platform to manage granular content for runtime experiences. This network-accessible repository should store and tag content in a systematic fashion. The WCM platform provides easy-to-use tools to update text, images and video clips. It also centralizes and manages relevant metadata within a repository.
Content creators, site builders and programmers should be able to produce dynamic, personalized experiences as easily as building static websites. This process involves creating text, adding images, filling out forms and selecting items from drop-down lists. The platform manages that content and associated metadata on the back end.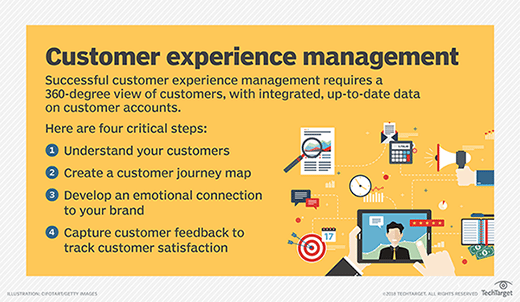 A third-generation WCM platform can automatically add metadata by processing contextual clues and cues. It defines metadata that spans across different content types such as text, video and images and consistently manages those content types to produce well-integrated results. These platforms also enrich content with additional metadata through machine learning services.
How to build a customer data platform
Tech-savvy online brands create personalized customer journeys by modeling customer information collected from many different sources. They typically know how to describe the attributes of target audiences and identify the most relevant data elements.
To deliver a personalized customer journey, businesses must blend the right technologies with easy-to-use methods.
It's a challenge for organizations to determine the right customer data to use because they often have a wide range of data sources to choose from. For example, enterprise applications, such as CRM and sales force automation; third-party tools, such as demographics and psychographics; and customer profiles are all valid sources of customer data. Some sources generate contextual data in near real time, including clickstream tracking, browsing histories and location signaling.
All these different data sources come together in a customer data platform, which factors in business insights and data models based on a company's assumptions about its customers to identify relevant indicators. Designed for quick retrieval to ensure near-real-time responses, this type of platform curates the appropriate data sources and makes them accessible to the customer journey.
Make me a match
Finally, a personalized customer journey depends on matchmaking, a process that computationally connects the dots between the granular content and customer information. Metadata provides the machine-readable criteria to access content. Customer-relevant data provides the machine-readable attributes to identify customer characteristics.
Companies that succeed with personalization combine detailed metadata with detailed customer data to generate granular, one-to-one stories. Better algorithms are no longer just rules-based; they can use different AI techniques to make inferences about next-best options to produce digital experiences.
Organizations should focus on the business context. Matchmaking depends on an underlying purpose and not just the enabling technologies. It requires insights and imagination -- the human elements behind personalization -- to create a successful customer journey.
Dig Deeper on Content management software and services