CDP vs. DMP: Vendors battle for marketers' budgets
Customer data platforms and data management platforms have overlapping features, as vendors vie for marketers' IT budgets. It may not matter, as Adobe and Salesforce join Oracle in the game.
In the war for marketing and advertising budgets, technology is the battlefield. And experts argue over which type of customer data works best, as well as where to put it.
Until recently, two emerging technologies -- the customer data platform (CDP) and the data management platform (DMP) -- performed two different, but related, tasks. As distinctions blur between CDP vs. DMP, some vendors claim to be both. It's reached the point where the CDP Institute, a CDP think tank run by consultant David Raab, released the RealCDP certification on April 4 to reduce what he said is confusion between the two.
All this positioning might not matter. Adobe had already added DMP and CDP features to its martech and adtech clouds, and Salesforce claimed to be building its own CDP. Oracle has both a DMP and a CDP, making a case for its integrated adtech-martech stack.
Sound-alike tech an issue
Feature overlap between CDPs and DMPs -- in addition to in-development features to come for Adobe and Salesforce platforms -- creates confusion for marketers, some of whom don't have deep IT or data science knowledge. It's a big problem, said Steve Zisk, senior product marketing manager at RedPoint Global, based in Wellesley Hills, Mass.
The CDP vendor plans to acquire the RealCDP certification to distinguish itself from competitors who claim to be CDPs, but lack functionality that would prevent their certifications, Zisk said.
Zisk pointed out another aspect that doesn't help: CDP and DMP are similar abbreviations.
"There's more confusion than the [feature] overlap warrants," Zisk said. "And it arises from a bunch of different sources, starting with, 'Gee, they sound an awful lot alike. Aren't they really the same thing?'"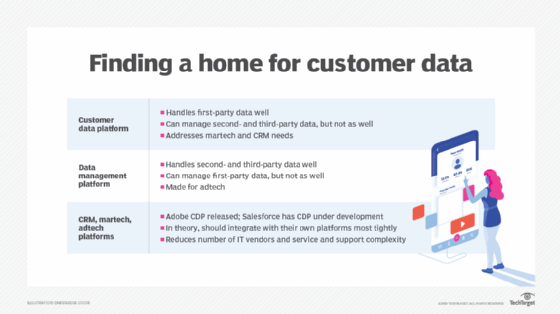 Two kinds of platforms
CDPs hold a company's own customer data, also known as first-party data, permanently. They purport to be the single source of truth -- or golden record, in customer experience parlance -- across sales, marketing, service, e-commerce and other databases where a company's customer data resides.
DMPs manage second-party customer data, or leads bought for the funnel, and third-party data -- anonymized user data gathered from web cookies and device IDs from Facebook, LinkedIn and other popular platforms.
Second- and third-party data is often transient, has a limited shelf life and lacks the completeness of first-party customer data records. It's also getting harder to manage privacy compliance with third-party data, as some companies are finding out. But DMP vendors such as Nielsen, Lotame and OnAudience are working on it. Epsilon, another formerly independent DMP vendor, was bought by Publicis for $4.4 billion in April 2019.
DMPs hold a more impermanent kind of data -- an advertising audience that's refreshed on an ongoing basis. CDPs are designed to be a persistent record.

Benjamin BloomAnalyst at Gartner
"DMPs hold a more impermanent kind of data -- an advertising audience that's refreshed on an ongoing basis," said Benjamin Bloom, a Gartner analyst. "CDPs are designed to be a persistent record."
Over the last few years, the CDP vs. DMP distinction was not as pronounced. CDPs and DMPs coexisted, with CDPs feeding sales and marketing systems and DMPs flowing data into adtech platforms that message potential customers on web, social media and other digital channels.
Now, as thousands of martech vendors vie for a finite number of marketing budget dollars, they blur the lines between DMP vs. CDP functionality. This creates a substantial amount of hype in the marketplace -- particularly with DMPs representing themselves as CDPs or email marketers claiming to be CDPs, Bloom said.
In his opinion, it comes down to those two use cases: DMPs for adtech and CDPs for a company's own persistent, historical customer data that drives marketing campaigns. The challenge for marketers, Bloom said, is figuring out how to spend their budgets wisely on technologies that best use their own customer data commingled with the outside data they're buying.
For example, Lotame is unstacking its technologies to give marketers an a-la-carte approach to customer data management.
Adam Solomon, chief marketing officer at Lotame, based in Columbia, Md., said the words adtech and martech are losing meaning as marketing advances. Some CDP vendors claim to manage adtech data, and some companies previously calling themselves email service providers, marketing automation vendors and even small CRM platforms now say they're CDPs.
"A lot of companies call themselves CDPs, and it's unclear what a CDP is," Solomon said.
In part two, RealCDP certification attempts to standardize CDP features.