kentoh - Fotolia
Small customer data platforms fend off big tech with service, features
With Microsoft, Oracle and Adobe releasing customer data platforms, to be followed by Salesforce and SAP, small CDPs defend their turf with more features, better service and pricing
Adobe, Microsoft and Oracle released customer data platforms earlier this year with Salesforce and SAP to follow suit, but companies that rely on smaller CDP vendors are staying put -- at least for now.
The big CX vendors entering the CDP race, with Microsoft being the latest, however, have given them something to think about.
Many customers of smaller CDP vendors, including Lytics, AgilOne, RedPoint Global and Arm Treasure Data, will likely remain loyal, said David Raab, founder of the CDP Institute, who tracks the technology sector closely. He said companies like Oracle and Salesforce are being pulled into the CDP space because customers are asking why they don't have one yet. The customer data platforms they're building appear less sophisticated than their smaller competitors, he said.
"This is more about keeping existing customers than winning new ones, and maintaining parity with each other," Raab said of the new CDPs from big vendors.
Ashley Stewart reconciles retail, e-commerce activity
Customer data platforms, data tools that run beneath CX platforms, bridge gaps between marketing automation, sales, e-commerce and customer service systems, constantly updating customer records to reflect new activity across all four. Having one golden record helps marketers identify customers to target with new campaigns based on their activity, and also to personalize one-to-one offers in more detail.
Women's apparel retailer Ashley Stewart operates 89 stores, many of which are in urban locations. Julie Daly, Ashley Stewart's VP of e-commerce, joined the company in 2015 after its second bankruptcy. She was charged with creating an e-commerce site to supplement retail sales, which has grown to account for 45% of Ashley Stewart's revenue, Daly said. The company built its e-commerce business by marketing to retail store customers and offering online-exclusives from brands such as Curvy Girl and La La Anthony.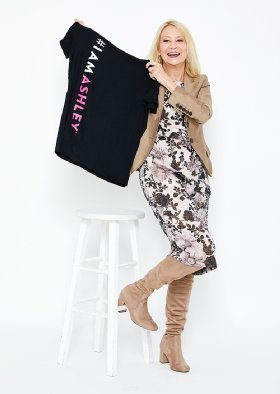 The company uses Salesforce for its e-commerce platform and for some marketing campaigns, but relies on AgilOne's CDP to pull customer lists for email marketing, direct mail, retargeting and Facebook campaigns.
"I have 89 stores. A customer is probably going to exist in five different stores under five different IDs," Daly said. "She will exist on my website on a different ID depending on which email she might have used."
Reconciling and deduplicating those identities into a single customer ID can't be done with her Salesforce instance yet. After discussing Salesforce's upcoming CDP with the company, Daly isn't convinced it will happen anytime soon. If and when Salesforce delivers the data capabilities her team needs, Daly said she's concerned that costs will eclipse what Ashley Stewart pays for the current martech stack.
"They're talking end of 2020 for some of these [CDP features] to come out of beta," Daly said. "I'm interested, but right now we're more comfortable with data in AgilOne and building a customer strategy where we are."
Linden Lab cites service concerns with big vendors
The virtual world Second Life has been around since 2003, and currently has about 900,000 regular users. No small feat, considering how sites like Myspace -- technically still around as a niche music site but far from the top of the social network heap -- came and went in the years since Second Life launched.
Second Life's owner, Linden Lab, now faces the challenge of keeping the game's longtime users as active participants who buy virtual clothes, vehicles and avatars. Another challenge is to persuade newcomers to expand their horizons and explore new areas of the virtual world.
Darren Helton, Linden Lab's senior digital marketing manager, set up a CDP from Arm Treasure Data last year to connect newcomers to the thousands of niche Second Life communities with promotions inside the virtual world and in real-world channels such as email.
What I see a lot with these bigger vendors is that they're not really there to help you solve fundamental problems you have meeting business goals -- it's all upsell; they have a sales quota they need to hit.

Darren HeltonSenior digital marketing manager, Linden Lab
That means inspiring people to find their peers' common interests, such as sailing, to explore Second Life by boat and hang out with other sailors. Vampire culture, too, is popular on Second Life, he said, so his job is to help people interested in that to find each other. The CDP catalogs users' interests from their activity feeds and signup data and gets these users together.
While Helton heard about and researched the new customer data platforms from the largest CX vendors, Helton has built marketing workflow around the Arm Treasure Data CDP. He'll stick with the smaller CDP vendor, he said, because of potential service frustrations.
"What I see a lot with these bigger vendors is that they're not really there to help you solve fundamental problems you have meeting business goals -- it's all upsell; they have a sales quota they need to hit," Helton said. "You go through five different people for email, chat and phone to get help and it's like, 'Oh my gosh, I need help right now to figure out this problem.'"
Entercom's workflow
Podcasts, music streaming services like Spotify, and audiobooks may be the preferred listening content of the smartphone generation. But terrestrial radio still has an audience, and CDPs help connect data dots that weren't possible before -- identifying over-the-air listeners to personalize email and in-app campaigns, and to engage listeners who stream radio programming and podcasts online.
Entercom Communications Corp. began using Lytics' CDP last year to orchestrate marketing campaigns from concert ticket purchases, email, radio website and app-streaming data, said Dan McKinney, VP of data and analytics at Entercom, the second largest U.S. radio broadcaster with 235 stations and $1.4 billion revenue in 2018. The company supplements its radio revenue with podcasts and concerts.
The goal, McKinney said, was to increase listeners' app usage and to target listeners for concert ticket offers, as well as recommend personalized content.
Currently, the company is building a data stack to determine what individuals listen to stations over the air. The CDP profiles are built using phone numbers from call-in show listeners, people who enter daily contest codes in an app, and other data-gathering campaigns to match listeners to profiles.
A customer data platform from a large CX vendor would have to be considered as part of IT's due diligence, McKinney said. That said, it would be difficult to persuade him to move Entercom -- and its very specific data projects -- onto a larger platform. Currently, Entercom uses marketing automation tools from Google, and the digital team's operations aren't connected to Microsoft, Oracle, Salesforce, SAP or Adobe.
Having a responsive CDP vendor to create connectors to current marketing automation tools makes his team nimble, and he's not ready to disrupt his marketing data workflows by changing vendors.
"As my digital team grows and onboards new tech, they need data," McKinney said. "I tell them, 'Yeah, here it is, here's the API and how to connect it, and here's how it's formatted.'"