Salesforce teases new CDP features ahead of fall release
Salesforce gives details about the makeup of its Customer 360 integration platform and features of the customer data platform that it plans to release this fall.
CHICAGO -- A single view of the customer. That is the holy grail of marketing, sales and services departments, but it's proven to be an elusive get. Customer data platforms available from a variety of vendors -- including Adobe and Oracle -- unify customer data across brands and departments to a degree, and Salesforce is developing its own.
At its Connections conference in Chicago, Salesforce shared more of what it plans to offer in the CDP platform it plans to release this fall. The news builds on a Salesforce blog post in March that detailed its "Vision for a Customer Data Platform."
Salesforce said its CDP will be a "natural extension" of Salesforce Customer 360, the identity layer designed to help companies connect customer data across Salesforce and third-party applications with a single customer ID. The identity layer of Customer 360 is due out this November. The Salesforce CDP builds on this unified identity foundation to give marketers the much sought-after single view of the customer. An effective CDP would give marketers a customer's history across various channels and help them offer more targeted and timely sales and marketing materials with knowledge of, for example, their support history.
Stephanie Buscemi, chief marketing officer at Salesforce, said the company is aiming high with Customer 360.
"Customer 360 is nirvana -- it's the holy grail," she said during the keynote. "I've been in marketing roles for 25 years, and I know stitching together every single touchpoint to create this delightful experience isn't easy."
Acquisitions help with integration
Nucleus Research analyst Rebecca Wettemann said the promised benefits of Customer 360 aren't new, but technology advances are bringing it closer to reality.
"It's been a challenge to integrate all the customer data that's out there in real time. Traditionally, we've had to rely on humans to do the integration," Wettemann said.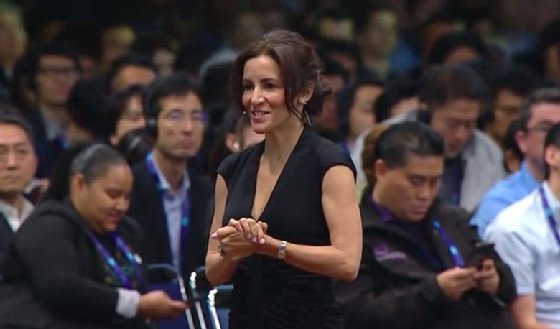 She credited Salesforce's recent acquisition of MuleSoft for helping with the integration piece and Einstein AI software for helping with automation.
"With Einstein, Salesforce is going to be able to automate the delivery of large streams of data from various sources that it couldn't do before," Wettemann said. "And it's going to let marketing focus on more strategic issues, while Einstein will figure out things like the optimum time to send out a marketing pitch."
Salesforce has been promising a unified platform to tie together its various cloud offerings for years.

Jeff KaplanManaging director, THINKstrategies
Wettemann also said that Salesforce has a good track record of quickly integrating technology from companies it acquires. Even as, for example, it works to bring Customer 360 to market, earlier this month, Salesforce announced plans to acquire Tableau for $15.7 billion. Buscemi said Salesforce and Tableau "go together like peanut butter and jelly" because it joins the leader in CRM with Tableau, a leading provider of analytics visualization.
Still, it remains to be seen if Salesforce delivers on time. The identity part of Customer 360 is due this November with a pilot of other features due around the same time. Enterprise customers typically appreciate roadmaps of when new products are due for their planning, but Pund-IT analyst Charles King said Salesforce probably has another agenda as well.
"It's super helpful for customers to have a roadmap, but I suspect the main motive here is to show they -- Salesforce -- are in the game, and customers shouldn't consider alternatives," King said. "On the upside, it may work, especially if the company follows through on its promises and CDP delivers the goods. On the other hand, the new solution will be highly complex with a lot of moving parts, so it's wise to expect the unexpected."
Customer 360 up close
Salesforce said Customer 360 will offer a range of key features, including data unification and consent management. The idea is to help brands unify all of their customer data to create more complete customer profiles. Salesforce also offers a consent management framework that lets companies get customer consent on receiving targeted email marketing and digital advertising.
Also included are audience segmentation features that let companies identify specific groups of people to engage with using real-time demographics. A sporting goods company, for example, will be able to identify women interested in running shoes and also reach those customers and prospects across many channels, including ads, email, social, mobile and web.
Salesforce Einstein Insights will also help companies analyze and understand how and when to engage with customers to drive customer loyalty and improve business performance. Customer profiles get continuously updated based on their behaviors so marketers can offer the best mix of product and channel recommendations to optimize engagement.
Stay tuned
Jeff Kaplan, managing director of THINKstrategies, agreed the aims of Customer 360 are laudable, but the challenge is going to be delivery.
"Salesforce has been promising a unified platform to tie together its various cloud offerings for years," Kaplan said. "However, the company has not been able to achieve this objective because the various acquisitions it has made have brought together numerous solutions built on differing architectures."
He agreed the MuleSoft acquisition is going to be a big help with the integration challenge but suspected Tableau may hold things up.
"Ironically, the Tableau acquisition will make it even more difficult to accomplish this objective because it offers a mix of on-premises and on-demand solutions that all don't easily fit together," Kaplan said.
Next Steps
CDP and DMP vendors vie for marketing budgets
CDP Institute offers customer data platform cert
Create personalized content with help from a CDP